There could be several reasons because of which you would like to know what all was done on a particular computer while you were away.
Sometimes just to keep an eye on your kid, or may be to know about the activities of your employee, or colleague, etc.
Here is a nice application, named as Nepflex Screen Recorder, which can create a screencast of all the activities done on your system, in other words, it simply records the video of anything which is visible on your computer screen, apart from whatever is seen on the display, it also captures the mouse clicks.
Setup file for Nepflex Screen Recorder is around 980 KBs, and once installed and launched, you can see this window as shown below.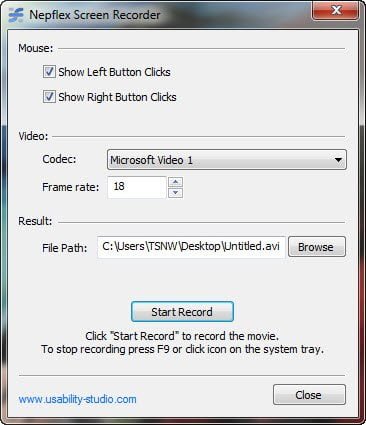 Here you need to select a Codec, and frame rate, depending upon the desired video quality, later select a location to save the video, i.e. File Path.
Now click on the 'Start Record' button, and now feel free, whatever will be done on this computer, right from any kind of media playing, internet browsing, folder and file alterations, etc. will be recorded.
Now when you come back, hit F9 or simply click on the Nepflex Screen Recorder icon in the system tray to stop the recording, now the recording (which is saved in .avi format) will start playing in your default media player.
Nepflex Screen Recorder is a nice app, to know about the activities on your computer, go ahead and give it a try, moreover you can also use it to show some issues in order to get them resolved by someone remotely, like ShowMeWhatsWrong , and also it can be used as a screencasting tool.