Many iDevice users had chaos right after the upgrade where they found all their app gone and started bashing out Apple but if one would have seen the iTunes messages and warnings just before upgrading to iOS5, you would never had done so. Cant blame it, we were all excited and we know how blindly most of us click on the Next Button. Nevertheless if you did or did not backup your Apps on your computer, there is still a way to recover it.
Use WiFi Sync

Setting up
Troubleshooting

Use App Store App on iPad or iPhone
What about the future backups ?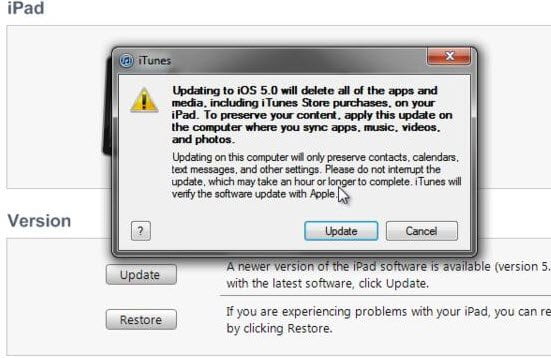 Using WiFi Sync :
In case you had at least synced once or backed up data when the warning was give or  have used Transfer Purchases even if not synced ever.
Starting iOS , now it is possible to sync you iPad / iPhone over WiFi, no wires required. As a matter of fact you can even upgrade coming versions over wi-fi. So lets learn how to sync it :
Setting it up
On Computer :
Connect your iPad / iPhone to your computer and launch iTunes.
Next select your device in iTunes and Scroll down the summary page and look for OPTIONS.
Here you will get the check box to select WiFi SYNC.
Next Go to the Apps Section and select the apps you want to sync.
On iPhone / iPad :
Next in your iPad or iPhone, Go to Settings > general >iTunes WiFi Sync
Make sure it is enabled. In case it's already you should see a button which says "Sync Now"
 Syncing :
If everything is all right and you see the Sync Button Enabled, hit and all your apps will be back.
Your iPad or iPhone will appear in iTunes when you go to WiFi Sync option in your iDevice.
Though it says here that WiFi Sync is only available when you are have connected to your charger but it works.
You need not to connect your iPad or iPhone again to change what you want to sync,  It works the same way like it was when plugged in.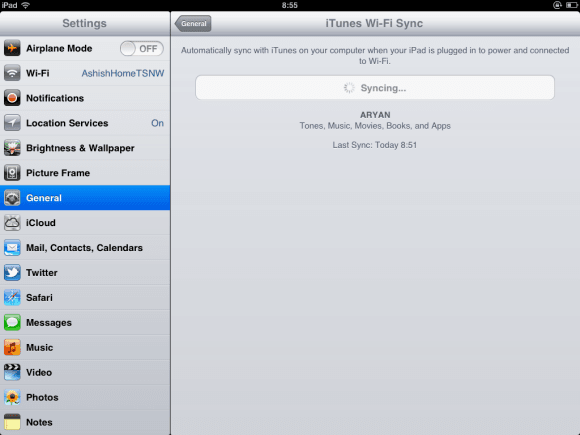 Troubleshooting which can give error when using WiFi Sync
In case see the "Sync Now" button is grayed out and it will always say that "Sync will resume when "Your Computer XXX" is available" and neither it shows up in iTunes even if both your computer and iPad is on the same network try below mentioned troubleshooting.
Make sure its the same computer which you have always synced with your iPad. This is odd but this trick worked for me instantly. My Laptop synced nicely which has WIFI but desktop did not which is connected over LAN with a router.
The computer is authorized to transfer app and files to your iPad or iPhone
Bonjour is installed. If not download from here and make sure the service is running ( Run > Services.msc )
Check Firewall Settings:

Go to Control Panel > Windows Firewall  > Advanced settings >Inbound Rules
Look for Entries named under Bonjour Service.
When found select it and double-click and go to Advanced Tab
See if the Profile is set only to Public. If this is the case enable for Private and Domain also
Using Purchased Apps Option and Download Again :
In case you never backed your apps even though you were warned that all apps will be gone with the upgrade, you need to use your iTunes Purchased Option to download them again.
Go to App Store App on your iPad or iPhone and select tab which says purchased.
Here you can see a list of apps which have purchased before and all you need is install it again but that will cost you both time and bandwidth. There is no way you can batch download apps from App Store.
You can see what is on your iPad or iPhone and what is not there.

Make Future download sync automatically.
Another good thing about iOS 5 is that it allows you to instantly download apps you have purchased on any of the computer to all your iDevices if they are tied up together. So if you had download a new app on your computer and you visit the WiFi Sync center on your iPad, you will see option to sync means there is something new.