There may have been instances where you accidentally deleted a file and regretted that move. While you may think that deleted files are simply unrecoverable, they can be significantly recovered, and there is an effortless way to do that. NTFS Undelete is one such tool that helps you recover those accidentally or purposefully deleted files in some straightforward steps. This article will give you a detailed review of the free version of NTFS Undelete and discuss the tool's unique features and whether it works or not. So make sure that you stay tuned till the end.
NTFS UnDelete (Free Version) Review
NTFS Undelete is an excellent tool for files and data recovery. The tool works flawlessly in recovering all types of files and data, be it documents, photographs, videos, executables, PDFs, or virtually any file type on your computer. The developers actively update the tool. It supports the latest version of Windows (Windows 11) and the older versions of Windows, like Windows 10, 8, 8.1, 7, and even Windows Vista and Windows XP.
The application's UI may seem old and worn out to some users, but all that matters is the vast array of features the interface has to offer and how simply accessible and easy to use they are. The application is nicely designed to make it straightforward and effective.
You can even preview the files you wish to recover with NTFS Undelete. The software is completely free for personal use, giving it an absolute edge over competitors. Not only this, but you can also recover files from external drives, SD cards, pen drives, and others.
While NTFS Undelete works well, the number of files that can be recovered completely depends on when you initiate the recovery process. If you do that right after you delete a file, there is a greater chance that it will be recovered than you doing that after a day or two.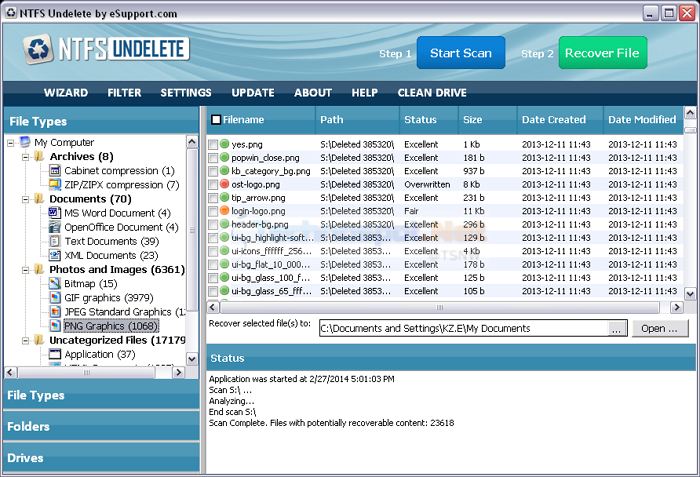 NTFS Undelete also provides the users with an option to recover deleted files using the Deep scan feature, which employs more advanced methods to recover files from the tiniest bits of the drive. All software features are available for free, meaning that you don't need to pay for anything if you wish to do so.
To sum it all up, it is a highly reliable, easy-to-use, straightforward, feature-packed, and completely free data recovery tool that is regularly updated and supports even the latest and the oldest versions of Windows. The software does not pack any extra features or unwanted applications with it. To get the best results, make sure you try to recover the files as soon as possible. Also, try not to install and run NTFS UnDelete on the drive from which the files were lost, as doing so will write new data on the drive making files more unrecoverable.
Well, this was all for our review on NTFS Undelete. We hope you found the review insightful and can now make a better decision for yourself. Please make sure that you share this with anyone looking for the same.
Can I Recover A File I Deleted A Month Ago?
Yes, you can recover a file that you deleted a month ago. However, the chances of the recovery being successful are very shallow. That is when you delete a file on a hard drive. It is not deleted from it unless you write new data in place. For a drive you've been using for a month, you've probably written some good amount of data already, which will hamper the chances of file recovery. The best situation will be when you haven't used the drive after deleting the file.
Do Data Recovery Softwares Harm My Hard Drive?
No, Data recovery softwares cannot harm your hard drive. They scan the PC to see if there are any bits of deleted data in the sectors of files that are not harmful to the hard drive. If there are no files available to recover, you have nothing to recover and no harm to your drives.