Love Maths and those trigonometric formulas?  Then RedCrab Calculator is a Powerful Maths calculator with support for Formulas. You should give a try. I am petty sure you are going to love this full-screen maths formula editor. It allows you to Insert Symbols, supports complex algebraic equations like fraction, exponents, and lets you save and load the formulas to create a formula library which you require more often every time.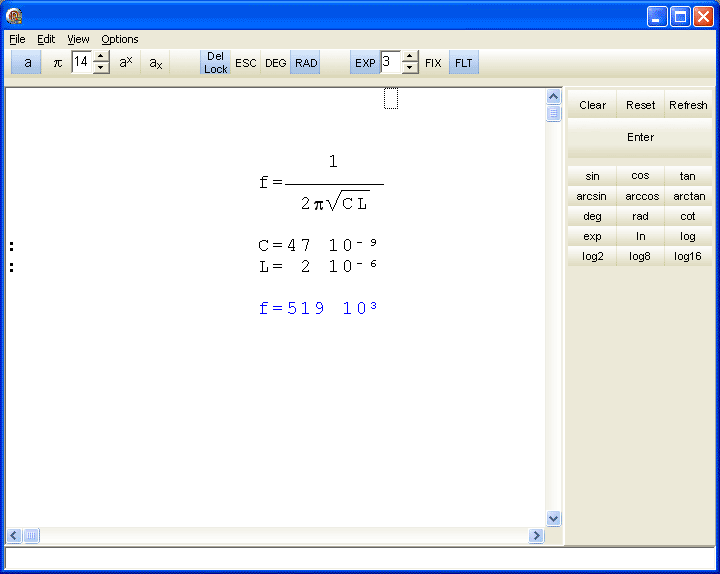 RedCrab is a Powerful Maths calculator with support for Formulas
Free placement of mathematical formulas in natural notation
Decimal fixed point, floating-point, exponent
Hexadecimal, octal or binary
Date- and time format
Print selected areas of the worksheet
Insert of text boxes, and functions.
Integrated functions
Tooltips and online help in German and English
The calculation range of this calculator is  1.7e 308 to 5e-324, with accuracy up to  18 digits, and the total display length is 15.
These features are available in the free version of RedCrab, while the paid version offers a lot more for those who are seriously looking for a calculator that can do more. The paid version offers features like defining your mathematical functions, slider for variable data input, Individual assignment of output formats to variables, and more.
If you find it confusing to use, then you can download the manual, which comes with 250 formulas, and clear instructions on how you can use them in this calculator.
The best part is that RedCrab Calculator is portable. You don't need to install it. The software works on Windows 7, Windows 8 and Windows 10, and Linux.
If you like the software, you can also activate the trial mode for 24 hours, which should give you enough time to evaluate it. Later you can request an activation code. It will cost you between $14.90 to $65 depending on the license type.
Download RedCrab Calculator