This is the second twitter tool I am talking about today and its one of the must have twitter tool for twitter power users. If you using twitter we all know the 140 character limitations for the tweets. There is no way you can reduce that but there is a way you can reduce by replacing them with shortcuts, alternate characters and popularly used symbols.

What I am talking about is the chat language which people use on messenger services. If you are good there probably you dont need one but if you dont want to sweat on this all you need is 140it. This service does what I said exactly and here is an example:
Original Tweet exceeding by 31 characters

I will be going to Pune on 7th of this feb. Will be attending the tweetup they are organizing. Any body from bombay or chennai coming there. Would love to meet to you all
Tweet re written
I'll be gng 2 Pune on 7th of ths feb. Will be ttndng the twtp thy're rgnzng. Any bdy frm bmby or chnn coming there. Would <3 2 meet 2 u all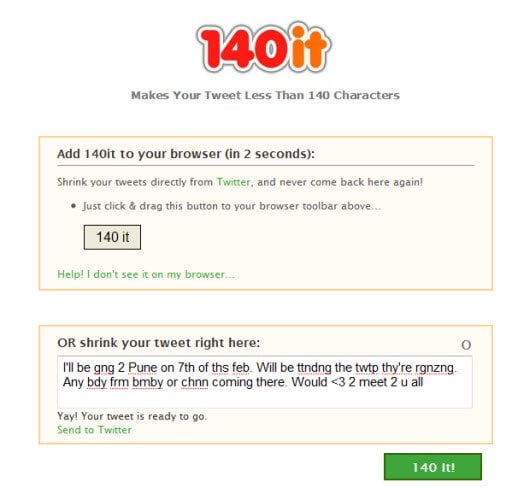 Amazing stuff right.  If you are using web interface of twitter, you can bookmark this. However for the applications I haven't found any integration being done with any of the desktop or mobile applications of twitter. Check out 140it.  Find out all the Twitter tools we talked about till now.