Whether you are a professional DJ, musician, or music fanatic, storage space will always be a problem. The audio compressor here performs a crucial function to reduce the files so that they may find a resting place on your PC or gadgets. When your portable player or other tools don't support your music file format, you'll need audio compression software. Depending on the length and quality of the recording, big audio files may take a long to upload. In this article, we will be presenting some simple and efficient tools to reduce the audio file size of large-size files into a more reasonable size.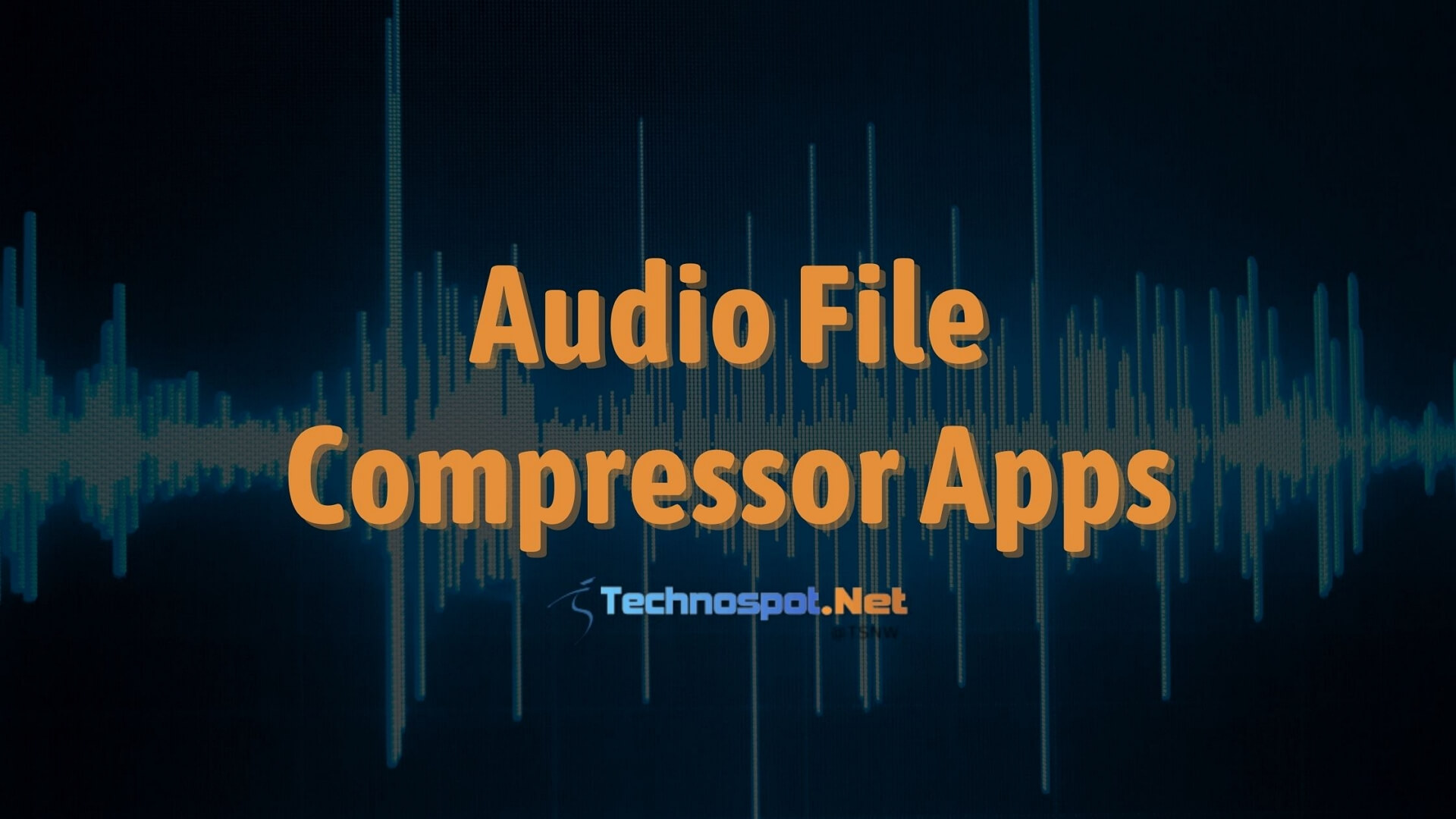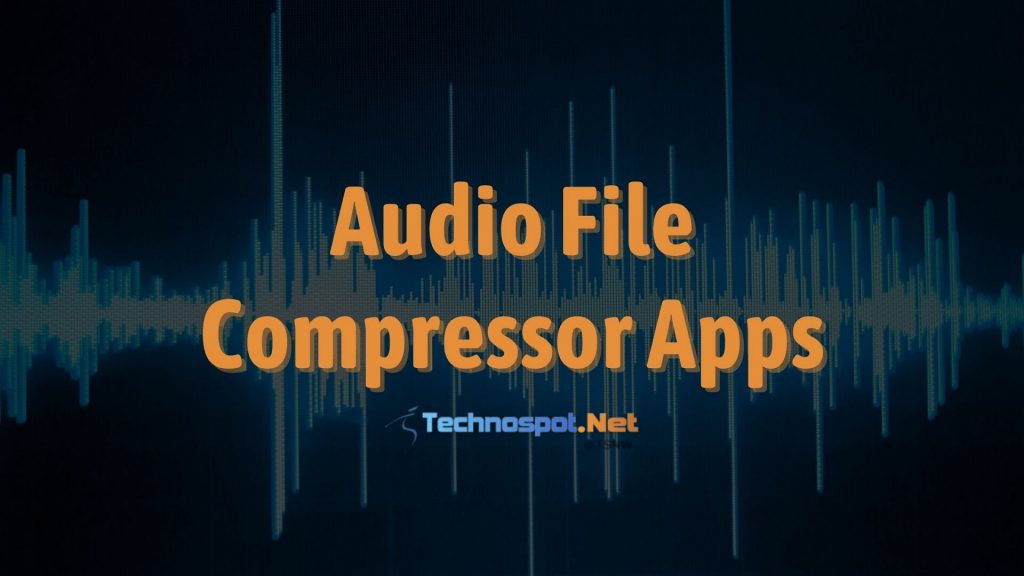 Best Audio Compressor Tools to Reduce Audio File Size
Below are some of the best audio compressor tools that will compress the size of your audio file without any significant loss in the quality of the audio; these tools are used by thousands of users daily.
WinZip
Mp3, Mp4 audio video cutter, trimmer, convertor
MP3 Compressor
iTunes
Online Audio Converter
Monkey's Audio
Audacity
YouCompress
Advanced Audio Compressor
Check out each of these and then make an informed choice.
1] WinZip – Zip Unzip Tool
WinZip is a program that can get the job done and compress those files. Please select where you've saved your audio file on your SD card or external SD card to compress it. Choose the file where you have your audio files, then tick the box to the right of it. If you touch on the file's name, the app is just going to play the audio.

A new paper icon with the tip folded will emerge to the left of the empty square at the top right when the box is chosen. Tap on the new icon, then select where you want to store the file. You will see two excellent choices, such as storing it on Dropbox or Google Drive.
2] Mp3, Mp4 Audio Video Cutter, Trimmer, Convertor
MP3, MP4 Audio-video Cutter operates differently from the previous software. For example, the compress option is available when you have the audio file open. Tap on the Audio converter option when you initially launch the app.
Choose the audio file you wish to compress from the folder on your device. When the file is open, it will start to play automatically, so be ready to click the pause button if you don't want to make any noise. Toggle on the compress option, and select the encoding and bitrate of your choosing.
When you're done, touch on the large, circular convert option, and name your file. When you click OK, your file will start to compress.
3] Mp3 Compressor
MP3 Compressor is a very easy-to-use software because it keeps things simple. To start using the app, touch on the vast Start Now button as soon as you open it. Pick the audio file you wish to compress, then choose the file format and the quality.

Once you've selected you're preferred choices, touch on the compress audio button at the bottom. Your file will begin to compress. Time to compress using this software will also depend on how large your file is. If you wish to access an audio file you've previously compressed, choose the "My Album" option in the bottom-left. The program also shows you how long each audio file is.
4] iTunes
Once you've chosen the audio file format to use, you may convert the file using iTunes.
Click Preferences in the iTunes dropdown menu and scroll down to Import Settings. A new window will show up, in which you may alter the method files are imported by selecting a different option in the Import Using dropdown menu.
For most individuals, opting for an MP3 file will be preferred. If you wish, you may choose to make the quality somewhat lower to conserve extra space by clicking on Settings > Custom.
5] Online Audio Convertor
Online Audio Converter is a site that is available to use for audio file compression. You upload the file you wish to compress and may adjust its quality to decrease file size, including complex options like sampling rate and mono or stereo output.
You may also select what file format you want the compressed version to come in. One click makes it simple to get the new, smaller file. A few hours later, the app's creators erase your file from their servers. IT is a fantastic option for people who want service for free and don't mind exposure to the cloud.
Online audio-converter is free and an excellent alternative for people who require a service with sophisticated choices. Here, you may modify your file's metadata and specify the appropriate audio settings like bitrate, sampling rate, channel, or even add fade-in/out effects.
6] Monkey's Audio
If you must have your music in lossless format, an audio compressor like Monkey's Audio for Windows should suffice. It compresses lossless files without sacrificing sound quality and provides open-source code for developers to include in their apps.
Monkey's Audio has created software that reduces the size of a file without sacrificing playback quality. They compress your file bit-by-bit, reducing its size while maintaining the subtleties of the music.
7] Audacity
Audacity provides plenty of options for recording and editing audio, but it also compresses audio files. Although the user interface might be frightening for people who have never used sound editing software before, it is easy to use to minimize file size.
It also allows you to modify the audio's actual soundwaves. As they are already silent, you may select flat parts of the wave and eliminate them. After all these processes, select Song and choose Export as MP3 to convert the song to the storage-friendly format.
Since it is a freeware application for recording and modifying multiple audio recordings, you may also use it to capture audio broadcasts, such as a webinar. Once you've recorded, you may edit or trim the sound file to isolate only the parts you want. Audacity compresses audio files by using loudness compression, as demonstrated in this YouTube video.
8] YouCompress
It includes an easy-to-use interface that allows you to select the format you want. Standard codecs such as MP3, WAV, M4A, and FLAC are available, but more unusual choices such as the iPhone ringtone format are available. A slider allows you to alter the bitrate between 64, 128, 192, and 320 kbps, while the Advanced Setting page lets you adjust factors such as sampling rate and whether you want mono or stereo output.
Once those selections are selected, click the Convert button. It's a quick and straightforward technique to shrink MP3 files.
9] Advanced Audio Compressor
Batch compression is one of the primary advantages of Advanced Audio Compressor. If you have multiple audio files, you may import them into the program and make any necessary adjustments before compressing them all at once and saving them to a shared folder.
The program allows you to see precisely how much your sound file's size in real-time will be reduced. There's also a fair degree of mobile capabilities for those who need to compress files on the road.
Download Advanced Audio Compressor
Will I lose Audio Quality If I Compress My Audio Files?
It is not applicable in each case; most of the audio compressor tools provide the users with the option to choose the compression percentage; if you choose a higher compression percentage, you will lose audio quality. Most of the time, the difference isn't noticeable.
Is It Safe To Share Audio Files With Audio Compressor Tools?
Before using any tool or software, you should read the terms of use; audio compressor tools may or may not use your audios for research. If the audio files are sensitive or confidential, it is strictly not recommended to use such tools.
Compression is crucial when recording audio oneself; otherwise, you'll wind up with huge files that are difficult to distribute or utilize. However, that is only one aspect of the procedure.