Do you want to send automatic text reminders to your clients or customers? In that case, choosing the best service providers play a critical role. There are multiple benefits if you are pondering the need for an automatic text reminder. Primarily, these automatic reminders ensure the clients get a reminder of the upcoming event or appointment.
As a result, there are very few chances of them forgetting to come up for the event or perform that function. Multiple companies use automatic text reminders to help clients remember upcoming tasks. Indirectly, it aids in client retention.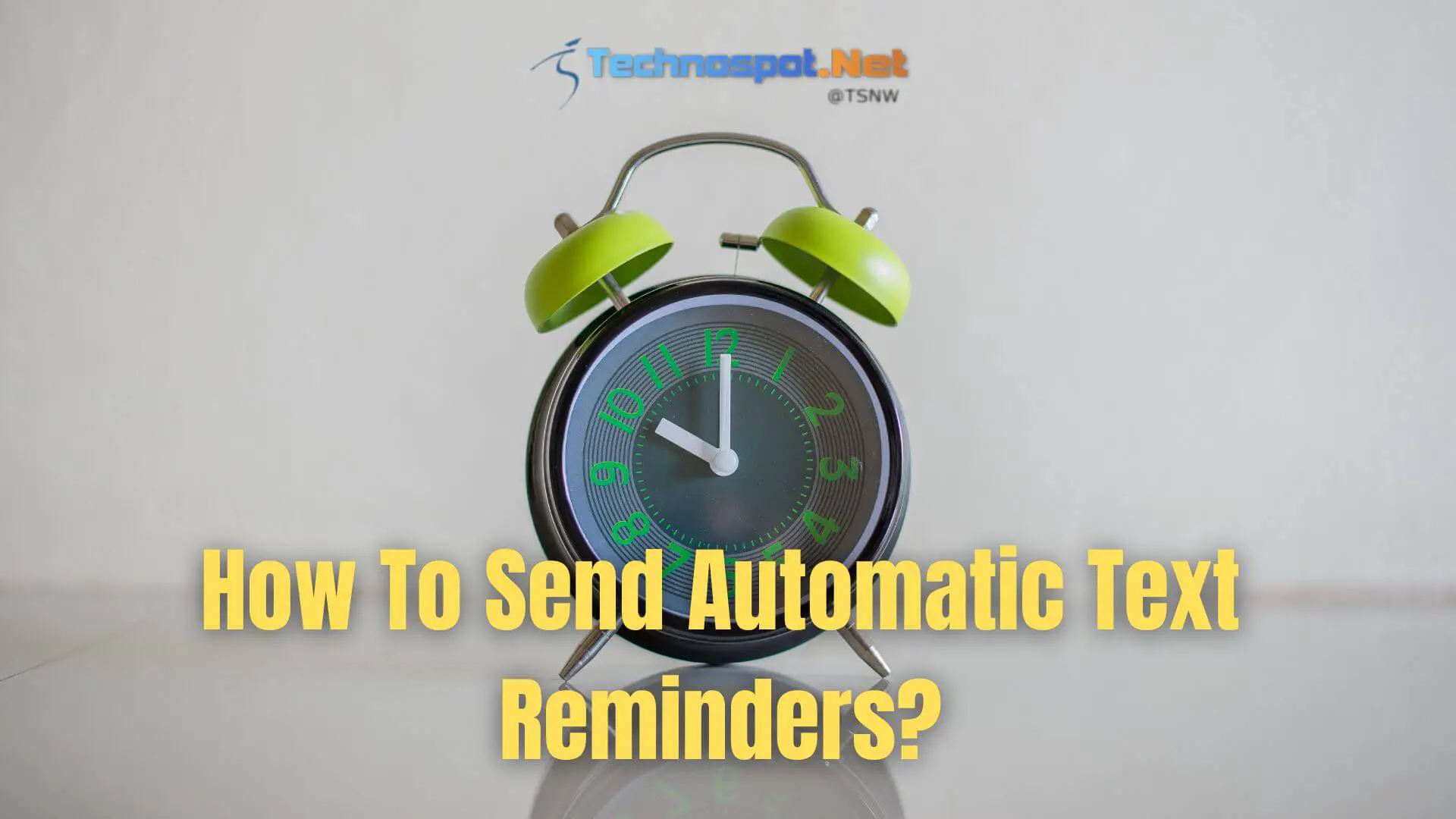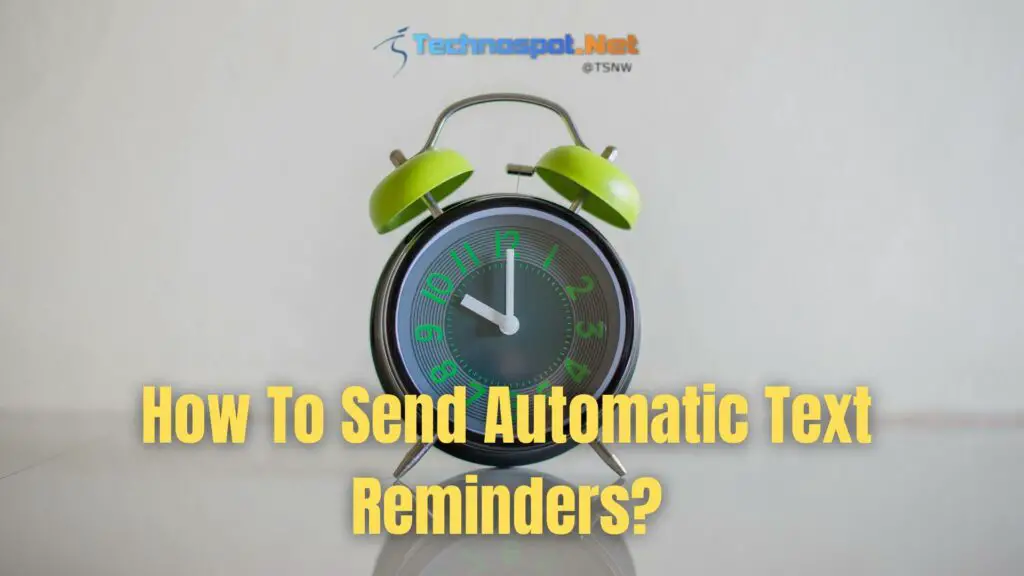 How To Send Automatic Text Reminders?
After extensive research on the topic, we learned that various tools provide an option to send automatic text reminders. However, some are paid, while the free ones are useless. In this article, we have listed the top five automatic text reminder providers. These are:
TextSpot
Plannie
GReminders
GoReminders
Square Appointments
So, let's find out the features of these free automatic text reminder providers to select the one that suits your needs. Have a look!
1] TextSpot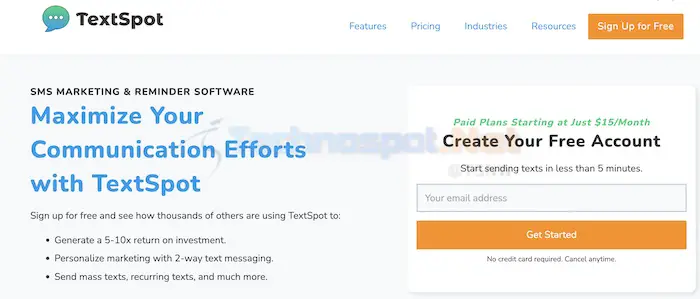 One of the best websites for automatic text reminders is TextSpot. The tool is easy to use and comes with a wide range of features. For instance, you can schedule or send bulk texts with ease. You can also send and receive texts to establish direct conversations with clients.
With TextSpot, you can create and send text messages at regular intervals. Besides, you can create organizations and invite users with relative ease. It is easy to connect the website to multiple third-party apps via Zapier.
Features
MMS marketing
Schedule texts
2-way messaging
Pros
Every account has a private number
Easy to import contacts
Cons
Lack of mobile applications
2] Plannie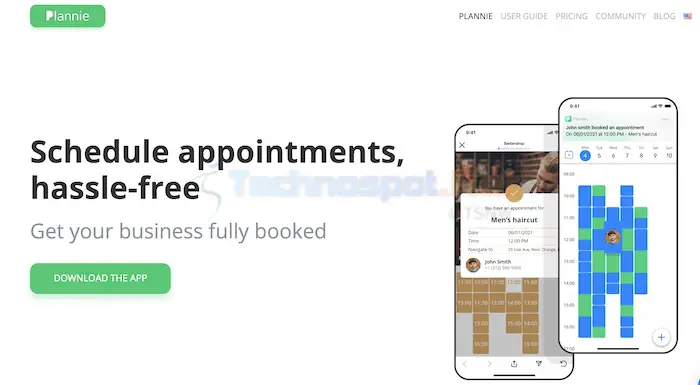 Another website you can opt for sending automatic text reminders is Plannie. Scheduling appointments is now hassle-free. Besides, users can self-schedule without any inconvenience. The presence of apps means users can handle appointments from smartphones.
The working of Plannie is simple. Firstly, you need to create a business profile. This is followed by using an intuitive calendar for schedule management. After that, the business page can be shared with clients. Lastly, the clients can also self-book anywhere, anytime.
Features
Easy to schedule texts
User-friendly and intuitive tool
Enables the creation of a business profile
Pros
Clients can schedule service at their convenience
Smart time management
Cons
Offers international booking
3] GReminders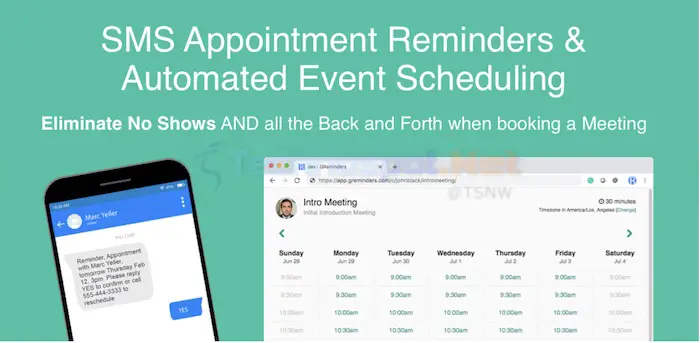 If you are looking for a reliable automatic text reminder, you can check out GReminders. With this app, one can easily send text messages to remind clients. You can help your customers never miss another appointment.
Moreover, the app allows easy integration with other third-party applications. These include Zoom Scheduler, Webex Scheduler, GoToMeeting Scheduler, etc. The app also works perfectly in sync with Google Calendar. The main focus is to improve productivity and decrease No Shows!
Features
Integrated with multiple web conferencing systems
Free trial
Excellent customer support
Pros
Increases productivity
Personalized booking
Cons
Limited text capacity for Spanish & English translation
4] GoReminders

Another excellent website for sending automatic text reminders is GoReminders. You can send reminders via email, text, or both. GoReminders save a significant amount of money by reducing no-call appointments and no-shows. Moreover, the website offers a free trial, enticing users to test it out!
You can also customize scheduling text reminders. There are three reminders you can set up. Besides, you can even use the sample templates available. If needed, you can customize these templates.
Features
Sample templates available
Different types of reminders present
Multilingual support
Pros
Recurring text reminders
Easy-to-use interface
Cons
5] Square Appointments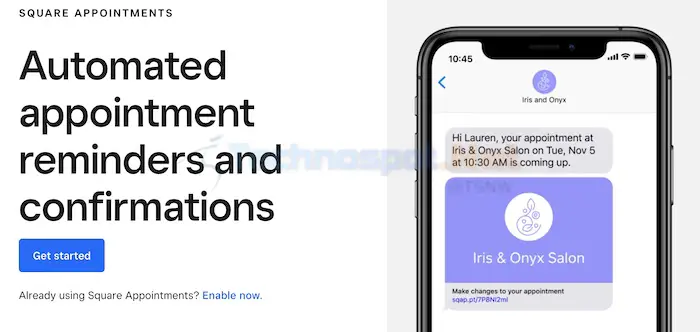 Square Appointments is the last website that deserves special mention for excellent automatic text reminder services. It offers hassle-free automated appointment reminders and confirmations. Moreover, there is no need to worry about the limits of texts you can send every month. Customization of email and text messages is also available.
The app also allows easy syncing with Google Calendar. Besides, it offers multiple location management and excellent team management tools. Integration with Afterpay allows customers to pay later in installments.
Features
Unlimited text reminders
Customization can be done
Easy syncing with Google Calendar
Pros
User-friendly interface
Easy to set up
Cons
Functionality could be better
Conclusion
Do you want to remind your clients or customers about upcoming tasks or events? In that case, sending automatic text reminders is an excellent idea. It will help your clients remember what needs to be done. You can also attain client loyalty with this service provider.
To ensure you make the best decision, we have compiled a list of the best websites offering automatic text reminders for free. Take a look at the features, pros, and cons to make sure you move ahead with the right choice.