Sony Vegas Pro is one of the best video editing tool if you are using Windows. Even then it does not come with a Background Noise Removal Program of its own which brings in significant drawback unless you are using a powerful microphone. Now since not everyone can afford such costly microphone, in this post, I will tell you how to use Audacity along with Sony Vegas Pro to remove noise from video.
How to Remove Noise from Video using Sony Vegas Pro & Audacity
Sony Vegas Pro does come with an Audio FX called Sound Restoration, but it does not work as good compared to Audacity. Since Audacity is a free tool, I will suggest you use it.
Set up Audacity
Use Audacity in Sony Vegas Pro
Noise Removal using Audacity
Add the Filtered Audio back to Video in Sony Vegas Pro
1) Set-up Audacity
First, download Audacity and install it on your computer. Next, launch Sony Vegas Pro and follow the steps below:
Go to Options and then preferences. Switch to Audio Tab.
Now here you can choose an external audio editor.
So browse and select audacity.exe.
2) Use Audacity in Sony Vegas Pro
Drag and Drop the video in Sony Vegas Media Section. Then drop it to the timeline. Once Vegas Pro is done reading the file, select the audio timeline. Right-click and look for an option which says "Open a Copy in Audio Editor."
Once you do that, it will export audio part of the video into Audacity and launch it. The next windows you will interact with is Audacity.
3) Noise Removal using Audacity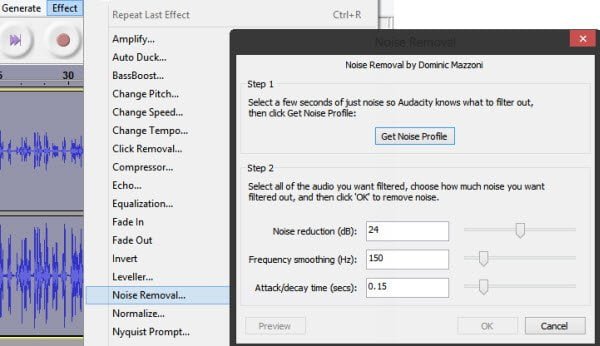 Now that you have the file in Audacity, a first figure which part of the audio can be used as Noise. Audacity will use that as a sample to remove noise.
Select part of the audio file, which has noise.
Go to Effect and then choose Noise Removal.
Hit the get Noise Profile button. It will disappear instantly as you do that.
Next, select the complete audio file.
Now repeat the steps one and two, and this time, click on Preview to hear the audio without noise.
Once you are happy, click on Apply.
Once you are done with noise removal, export the audio file as WAV format. It can be done using the menu in audacity File > Export As.
4) Add the Filtered Audio back to Video in Sony Vegas Pro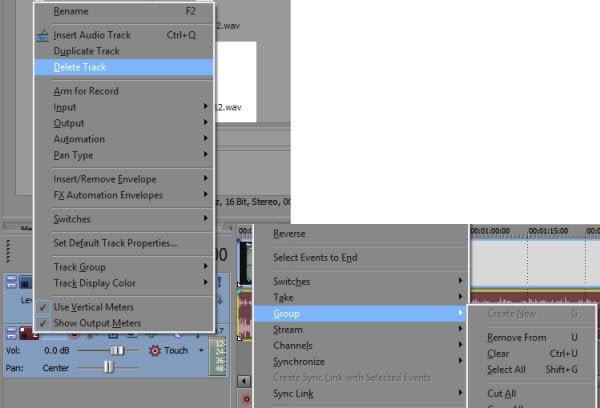 Now drag and drop the audio which we exported in bove step to Vegas. Next steps are crucial as we will remove the original audio of the video.
Right-click on the Audio Select Group > Remove From.
It will unlink audio from the video.
Now right-click on the audio track which is on the left and deleted it.
Next, drag and drop the filtered audio.
Done this all you need is regroup and start editing your video. Below is a video dem oof the same.