The use of shortcuts and links in our Windows systems is quite common. We use them daily without even taking notice. However, it is not rare for Windows links and shortcuts to get corrupted for some reason and stop working. If we fail to notice and remove broken shortcuts and links for a long time, chances are reasonably high that it will stay the same on our computer.
In this article, we'll be going over a few ways using which you can scan your Windows system for broken shortcuts and links, identify them, and remove them as well. So without any further ado, let's begin.
What is Chklnks.exe (Windows Resource Toolkit)
Before learning ways we can remove a broken link or shortcut from our Windows PC, we must know about a Microsoft utility for older versions of Windows, the Windows Resource Kit.
As per definition, Windows Resource Kit is a set of resources, and each of these resources has a significant function assigned to them. The Microsoft Windows Server 2003 Windows Resource Kit Tools (the actual name) has a collection of exe programs used for various functions, including troubleshooting.
ChkLnks.exe is one of them. Its name stands for check links, and as you have probably guessed already, this resource was used to scan a computer for broken links and shortcuts, find them, and permanently. All you have to do is launch the Resource Kit tools and launch Link Check Wizard (ChkLnks.exe), and it will automatically guide you through the whole process until the broken links are permanently removed from your Windows.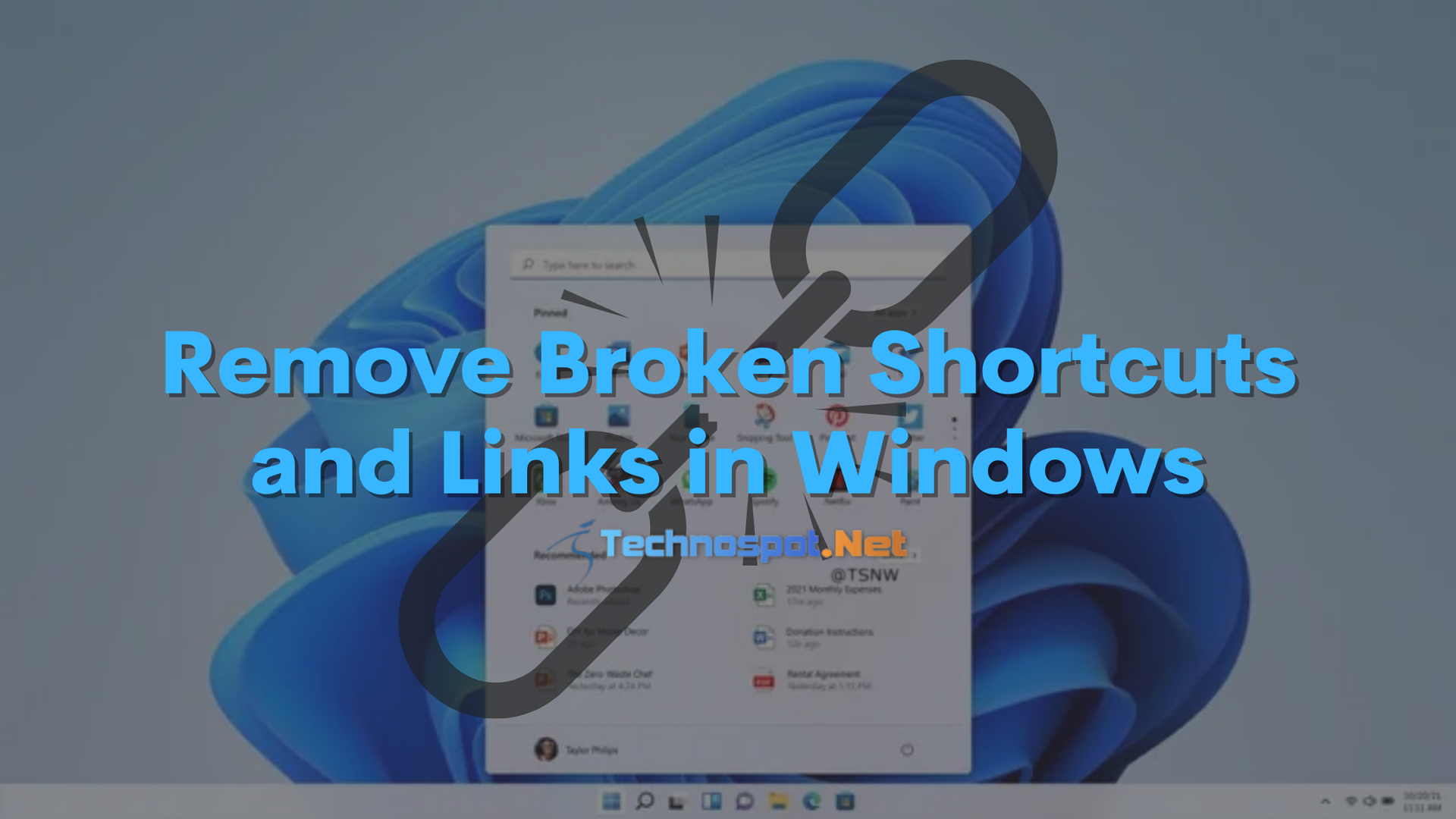 How To Remove Broken Shortcuts and Links in Windows
Windows Resource Kit Tools is compatible with Windows XP, Windows Vista, and even Windows 7. Unfortunately, there have been no reports of it being compatible with the newer Windows versions such as Windows 11 and Windows 10. Therefore, we have no choice but to depend on third-party tools to remove broken shortcuts and links in Windows.
Fix Shortcuts
Broken Shortcut Fixer
ShortCutsMan
Free Shortcut Remover
The above list is handpicked for you from across the internet; that will help you identify and permanently remove broken shortcuts and links from your Windows system. They work with newer versions of Windows as well.
1] Fix Shortcuts
The name says for itself. This tool is incredibly efficient at its job. You can use Fix Shortcuts to run a scan of your Windows PC and leave the rest to the tool. Fix Shortcuts will scan and identify any broken links or shortcuts present on your computer, and just within a few clicks, you can get rid of all the broken links and shortcuts that hog up your Windows system.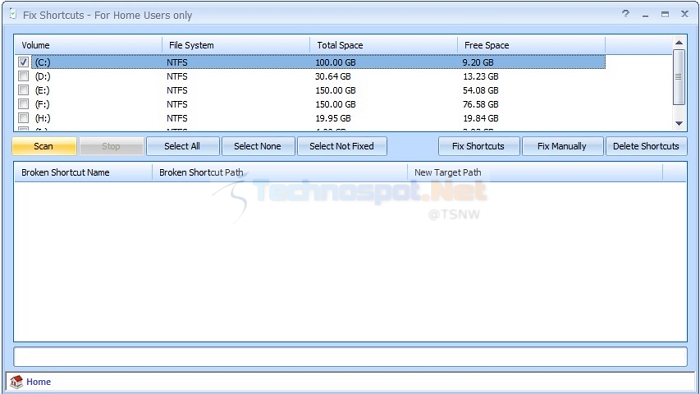 However, the functionality of this tool isn't limited to that only. As the name of this tool suggests, we can use this tool to fix broken links and shortcuts. Fix Shortcuts is known for automatically fixing broken shortcuts, and we can do it manually. All we have to do is assign a valid path to the broken shortcut, and just like that, we can make that broken shortcut work again.
2] Broken Shortcut Fixer
This tool makes use of the Windows link resolve method. Using this method, Broken Shortcut Fixer scans your computer and checks for the presence of any broken shortcut or link. All you have to do is follow 2 or 3 steps to remove all broken links on your desktop.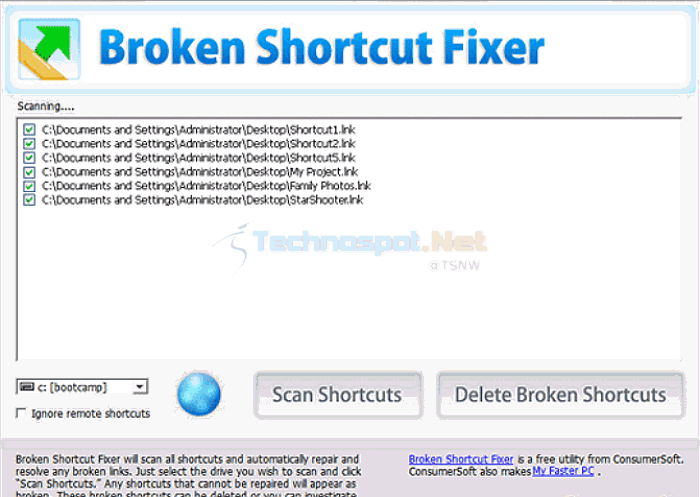 The user interface of this tool is quite friendly, and you'll have no trouble navigating yourself through this tool. You can scan for shortcuts, review them if they're broken, and then proceed to delete them from your Windows system within seconds using this tool. However, to ensure their permanent riddance, you have to delete them from your Recycle Bin as well.
3] ShortCutsMan
ShortCutsMan is one of the highly functional tools when it comes to tools designed for fixing/deleting broken links/shortcuts. What makes this tool one of the best are its features. ShortCutsMan scans your computer for all shortcuts and links, put them together in one list, and highlights the ones that are broken or corrupted in red.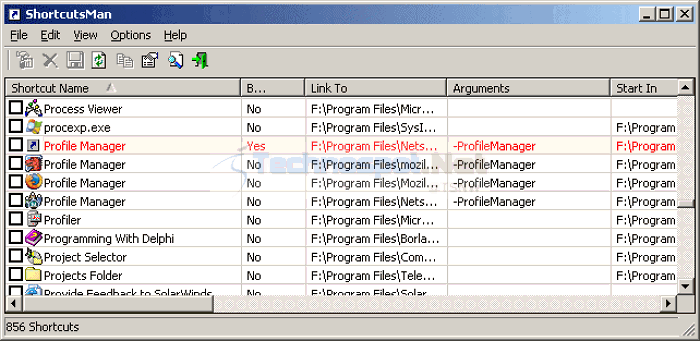 With a single scan, you can learn about every broken link in your Windows system. You get two options to deal with the broken links and shortcuts this tool identifies; you can either fix them using the tool itself or delete them permanently. ShortCutsMan also provides many different options that significantly increase its overall functionality.
4] Free Shortcut Remover
What makes this tool unique and one of its kind in that it is pretty lightweight, but that doesn't mean that Free Shortcut Remover compromises its features. This tool is easy to use, quick to operate and gets rid of all unwanted broken links and shortcuts from your Windows system within moments.
You can filter shortcuts to find the ones you're looking for, analyze them, and delete those that appear as 'invalid'. This tool is super helpful and free to use as well.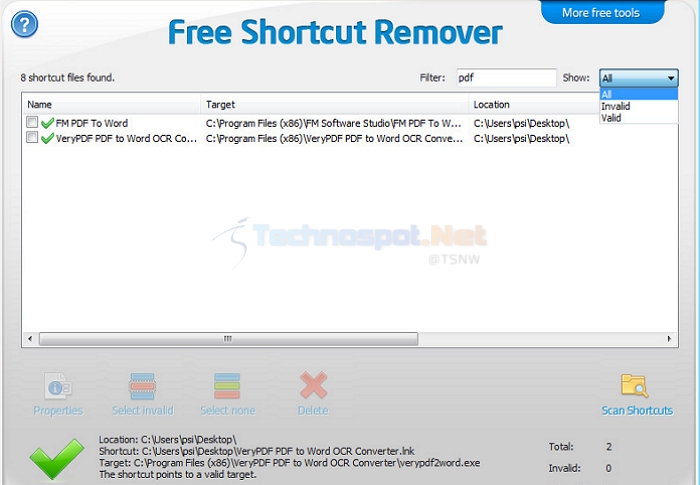 All of us are well aware of how essential shortcuts and links hold when navigating on our Windows PC. We should immediately get rid of these links and shortcuts when they get corrupted. Broken links and shortcuts serve no purpose at all unless they're fixed.
Using the Windows Resource Kit Tools would have been the best way to solve this issue, but it isn't compatible with newer versions. This article went over a few tools that we can rely on to delete or fix broken shortcuts and links in Windows permanently. We'll now wrap this article up with the hopes that it has been of help to you.
How to Delete a Shortcut On Windows Desktop?
Deleting a shortcut on the Windows desktop is as simple as deleting a file in Windows. It would help if you right-clicked the shortcut to open the context menu, then click on the delete option to delete a shortcut in Windows.
Can Broken Shortcuts and Links Deplete the Performance of My Windows PC?
Broken shortcuts and links typically don't affect the performance of your Windows computer, however, having tons of them can clutter your system and folders, which will still not affect your PC's performance but will hamper your workflow.