Every Windows PC is full of several unnecessary files, some of these unnecessary files are resultant of uninstalling process of different types of software and applications which we keep installing on our system, some are created due to the web browsing like activities, whereas some files are the resultants of some kind of recovery options, some files are the temporary file which are created as an intermediate product for some other process or program, and so on.
Generally we have loads of files on our Windows computer which are almost of no use for us. Same is the case with the registry entries. Now, in long run, these files end up consuming loads of space on the hard disk drive (generally the C:, where all the operating system files reside), this ultimately degrades the performance of your Windows PC, slows down the system, and at times is responsible even for slow loading and working of programs.
 Here is a free utility, named as AppCleaner, which allows you to remove such types of files from your system within few clicks.
How AppCleaner Works ?
The setup file for the AppCleaner is incredibly small, download and install, later launch to come across a window, i.e. the main interface of the AppCleaner as shown below.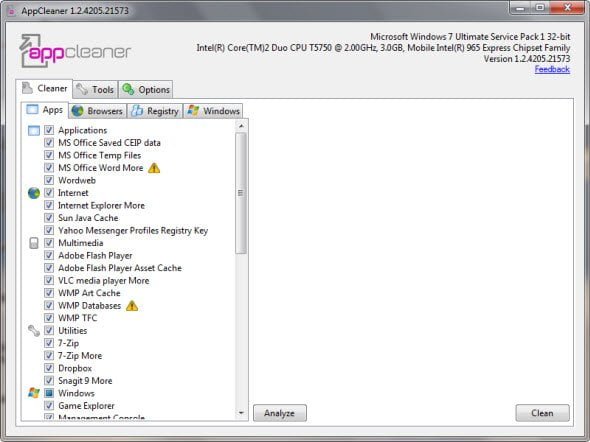 AppCleaner shows you the complete list of installed Apps on your system which may have some unnecessary files, also you can use the Browsers, Registry and Windows tabs to have a look at the files which can be deleted so as to gain some more space on your drives. These tabs show you the list of associated files, like Browsers tab will show you the unnecessary or temporary files which have been stored on your system to facilitate the working of the installed web browsers.
Simply use the checkboxes to select the types of files/data you want to get rid of, and later use the 'Analyze' button to have an overview of this cleaning operation, later click on the 'Clean' button, and the space occupied by these files will be rendered back to your system.
As shown in the snapshot above there is an icon, which looks like an exclamation mark on the triangular yellow board, you can hover your mouse pointer to know what it has to tell you, this can help you decide if you really want to delete these entries, have a look at snapshot below.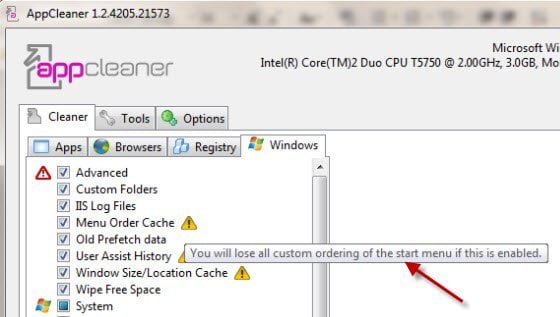 However, I don't personally recommend cleaning or playing around with the Registry, i.e. I don't prefer cleaning the Registry entries, and the reason being, I have tried several tools, and most of them have landed me in some problem or the other, I would suggest that if you don't understand the mechanism of Registries, avoid this, and clean the unnecessary files from other tabs.
This is probably all about the cleaning and space freeing features of the AppCleaner. This nifty tool comes with some other utilities which can be accessed under the Tools tab. To name them, these utilities are:
Add and Remove a Program,
Startup Manager (include or exclude the programs from the list of programs to be started at the startup),
and a System Restore manager (this doesn't allow much of restore point related options, however you can delete some old restore points which you know will not be required at all now).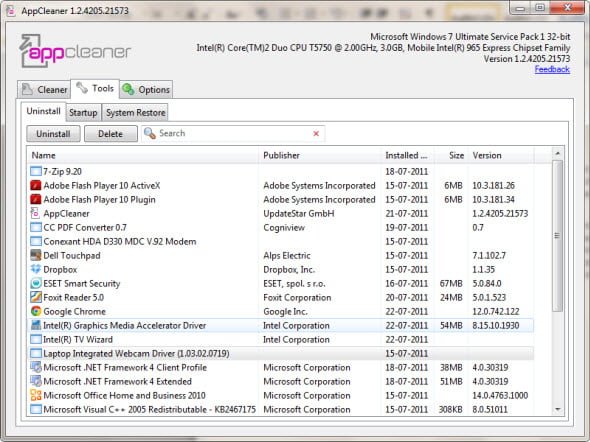 AppCleaner is a great tool, and in my opinion it is a must have for every Windows user, so go ahead and grab it now, delete the useless files from your system, and enjoy the dead simple way to manage the programs at startup.