More often than not, we've been a victim of accidentally closing the File Explorer window in Windows 11/10. It is a hassle to reopen the recently closed File Explorer window as there is no way to find the exact location. There's an option called "Quick Access" that can show you frequent folders and recent files opened by the user. But there isn't an obligatory way to access the recently closed File Explorer window in our Windows 11/10 PC.
However, specific third-party tools can help you reopen the recently closed window. But before that, there are some geeky ways by which you can access those tabs. We're going to discuss those methods in brief.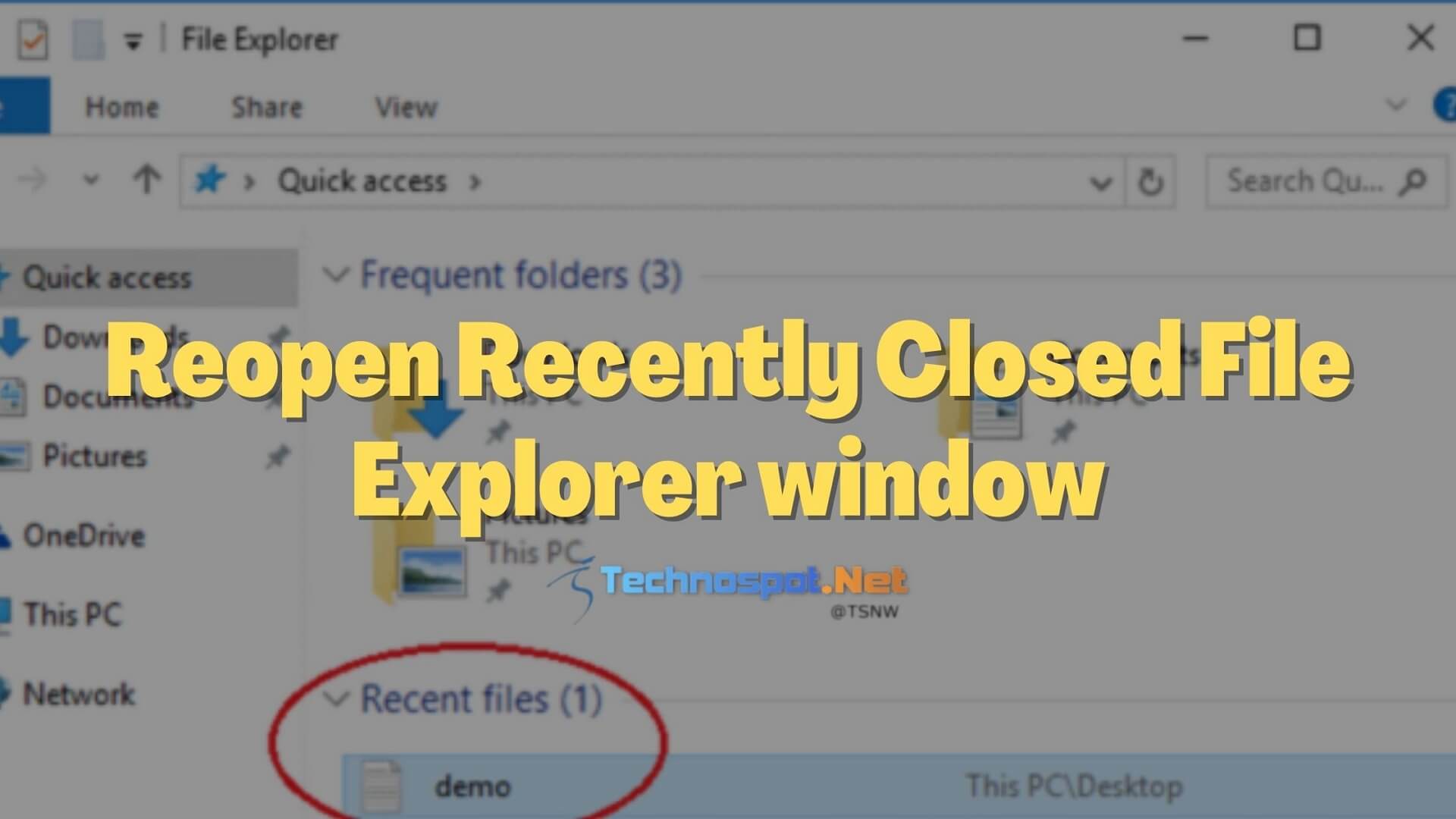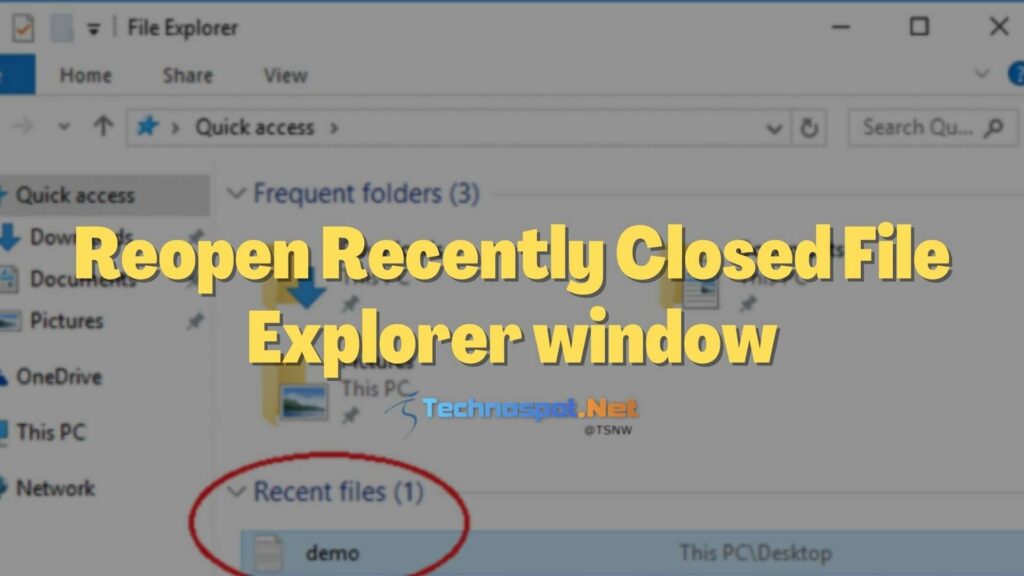 Reopen Recently Closed File Explorer Window In Windows 11/10
There are three general methods for reopening a recently closed window in your Windows 11/10 PC without using any third-party apps. However, using a third-party app is still recommended because these methods may be complicated for a general day-to-day user to perform; nonetheless let us discuss those methods in a serial-wise manner.
Using Shell Command
Desktop Shortcut
Recent Items in Quick Access
You should be able to use them without any admin permission.
1. Using Shell Command
Using the Run utility is the simplest way of accessing your recent items. Here are the simple steps by which you can perform this action:
Press Windows + R key on your keyboard to open the Run utility
There, type shell:recent
Press Enter
It will open a folder consisting of all your recently visited items.
But, there are some disadvantages to this method. The list of recent items can be very long, and it may contain items that aren't as recent. As a result, it isn't as precise as it should be. One major thing to keep in mind is that the main content of the Recent Items folder can vary from the contents of the File Explorer of recently opened tabs, as it has folders instead of main files.
2. Creating a Desktop Shortcut leading to the Recent Items Folder itself
If you need to routinely check the Recent Items folder's contents, the best thing to create a desktop shortcut. In that way, you can easily access your Recent Items with a single click. Here's how you can create a shortcut on your desktop:
Do a right-click on your desktop.
It will open the context menu. There select New
Choose the option Shortcut
There, in the box named, type the location of the item, write
%AppData%\Microsoft\Windows\Recent\
Press Next
Choose a name for the Recent Items shortcut at your convenience.
Finally, click on Finish.
This shortcut will always be present on your desktop. You can also pin this shortcut to your Taskbar for easier access.
3. Adding the Recent Items to the Quick Access Menu 
The Quick Access Menu is yet another way by which you can access the Recent Items folder. The Quick Access Menu is also known as the Power User's Menu.
Open File Explorer and navigate to the following path:
%AppData%\Microsoft\Windows\Recent\
Now, on the top bar, you'll see a triple dot icon, click on it and select the Pin To Quick Access option.
However, as stated earlier, these methods are not very efficient for a daily user as they require multiple steps and aren't accurate enough. That is why separate third-party apps can help you access recently closed folders.
Apps to Reopen Recently Closed File in File Explorer
As we all know, Windows does not provide a proper way to restore recently closed files and folders, as we do in any browser. If you accidentally close a folder in File Explorer, it will remain closed until you reopen it, at which point all of your progress will be lost. It is why we recommend using third-party apps and add-ons to reopen recently closed folders, just as we do on browsers like Chrome or Microsoft Edge.
1. Quick Access Popup
Quick Access Popup is regarded as one of the most effective tools for reopening recently closed files in File Explorer. Not only does it do that, but it also has a slew of other features that can make your experience more efficient and user-friendly. It is an excellent productivity booster that allows you to access and manage all of your documents and have control over all of your digital work environments.
With the help of the Quick Access Popup launcher, all your work is just a few clicks away. It is a very versatile folder switcher, meaning you can access and reopen multiple folders and files of your choice simultaneously, which drastically enhances your Productivity to the next level.
The Quick Access Popup utility's best feature is entirely free to use. It works with all Windows versions, including Windows 7/8/8.1/11/10, both client and server. Don't worry if you're still running Windows XP or Windows Vista. You can use the Folder Popup utility, simply an older version of the current Quick Access Popup utility.
2. Chameleon Folder
The Chameleon Folder is useful when you want permanent access to the folder of your choice. In this scenario, it'll be the Recent Items folder. With the help of this utility, you can easily open the frequently used folders or favorite folders in the Windows Explorer, Open/Save dialogue box, etc.
You can even create menus of your preferences containing multiple submenus. The most prominent feature is that it is Freeware, meaning it is free to use, and you can open recent folders and files with it.
How Do I Find Recently Saved Documents?
You can find recently saved files in the Quick Access folder in Windows Explorer. As you open Windows Explorer, the Quick Acess folder should open by default, and you'll see the recently saved files on the top. If the folder doesn't open by default, you can access the same by opening the Quick Access folder in the left pane.
How Do I Recover Something I Accidentally Deleted?
If you want to recover something you accidentally deleted in Windows, you should head over to the recycling bin of your Windows computer. You can generally restore most of the accidentally deleted files from there. If the file size was too big and instead of going to the Recycle bin, it is permanently deleted, then you should consider using some advanced data recovery software.
We've discussed how to reopen a recently closed file on your File Explorer in this article because Windows doesn't provide a proper method for it. That is why we've compiled a list of freeware utilities that will make your life much easier. We hope you found this article helpful.