When using Windows, we always tend to organize applications. We can do it using Application Launcher or changing the position of items listed under Start Menu or even pinning it to the taskbar. The same idea can be implemented to the browsers. Luckily for Firefox, we have an extension, Personal Menu. It lets you edit the standard Firefox Menu and add, replace or delete menus which you often use.
Why You Need This?
Options like History, Add-ons, Configuration, Recently Closed Tabs are not available right away. You need to click a couple of times or use the Alt key to bring back the drop-down menus and then use it. Since Firefox has a redesigned menu access system with brand new Office Like button, having lists which are regularly accessed right there makes a lot of sense. So instead of pressing alt and then finding the menu, you use the Firefox New Menu to use it.
Reorganize Firefox Menu to What it Suits You Best
Features of Personal Menu
Remove existing Menus on Firefox.
Add Menus provided by the Add-on like Browsing History Full View and Bookmarks Full View
Add Direct options for Restart, Configurations
Existing Menus can be rearranged under one header or can be regrouped under a different section.
Full menu editor. Supports separators, space, and flexible space.
One-Click option to change to Split Menu
Configure Bookmark and History buttons to be available along with Home Buttons right next to address bar.
Use Middle Click of Mouse to see history or right-click to bookmark a page.
How does it look like when you change the menu?
Like you can see below I have removed most of the menu items which I did no use. Instead, I have added full expanded History and Bookmarking. Also, I have New menu Technospot and option to restart Firefox.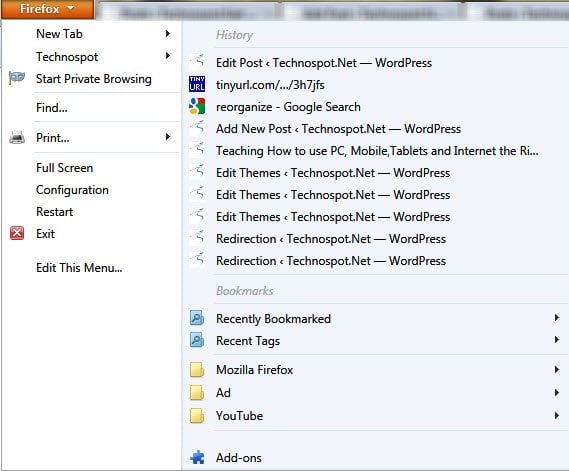 The Menu Editor
The Menu editor is like a standard menu editor but highly configurable. It uses the New Firefox Menu Layout, i.e., two columns. The left-hand side of the editor has all the standard menu options, including the one which comes under Menu Bar.  Any item which is already added to your Firefox Menu will appear as disabled.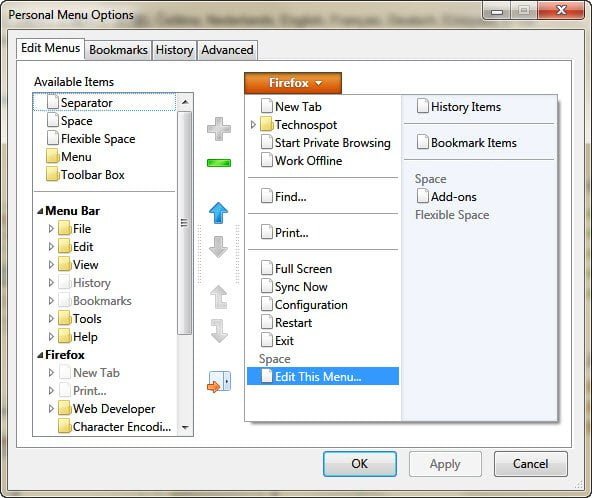 Apart from this you can configure options for Bookmarks, History and disable the standard menu bar which appears when you press the alt key. If you do not want anybody else to change your menu layout, remove Edit this menu item to appear in the list. In this case, you will have to go to Addons and then options to launch this editor.