Product Keys or License Keys are one of the most secure ways to verify the authenticity of a software copy and unlock the application for full use. With the coming of digital licenses, their use seems to be fading away, but currently, they are widely used. You must have encountered the instance of forgetting your Windows product key or license key to other important software like Adobe Photoshop, Autocad, and others. Well, this is what this article is meant for. This article will tell you how to find the product key for Windows and all the other installed software on your computer using Keyfinder software. Please make sure that you read this article till the end.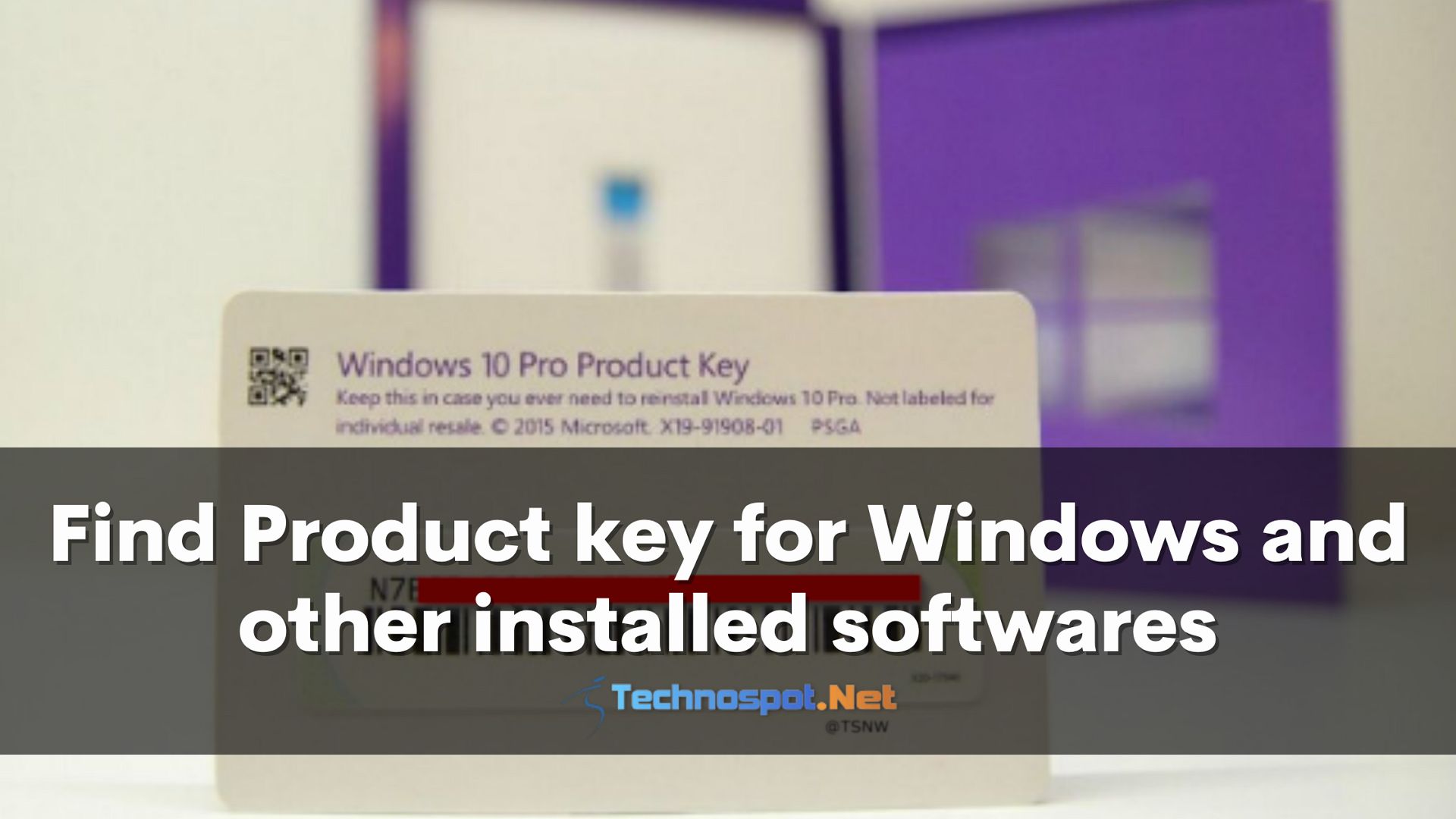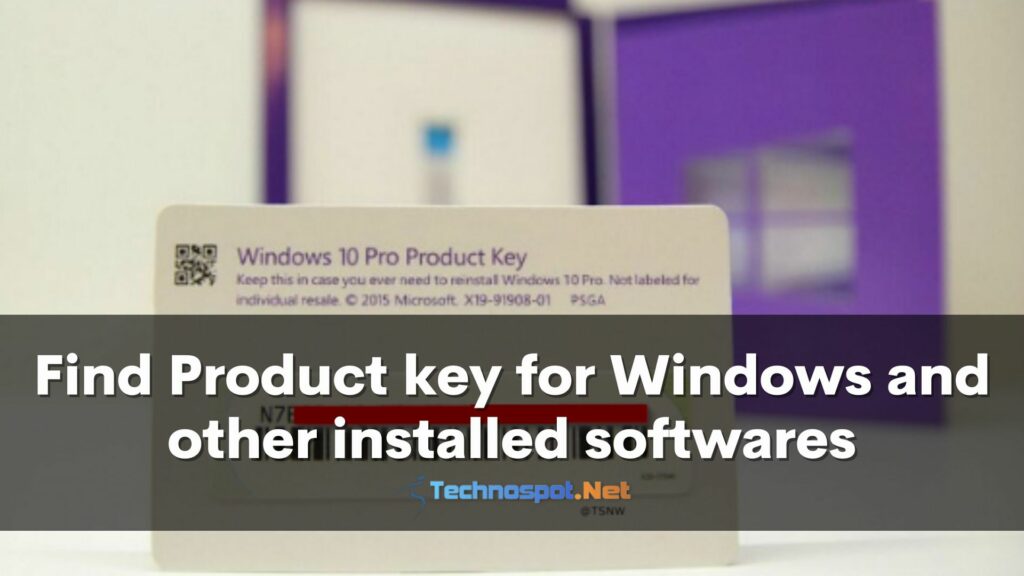 What Are KeyFinder Applications? How Do They Work?
Keyfinder applications are specifically designed for forgetful people and help you recover product keys for almost every software installed on your computer. The product key for almost every application installed on your computer is stored in the Windows registry, the database for storing every information software requires for functioning, including the product key.
Best Softwares To Find Product Key For Windows And Installed Softwares On A Computer
Here is a curated list of the best free/freemium key finders and a native method. The applications listed here have been tried and tested by thousands of users and can recover keys for most software. We'll have a detailed look at each application's features, pros, and cons for you to choose the best one for your needs.
Magical Jellybean Key Finder
Belarc Advisor
Produkey
Using Windows Terminal Command To Find Windows Product Key
Let's have a detailed look.
1]  Magical Jellybean Key Finder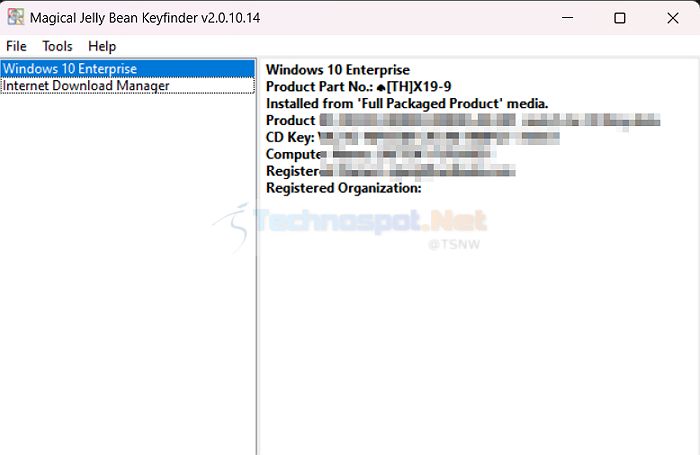 Magical Jellybean Key Finder is the gold standard of key finders and was one of the first to come out. The software is available on a freemium basis. This means there is a basic free version and a premium version with a wide range of features. Once run, the software automatically scans for the product key for all the available applications on your computer and the operating system itself.
Features: 
Automatic scanning for Product Keys
Supports the Latest versions of MS Office
Supports Windows, XP, Vista, 7, 8, and 10
Works in command line Interface
Light and Portable
Simple interface
Pros: 
Lightweight and portable application
Simple interface
Deep scanning
Support for Adobe products and MS Office
Cons: 
The free version only supports 300 programs
Many important features are unavailable on the free version
Download Magical Jellybean Keyfinder
2] Belarc Advisor

Belarc Advisor is so much more than just a key finder. This application packs in everything you need to know about the computer software and hardware components, helps you identify any underlying issues and threats, and helps you find the product keys for most installed applications. Belarc Advisor builds a complete profile of app usage, windows updates, security issues, networks, and just about everything you need to know about your computer.
Features: 
Detailed advice report for PC
Works completely offline
Extremely secured
4 MB installation package
Find security issues
Find windows update history
Find USB storage usage
Pros: 
Small installation package
Works completely offline and hence secure for use
Displays a detailed report for each application
Analyzes computer for security issues
Cons: 
Displays report only on a web browser
Free only for personal use
3] Produkey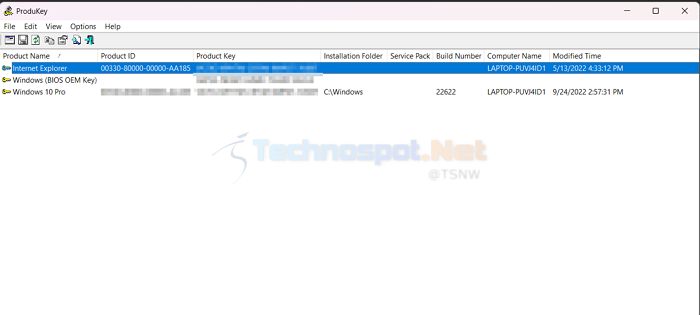 Produkey is another key finder application that works by scanning for application licenses and product keys from the Windows registry. The application is provided by Nirsoft, a widely popular developer of utilitarian freeware software. The software has a simple interface but is efficient at the job.
Features: 
Freeware application
Works completely offline
Small installation package
Export product keys to text files
Extract product keys from portable Windows installations
Pros: 
Ability to find product keys from the command prompt
Small installation package
Completely free
Support for Autodesk, Adobe, MS Office, and many popular software
Cons: 
Primitive UI
Some applications might not be detected
4] Using Windows Terminal Command To Find Windows Product Key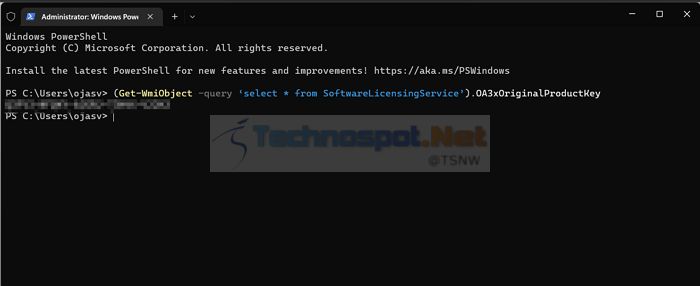 Windows Terminal is a command line utility that can be used on a Windows computer to execute commands and perform several advanced operations which cannot be done otherwise. You can find your Windows product key by executing a simple command in Windows Terminal. Here's how to do it:
Right-click the Start icon and then select Windows Terminal (Admin) from the menu that appears.
In the elevated Windows Terminal, paste the following command and hit Enter.
(Get-WmiObject -query 'select * from SoftwareLicensingService').OA3xOriginalProductKey
Once you execute the command, your Windows product key will be displayed below it.
Conclusion
Product keys are valuable and should be stored somewhere physical or in a digital location where you can view them easily when needed. Once you recover the product keys, upload them to an online notes platform like Google Keep for easy access. We hope you found the article to be insightful. Please make sure that you share it with everyone.
Can My Product License Get Hacked With A Keyfinder?
No, your product license cannot get hacked with key finders, as most of these applications work completely offline. Since no data is uploaded online, there is hardly any chance of your product key getting hacked with a key finder application.
Are Key Finder Applications Safe To Install?
Yes, key finder applications are entirely safe to install as they don't tamper with any software components and settings of your computer and work entirely offline in most cases. As a precaution, ensure you only download the widely-used and trusted ones.