Lava Iris 458Q from Lava Mobiles is an Android based mobile phone which carries a spec which falls somewhere between high and low-end mobile specifications. Carrying a quad processor but still having a low ram was a catchy point for us. The phone is priced around 9K which makes it fall into budget phone category.
My overall idea on checking on the phone is if it can be used by a regular user with different kind of needs and that's the reason I had two users here. The phone was tested by two users, One who uses whatsapp a lot and makes a lot of calls and the second was me who used a lot of apps on it, gaming and music. Don't forget to check out the rating. Lastly I don't push on heavily on specs unless the phone really fails to perform.
Video Review
Display & Screen Quality:
The screen size is 4.5 inch with FWVGA, 480 x 854 Pixels. For many it may sound this to be less but I had no complain with it. The display is very bright however when seen from different angle the change in color is noticeable. This will have a huge impact when you are watching a movie or when two of you are looking at the same screen.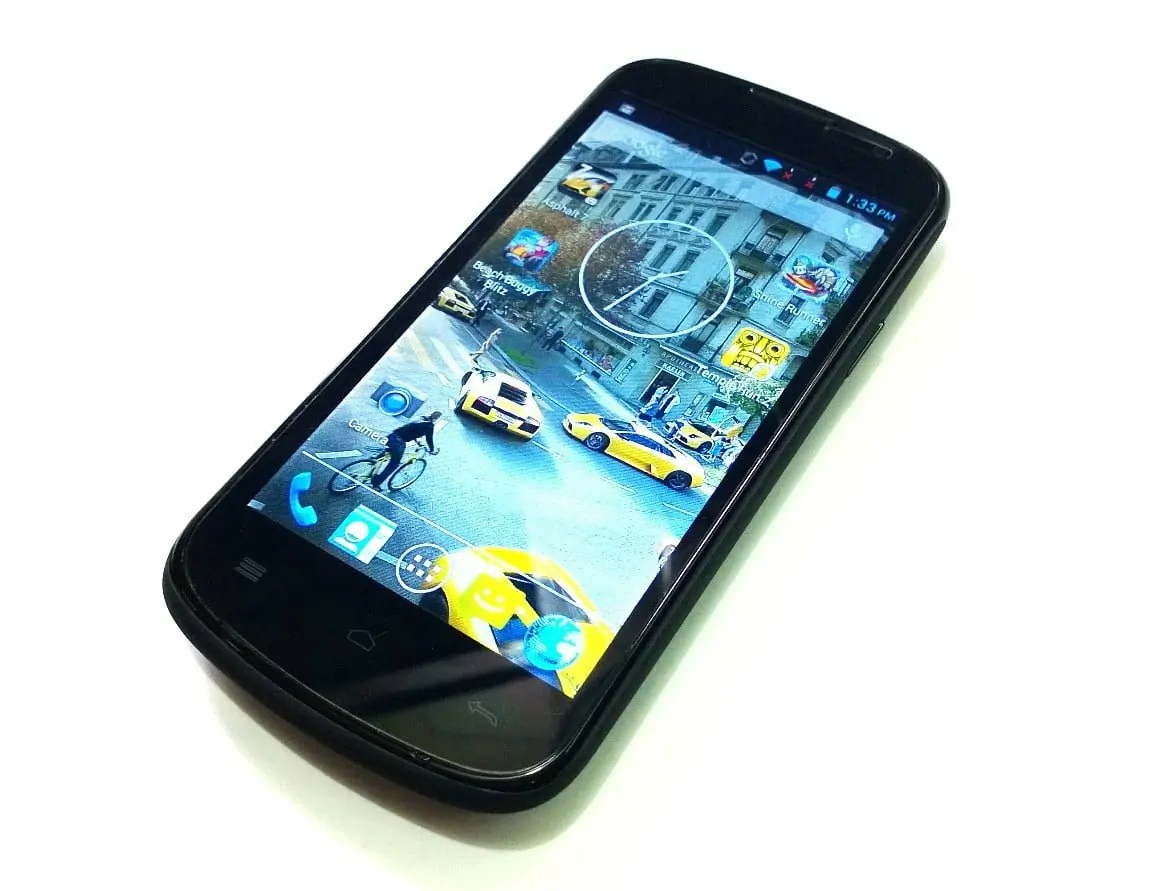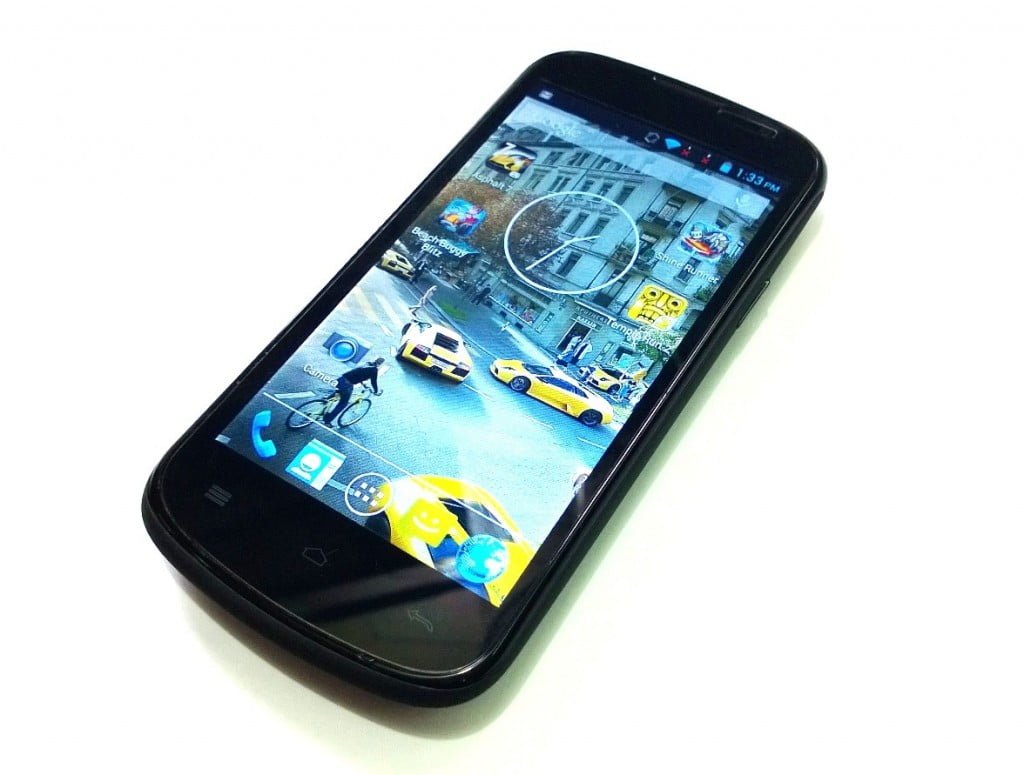 Screen quality is pretty impressive at this price point. Even though its capacitive screen, the overall touch response, flipping, swiping, etc turned out to be very smooth. Also the phone is not a dirt magnet and with tight-fitting it mostly keeps off the dirt getting inside the phone. However, if you sweat a lot you might have to clean it up from time to time.
Build Quality:
When I hold the phone and use it for sometime, the overall feel is pretty good. You wont feel the product is of cheap quality. the body is made up of moderate strong plastic which is carved out well. There are no corners in the phone and is designed ergonomically to fit in your hands well.
However the back panel of the phone is very weak plastic which can break if you aren't careful. That said, you wont realize this until you actually take it out because the panel fits in very tightly with the phone.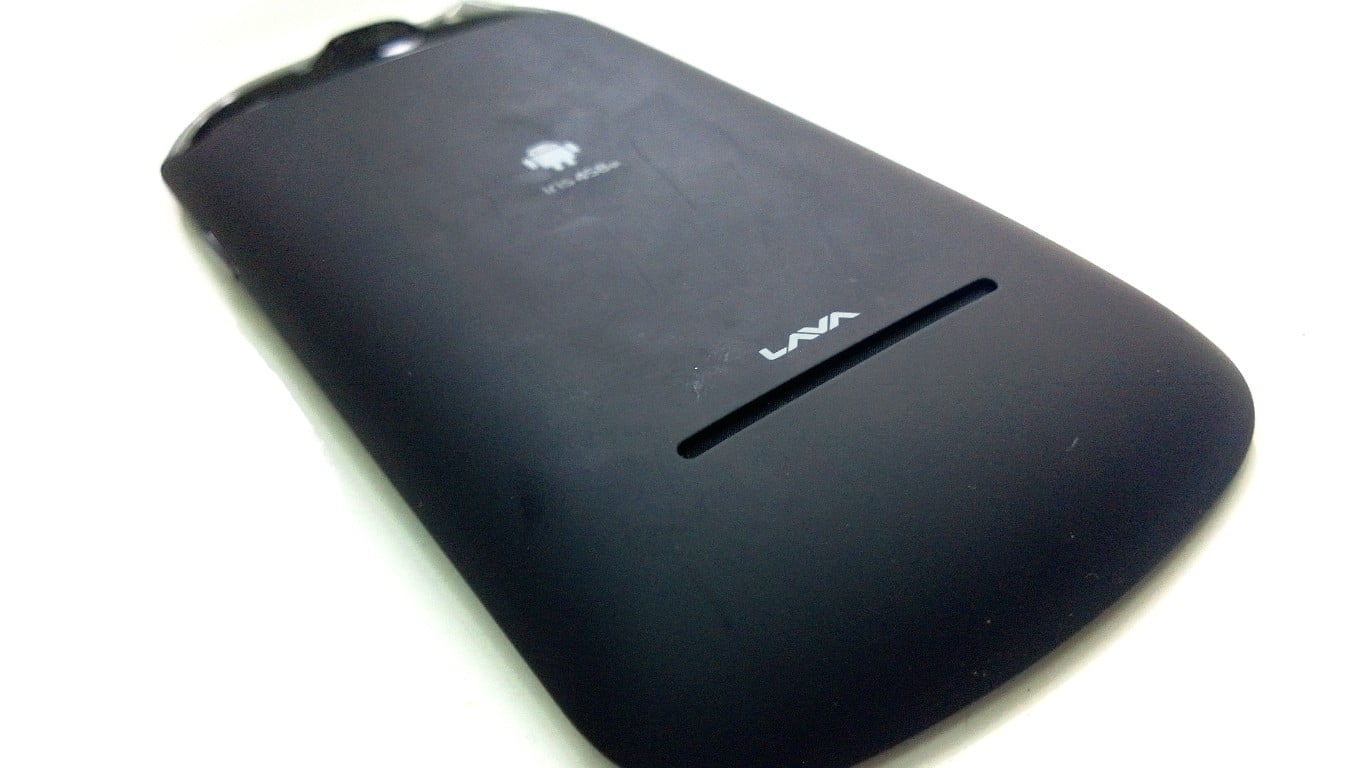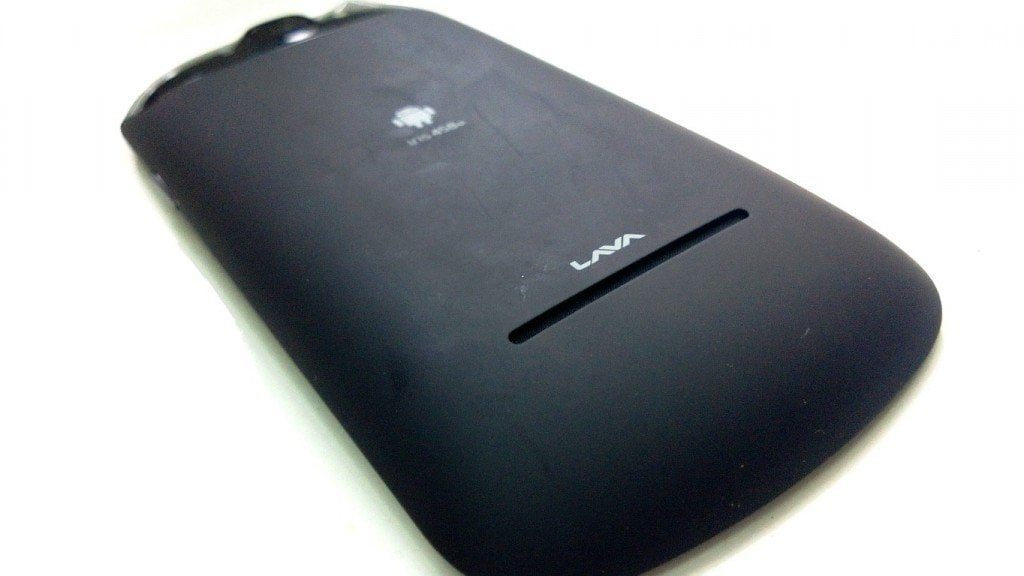 The front of the phone has Camera, Ambient Sensor and speakers from where you hear the calls. There are three capacitive buttons without backlight. Also not note the back menu is moved to the right instead of being on extreme left.
The rear section has the 8MP camera with LED flash and speakers at the bottom. There is also 3.5mm Audio port which is bit budged out. Right beside that is microUSB port for data and charging.
Battery Life:
The phone comes with an impressive 2000 mAH battery. Keeping in mind that it has quad-core and big screen this was very much a necessity.
On an average use along with Whatsapp and Facebook it lasted for 16 hours straight.  It also include casual browsing, image downloads. On heavy usage along with 3G it lasted for 12 hours. This also included 2 hours of music play via the speakers.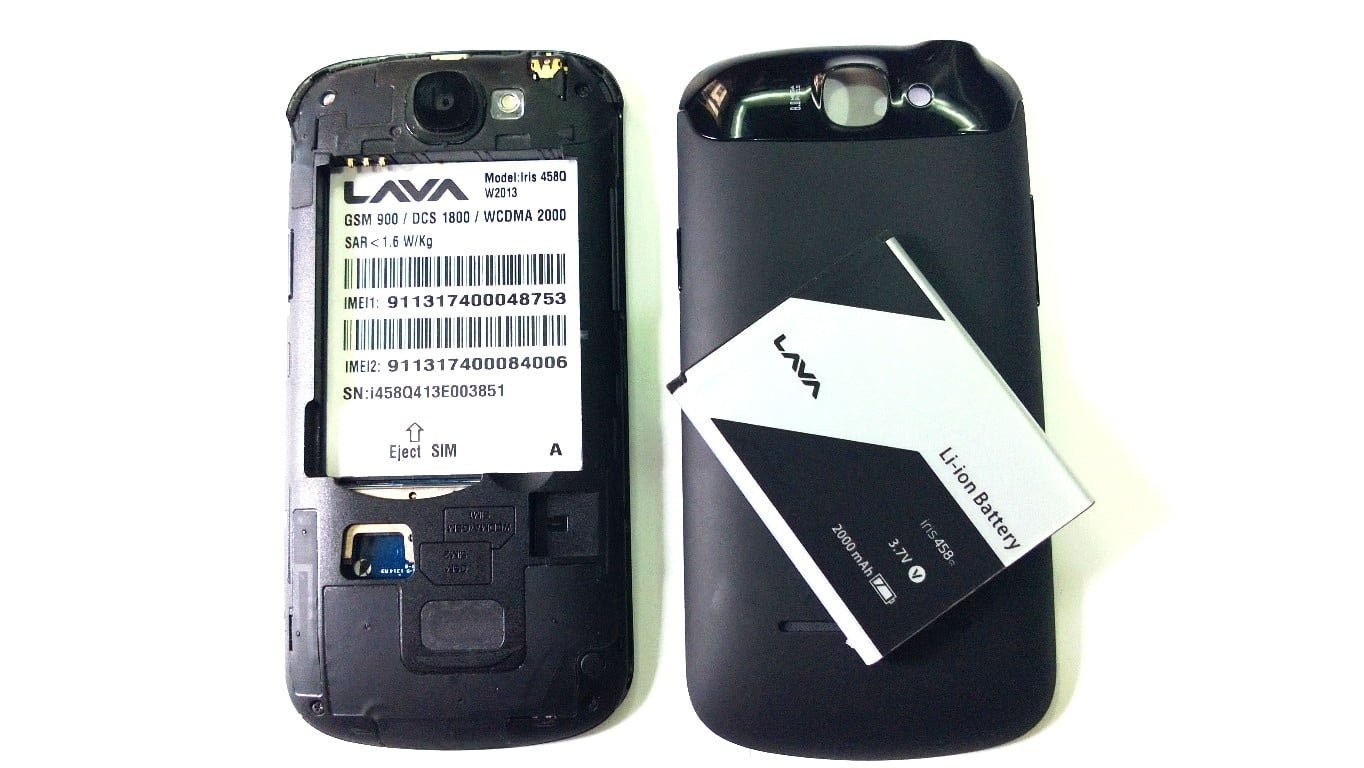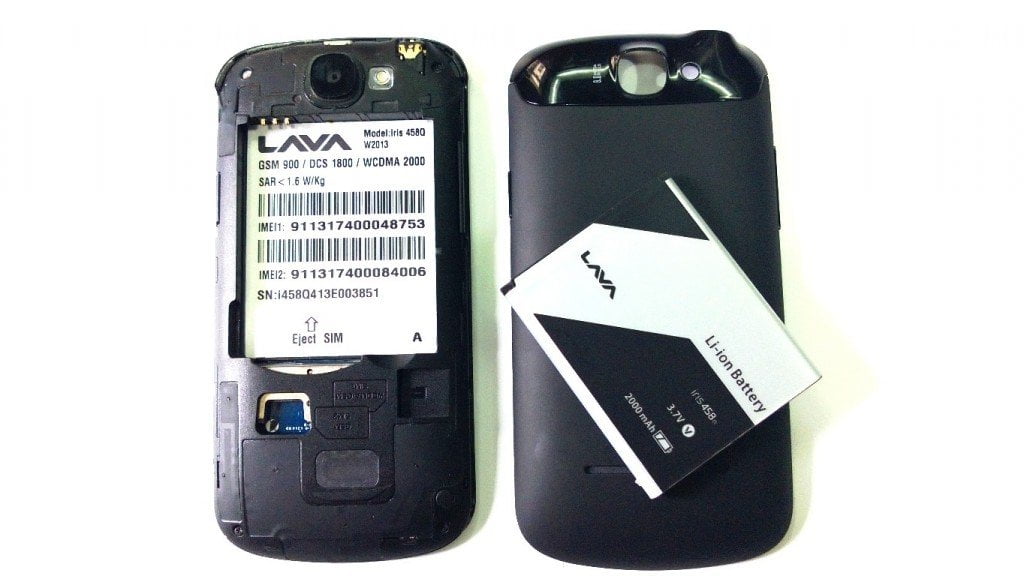 So overall the battery performance was ok, I don't see most of the phones lasting very long on 3G and so was the case with this phone.
Voice Call Quality:
This surprisingly turned out to be low. The audio was low in volume and even the person to whom the call was made complained about it.
Camera (Photos + Video)
The 8MP Rear camera does a decent job when taking day and night pictures (flash). Below are some sample pictures for you to get a clear idea. Don't expect much from the front camera which is only VGA and ok when used for video calling.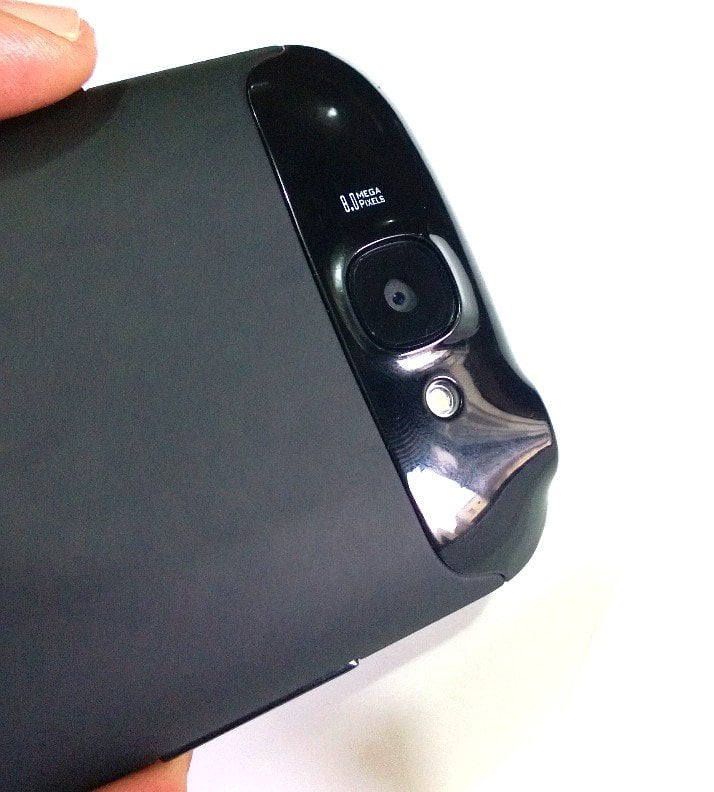 What I really did not like about camera was focusing issue. It seems it keeps on Autofocus by default so when you actually just snap the picture without manual focus, it gets blurred.
The camera also supports HDR capturing which is better than the regular mode as they will come out sharp and brightened up. HDR capturing makes sure to capture image with their right intensity i.e. from direct sunlight to faint starlight. However you need very stable hand to get this done.
Apart from that camera has all features. You can change everything manually or choose scenes. You can take Panorama shots or try multi angle view.
When it comes to video, again, a decent job.
You can zoom in and out taking a video.
Choose to turn off the microphone when shooting a video
Supports Timelapse, Effects
Supports Electronic image stabilization or EIS which is good to have on board. You images will be bit stable and you don't need a costly software or high-end pc to fix the shakiness.
Game Performance:
The phone houses an odd combination of 1.5ghz Quad core processor with 512MB Ram along with GPU : Power VR SGX 544MP
graphics processor.  One thing which I really appreciated that the phone did not get heated after playing for long hours.
Temple Run: The game runs pretty smooth and gives a quick response for all the actions.
Asphalt 7 Heat : Though playing was smooth but there are lags and glitches during game play. Specially at those moments when you have wrecked or passed on a knockdown. The whole screen just fast-forwards which is definitely rendering issue. Since the rendering is bit slow, the response is not quick either. So its ok but not a great experience.
I took up one game which uses intense graphics while other was slow-mo. So don't expect high-end graphics game to run smooth or might not even run at all, happened with Beach Buggly Bitz. On the other hand if you play regular games like Temple Run etc, there might be a bit of loading time but they will be smooth.
Below is a video showcasing Game Performance:
Music Quality:
I really liked the overall music quality of the phone, both on speakers and when used with headphone. The curved design when bends upwards make sure the audio coming from speakers don't get cut off though there will be a bit of difference in amount of volume when kept on flat surface and you hold it on the edges. Also when you hold it with your palm, casually, the speakers work just as great.
When you play a music which has a lot of bass and that directly on phone speakers, you will be bit disappointed because the speakers just crack and they aren't built to handle that kind of bass. This gets cut off when switch to earphones and is smooth but not that great.
Overall listening to the music was fun and soothing because it never hurt my ears even on full volume. Below is a video demo of the same:
Summary:
At a price of about 9K, Lava iris 458Q is a pretty decent phone which packs in  most of the great features you might be looking in an Android phone. It has the Android 4.2 Jellybean installed which gives you access to all the latest features of the OS including multiple users. You can configure a user for your kids to restrict access to your personal files.
Big Screen, WhatsApp runs smooth, there wasn't issue with gaming and the music quality was pretty smooth. If I have to think about drawbacks, first the phone has low phone memory and you will not survive without an SD card. Then the phone has just 512 MB ram which gave it a bit of hiccups in gaming but for operating apps it was just fine except when you use tons of apps simultaneously.
[wp-review]