Comparium is found to be the end-to-end solution provider for the developers looking to establish their websites with better responsive. In a way, this website proved to be effective in many ways; one such way has been the screenshot web testing.
If you are one of the developers and website owners who are struggling to find a better software or online platform to share your burden to increase the user interface, then read below the genuine usability of this website.
Free Tool For Checking Your Website Design
First and the foremost thing is that you can use Comparium as a free online tool to check how is your website going to look for a targeted user audience.
Doing so, you will not have to pay an extra penny, and your job gets done easily within a few seconds of putting down the URL in the search box of this tool.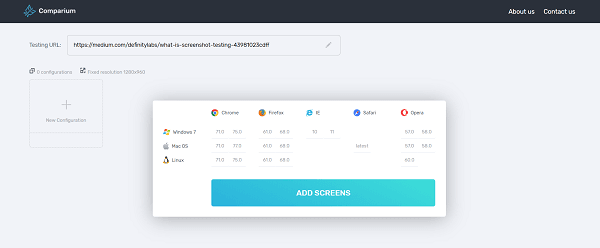 Screenshot Is Generated Automatically
Another advantage you will find about this tool is that it generates an automatic screenshot of a screen depending upon the resolution you have chosen.
Hence, you no longer have to go through the hassle of saving the image of the screenshot. So, if you want to conduct a screenshot web testing immediately for any unknown or known reason, you can share the URL of screenshot with the interested parties.
Multiple Operating System Are Supported
At times some tools and software do not work on every operating system. Then you have to find another tool and end up wasting time. This is not the case with Comparium because it gives users a choice.
The operating systems supported for your regular website testing are Windows 7, macOS, and Linux, which pretty much sums up every other desktop operating system.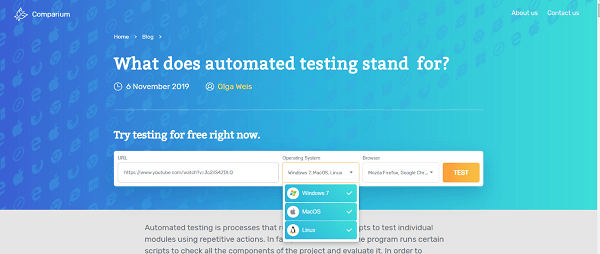 What's even more fantastic is that you can select all three operating systems at once while trying to grab the screenshot of the URL you have typed in. It increases your productivity while getting screenshots you might have wanted.
This can impress your immediate stakeholders as well if they want to see your website's productivity.
Multiple Browser Options Are Available
So, now seriously, this tool is becoming our favorite because it's not easy to find a tool with such features—absolutely free and quick, too. Sufficed to say, every bit of screenshot web testing is successful when you know how your website is looking in different browsers.
Moreover, you can select all the browser options at once. These options are Mozilla Firefox, Opera, Safari, and of course, Google Chrome. This equates to the majority of the target audience you might have because honestly, most of the digital crowd uses these four browsers.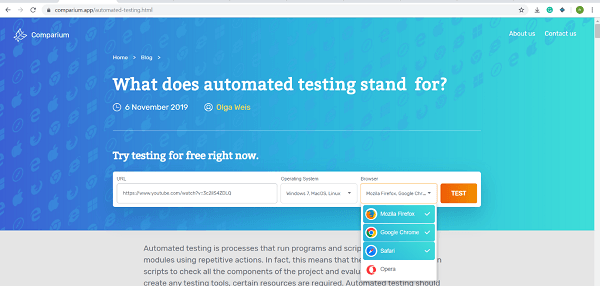 So now you can imagine what it will be like to select all operating systems with every browser option for a single URL address of your website. The output is shown on a new tab within seconds or minutes, depending on the resolution and objects embedded on your webpage.
Easy Browsing Of Screenshots
Once an automated screenshot is generated, it can be shown to you in another pop-up window like a slide show. And then you can see where your browser is showing a different resolution.
If the resolution of the desired webpage is similar across all platforms, only one screenshot will be displayed. This eases the usability of creating automatic screenshots online.