In one of my previous post I had talked about removing labels which appear as folders when I used IMAP with Gmail. I was able to successfully remove labels but some when Outlook or any email security plugin in outlook creates a folder that gets register in Gmail as label. This was annoying.
Like for me two folders, one named as Infected and one as Junk Email was getting created. I tried removing and deleteing them from Gmail but since it was created by Outlook it did not work. Today I finally decided to solve this and found the right way.
Like I said, this was getting created by Outlook the problem should be targetted from Outlook. I use Office Outlook 2007.
Find all Listed Folders
When you right click on the root folder of the mail you had configure, a menu option called as IMAP folders appear. Click on this and it opens a Query or search box which lets you find which folders you had subscribed so it appears in Outlook. Just press Query button and it will list you all the folders.
Unsubscribe from Folders
Next step should be to click on folders and then unsubscribe. And then remove it from your Gmail labels also. This makes sure that this doesnt appear or create folders for you.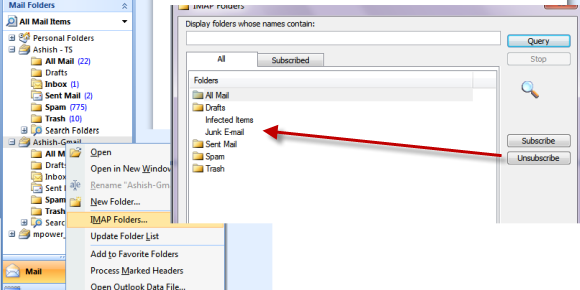 Thats all. Just hit update IMAP folders and you should not be seeing those folders again.  Happy Outlooking!!!.