Google Plus has a new feature, Community, which is an equivalent to Facebook Groups, and if you are a webmaster who would like to take advantage of involving your users to discussions without putting a lot of efforts into forums, its a great choice.
So now when setting up a Google Plus Community, one of the options is to set up a photo which can express or represent your group and make it stand out. When doing say I faced a small issue which results in an ugly photo when somebody else sees your community page for the first time.
The Problem :
When selecting an image you need to select an image which is of minimum 250px by 250 px. Now most of us will either pickup the logo file or any other image which is full blown. Now the problem really happens when you realize that the name of the community and the tag line overlays the image. So anything important on the image goes in the background and makes it a mess.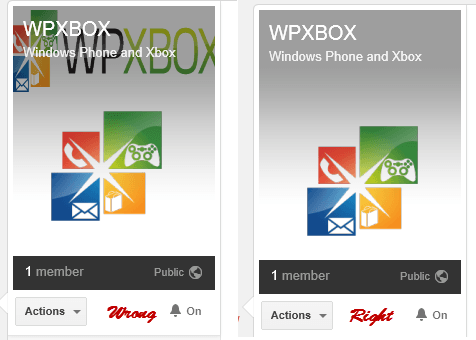 The Solution :
Now since the Logo and tagline appears on the top left portion, I will strongly recommend you to create an image which has its upper portion empty and your main image is at the lower position. If you see the image above, it's a perfect example to help you understand the situation.
You need to keep your main image around a minimum of 64 px from top as the Community Name and tagline takes up that much of space and there is also a shadow effect.
Note : You may encounter some error while loading image, but it loads up just fine, just give it a few seconds to refresh.