Uploading to multiple sites takes a lot of time when you have a lot of images,  browsing selecting where it is and so on is another time-consuming part. RightLoad is a simple but powerful image uploader which
First lets you configure which sites you want to upload
and then integrate that in the right click context menu of Window.

So organizing to upload is like one minute job. RightLoad comes along with  an inbuilt queue system which first lets you bring images in one place and then select where you want to send them.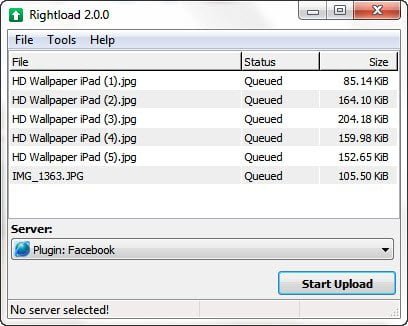 Feature List :
Upload to Facebook, Flickr, ImageShack and imgur sites. You will have to either connect them via apps or provide your credentials.
Configure FTP, SFTP and HTTP servers. You can group them.
Uploading to servers is very powerful. You can configure order fo upload by sort filter, which directory to be used or completely upload to a custom directory.
Control the quality and size of image as it uploads. The files will be re-sized and resolutions can be reduced. If you have limit on your internet speed or storage limit on the server, this is useful.
Supports both 32 and 64 Bit with context menu.
You can download Rightload from here and check out more configuration options below.