Robocopy is a GUI version and utility of the copy command for Windows 10. It offers advanced options of copy command without using the command line. The power of Robocopy makes serious file replications or drive replication a more straightforward job. It was initially designed to replicate or mirroring directories or directory trees and can work over network drives as well. The built ability to restart from it was interrupted or stopped, makes it a powerful tool.
An example would be when you want to create a full mirror duplicates of two file structures. The parent folders include subdirectories and files. The process should execute without copying any already available files, i.e., it can copy only the data which are either added or updated at source application. Moreover, it will retain the metadata information of the files, i.e., timestamps, permissions, etc.
Robocopy: Powerful Copy utility for Windows
In case the copy fails, Robocopy will start from where it left. So you need not worry about the time wastage. If you need to repeat your task day to day, Robocopy allows you to save all options as one script. This way, you can create all scripts depending on your usage. Moreover, you can always run Robocopy in the background and start setting options for another.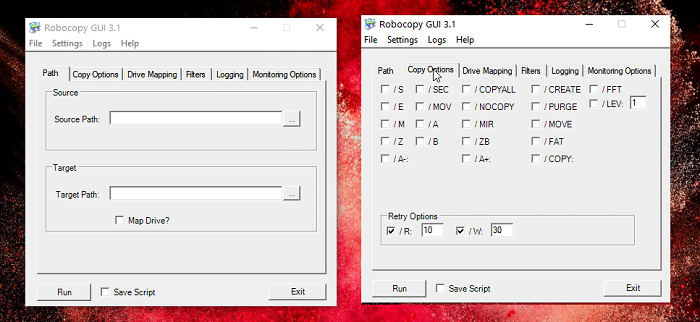 Robocopy Features
Advanced Copy features.
Copy Drive to maintain the complete tree structure
Temporary Drive mapping with any online server. This way, you can connect to your FTP and mirror the entire drive on your laptop.
Advanced Filter with Type of file and size options
Logging for extra troubleshooting
Real-time progress monitoring of source and destination targets.
Real-time ETA and TX speed for the current running Robocopy job.
The ability to monitor and run multiple scripts simultaneously.
Unique dock feature to dock and lock running scripts into the RoboCop RoboCopy skin frame.
It has advanced view options that display and list the current copied files with options to jump to the location or open the file.
Simple selection options to help tailor build the right robocopy script.
Windows Explorer integration with easy to use right-click options for source and destination targets.
Regular updates and support.
All advanced options are available.
This powerful tool, included with the Microsoft Windows Server® 2003 Resource Kit Tools(Command Line) or download the UI only from here, can be downloaded from Source Forge 
Robocopy GUI
In this version, you get the original Robocopy, but along with a lot of additional files. Robocopy was initially a server tool but was released fro all. It will be installed in the Programs Folder. It is a lot easier to use and offer a better version compared to them later. Once installed, select path, copy options, drive mapping, filters, and so on.
SourceForge Version
Once you launch the software, you have the option to choose the source, destination, and then make choices for final action. It includes a mirror, exclude older, ETA, and so on. This version is a modified version, i.e., comes with an additional layer of UI that manages Robocopy in the background.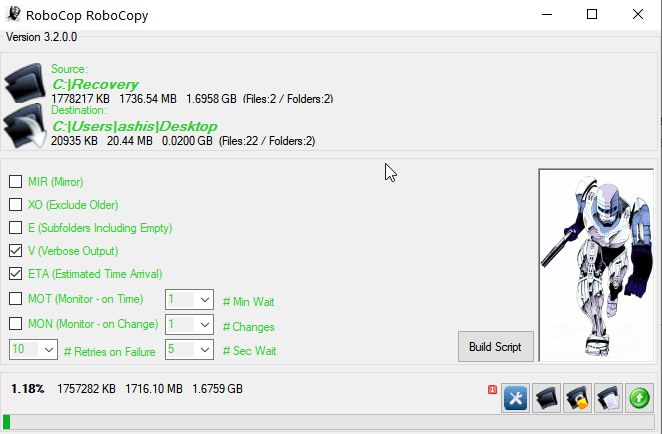 We have listed both the versions in case one goes missing. Microsoft keeps changing the path of the Robocopy utility, and it becomes hard to keep track. Nevertheless, I hope you find the Robocopy: the Powerful Copy utility for Windows with user interface useful.