Robokill for iPad got an update yesterday with 3 major features, Game Center integration, option to change Joystick location and Survival Mode.
Survival Mode :
The very idea of the survival mode is to play continuously and live as long as you can. It's very addictive. Below is a video review of how it looks like and then my feedback. Direct Video Link
What I liked :
Every time you play Survival mode, the stages are different i.e. Room type changes so you don't get bored feeling the same type again and again.
Survival Mode gives you a complete idea of the full game. It should be included in the Lite version if it's not included yet.
What I did not like :
The game response gets low at time, specially at time of notification or if you have played it for a while.
Also the game sometimes locks me out of iPad, though it pauses.
Change Joystick Location :
Now it is possible to change the location of Joystick i.e. where you put your thumb to control movement and fire. Before starting the game or any time in between, click on the configuration icon on top right and you will see the option.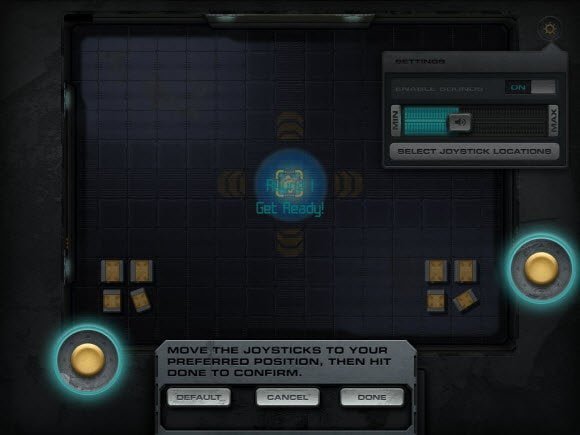 Now touch any where on the scree left or right and the controls will change location accordingly. The only bug here is that the cancel button doesnt work.
Overall amazing job done and I love this mode.  Download it from iTunes