Many a times you had wished to watch live stream later again, possibly to come up with a blog post or to recollect the information you might have missed.  Now the only option is to view the event again at their official channel, which ultimately means that you spend your bandwidth again, or start using RTMP Dump Helper, which  is a simple software which does this job for you in the background i.e. It keeps saving the live stream in the background while you are watching it.
This is the same protocol used by many popular websites like by Hulu, justin.tv, and many websites which might be streaming Live Events, Webcasts and Movies. Today is the Apple's Worldwide Developers Conference (WWDC), So you should give this a try.
How does this work ?
RTMP is a protocol used by most of the live streaming websites for the video. This protocol makes sure that streaming is smooth and does by breaking the stream into small packets but keeping the connection alive.
So now this software utilizes  open software called as RTMP Dump, which can capture the stream from your browser and then dumps it into a file which you can watch later, again.  The later part is being done by the RTMP Dump Helper (the software I am talking about in this post) while the role of RTMP Dump is to detect the connection and redirection.
How to use it ?
Download the Windows Build of  RTMP Dump File from here & extract it.
Download the helper from here (Scroll to end) and extract it.
Copy the rtmpsuck.exe from 1st step, and copy it to folder of RTMP Dump Helper
Now run any live stream video.
Run the helper executable and it should detect the browser running the live stream.
You will see a console window here.
A video file should be created in the helper folder.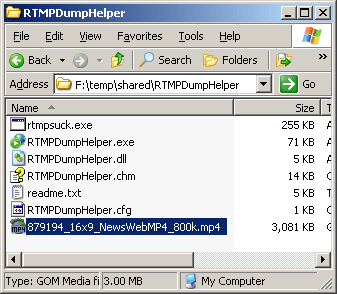 OS Support & File Format. 
It works on Windows Xp to Windows 7 to Windows 8.  The software saves the video in .FLV format and works with all browsers. The video is saved in the same folder as the software. Since it's a standalone software, you don't have to worry much about installation.