If you had ever wished to run those google gadgets right on your desktop, Vista and Windows 7 users now have a chance to do it. Amnesty Generator is a desktop application which allows you to convert google gadgets, youtube gadgets etc into Sidebar gadgets which run on Windows 7 and Vista both.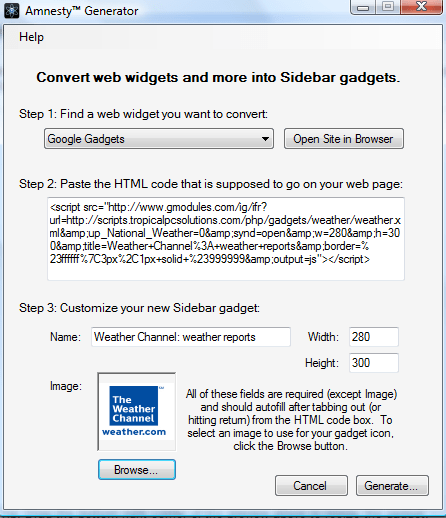 All you need is to get the code which is available for any gadget i.e look for html code. After you get that, just paste it into the Step 2 of application, add a name,  image etc and you are done. It gives you gadget file which you can easily run on your sidebar.
It alos supports other gadgets like
ArcadeCabin | Funny4MySpace | GoodWidgets | PicGames | POQbum | Pyzam | SmackArcade | SpringWidgets | Widgetbox | yourminis
New York Times : 30 Boxes | Bitty | Blinkx | Box.net | ClockLink | eBay To Go | FineTune | Grazr | imeem | instacalc | Slide
YouTube : aniBOOM | Bolt | ClipShack | Dailymotion | Google Video | Guba | Jumpcut | Metacafe | Photobucket | Revver | Twango | Veoh | Vidiac | vidiLife
You can download a copy of this gadget creator. Make sure to use a download manager in case the download stops at file size less than 5.1 MB. It didn't work for me unless I used the download manager.