Windows 8 Native apps are designed to work full screen which gives better experience and more space for one to interact with it. However, switching between the apps, specially when you work with Desktop Apps and Native Apps together, this feature becomes one of its biggest drawback.
As an example, I am mostly a desktop user and desktop apps are my priority. So when using Windows 8 Apps, It just cuts me off from the rest.  Some of you might argue that I can use the side docking feature.I agree, but then docking only gives me half the feel of the apps. They are good for apps which can be used as single column.
As a matter of fact, after I had used the touch based interface of Windows 8, I can understand why the apps were built like that. Switching between the apps is much easier using touch when compared to non-touch devices.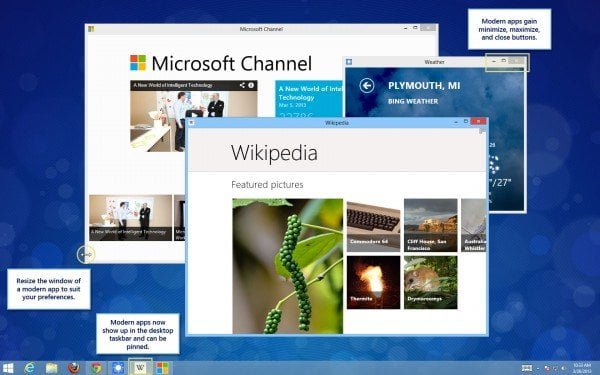 ModeMix:
This brilliant application by Stardocks brings in the Windows Control i.e. Full Scree, Close, Minimize to Windows 8 native apps. This in turn makes it usable on regular desktop. Not only this but the apps get their place in Taskbar and you can run multiple apps.
Features:
Once installed the application integrates natively in the OS without you worrying much about enabling or disabling anything.
You can set the size of the window for every app and it will always open in the same size, the next time you open the app.
You will be able to pin the application on the taskbar.
The best part of using this is that switching between the Windows 8 Apps can be done without moving your mouse to another corner.
How to get ModernMix
Sadly, the application is not free of cost. It will cost you 4.99$ with complete support and updates from Stardock. You can download ModernMix from here