Samsung Galaxy S4 announcement has got a wide variety of mix responses. Some like it and some hate it because Samsung seems to be following the same Apple idea of brining in new phone with bit of hardware upgrades. Now if the phone doesn't look exciting, I will suggest you to take a look at the accessory section which might look better. As a matter of fact in my opinion, if Samsung does it right in the accessory section, it might help the sell the phone even better.
Health Accessories:
S Band: This reminds me of Nike+ Band. Similar to that it track every calorie you burn via regular walks or jogging around.  It also calculates total distance covered by you. It can also approximate on your total sleep time. It comes with waterproof coating which makes sure you can wear it anywhere anytime.
HRM: It can track your heart beat while you are running. Excellent if you are a regular runner and since the data is real time, you know when to stop. The data can be seen on Running Mate App.
Body Scale: This weight checker makes sure that you track weight of every family member. It sends weight data via Bluetooth to the S-Health 2.0 App.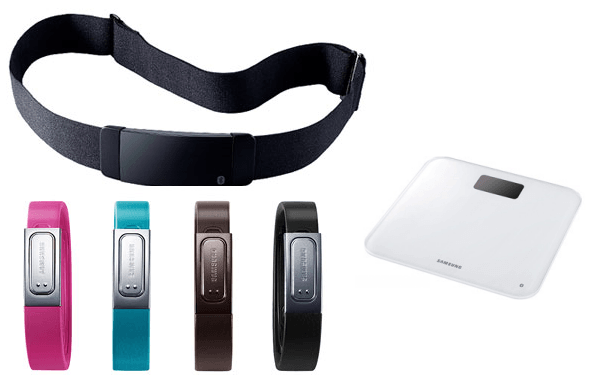 Cases & Shells
S View Cover: Lets you see part of the screen and you can talk while its closed. Not sure how useful this will be unless we get to know what kind of details you can view through it.
Protective Cover Plus: This seems to be a quality cover case which will have its strength. It comes in colour and has more thickness around the edges.  I guess this will be essential as the back cover of S4 is plastic.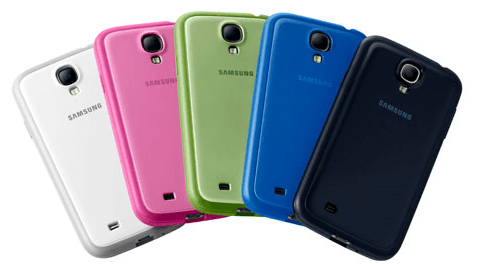 Flip Cover:  The usual flip cover with colours.
Pouch: Nothing exciting here as well. Quality pouch and that's about it.
Others:
Apart from these specific categories, Samsung has also some other accessories which can be interesting for many of you here.
Game Pad:  This looks like XBOX Controller has a new accessory which can hold the phone.  This accessory helps you play games on your phone which is definitely a great idea.  It pairs the phone via Bluetooth and NFC so be ready for some battery drain when used for a long time. Only the experience will be different.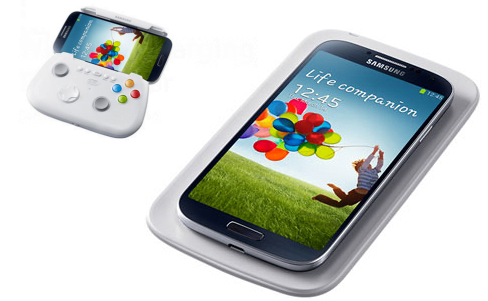 Headset: If you need some better audio on your phone, these earphones can help you out. They come with Dynamic Deep Bass and high resolution treble sound.  They are ergonomically designed and slim for comfortable use.
Apart from these you have Extra Battery Kit and Wireless Charging accessories also.
Find more about the accessories here. Nothing has been shared about pricing of these accessories.