Many a times it may so happen that you do not have an Antivirus Installed on your machine and there is no internet connection where you can download one.In these situations, a portable virus, malware and spyware scanner is very helpful.
Microsoft has released Safety Scanner (64 Mb files  ) which can scan your PC or any folder on demand on any PC which is running Windows without installing it. The best part in case you feel your Antivirus is not working as it should, it works along with it without causing any kind of conflict. It works with Windows 7 both 32bit system and 64 bit system.
How to use Microsoft Scanner :
Download the file from here.
Right click on the exe and go to properties. Check if it is blocked, if yes click on unblock button.
Double click to run and choose Quick Scan, Full Scan or any folder scan.
Quick Scan is basic check which cannot be skipped.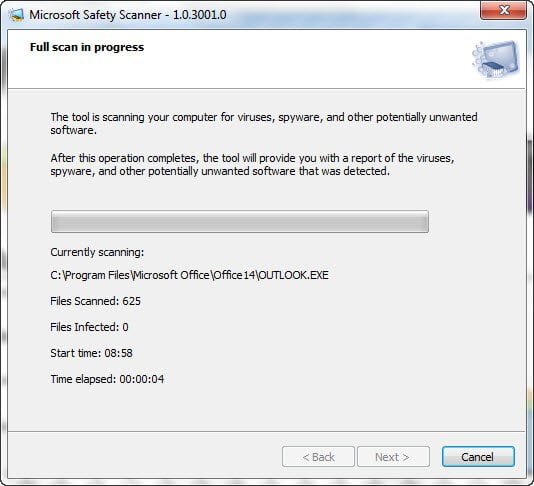 Once the scan is complete, you get a detailed report on which files are infected and what actions needs to be performed to fix and clean your PC. Most of the time items will be quarantined and submitted with the Microsoft Security Center  for any analysis.
Another raw fact you should know is that this Microsoft Scanner expires in 10 days after download. Since this is more like an  offline file and is not installed, new virus definition and protection cannot be added to the current setup. Hence you need to download it again.
Best way to use this is to keep this in USB drive so you can scan any pc or USB anytime and remember this is not a replacement of any existing antivirus but an offline solution.  Grab a free anitvirus from this list and checkout Microsoft Security Essentials