Generally after a fresh Window installation we install a fresh copy of drivers. However sometimes it might happen that you lost your Driver CD, in such case the devices attached to your system may either malfunction or won't function at all.
Here is an application which can help you in such case, DriverEasy is a nifty utility to scan your system for any missing driver, also it reports about the outdated drivers.
All you need to do is install the DriverEasy on your system, and later run it to scan the system, it will report you about any missing drivers and the drivers which are outdated now, have a look at the snapshot below.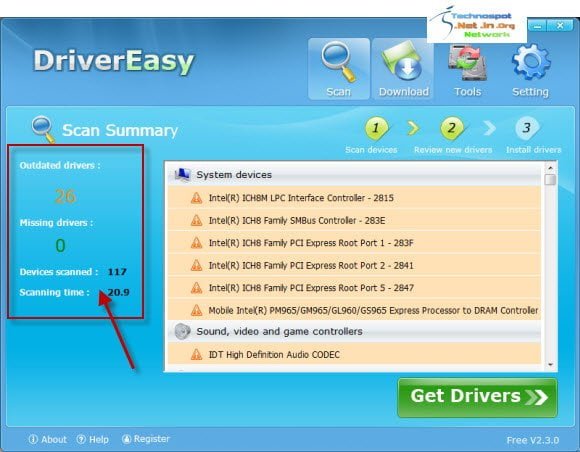 It scans and shows the status, here DriverEasy can be seen reporting about 26 Outdated Drivers, no missing driver has been reported.
Now if one can click on the 'Get Drivers' button, to download and install all the missing/outdated drivers.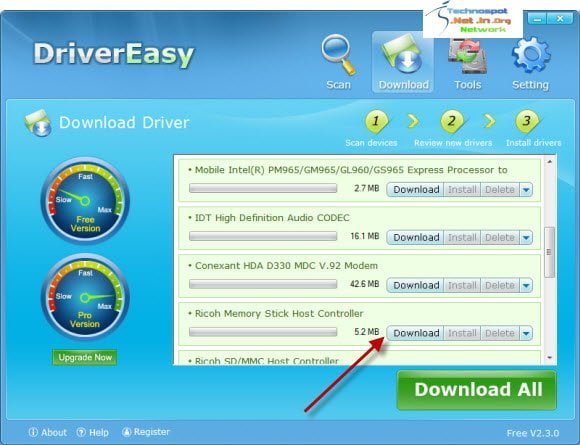 You can now download the drivers you want to, it allows you to download and install selected drivers.
Clicking on the 'Tools' button allows you to backup all the drivers on your system, exactly like Double Driver, but this feature is not included in Free version, so its better you stick with Double Driver in such case.
Finding the missing driver isn't a tough job and doesn't require any new software installation, however the beauty of DriverEasy lies in the scanning of outdated drivers and a direct way to download and install the drivers.
Here is the feature list for DriverEasy as seen on the homepage –
Auto Detect & Download Drivers
1,000,000+ Hardware Driver Database
Driver Backup Feature (Registered Version)
Supports Windows XP, Vista & 7
FREE for Personal Use
High Speed Download (Registered Version)
One-Click Setup Feature
Extremely Easy-to-Use.
DriverEasy could be of great help for the people who have started playing around with new Windows installation lately or somehow aren't good enough in new installations. You can download the DriverEasy here.
Related : Learn how to find which driver had been crashing your computer and take backup from already installed drivers.