Many times we come across a scenario when for some reason or other, we compose an email. Still, somehow we don't want them to be sent immediately, maybe like you know that it's the birthday of your close friend and you want to email him/her to wish 'Happy Birthday,' but you know you won't be able to do that as you will be busy with something else. In this post, we will share how you can schedule emails in Gmail to send at a later date
How to Schedule emails in Gmail to send at a later date
So, the problem is, at times, we want to schedule an email to be addressed at some point in time in the future, i.e., you can compose and email message for someone right now, which will be sent to the addressee later sometime.
1] Schedule in Gmail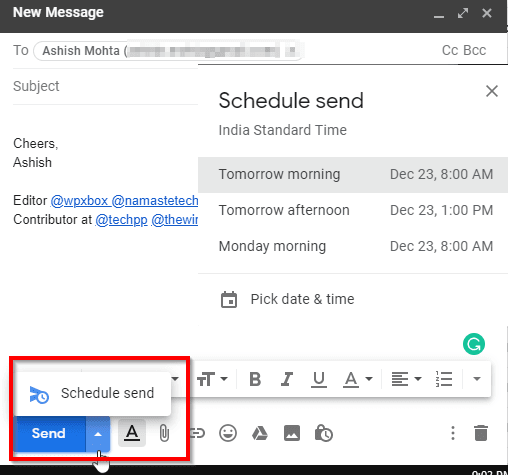 The feature is now inbuilt into Gmail, and you should only use it once you are done writing the email. When you are sure, this is the email you want to send, click on the dropdown of the Send Button, and select Schedule send. It will offer you three dates and times, i.e., Tomorrow, Tomorrow Afternoon and Monday morning. If that works, you can select, and it will instantly send the email in the scheduled folder. If you want any other date, click on Pick Date and Time to open the calendar.
How to cancel or edit the scheduled email?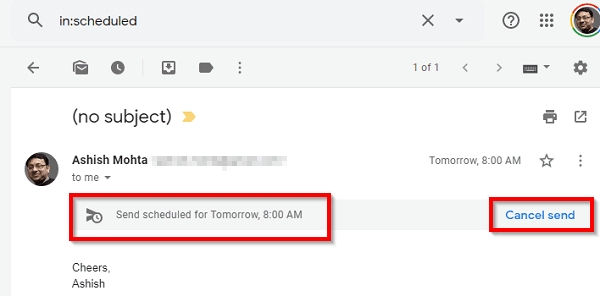 To find out all the emails, you should notice a Scheduled label on the left side of the Gmail. You can also type "in:scheduled" in the Gmail search box to find all the emails.
To cancel a scheduled email, open the email and cancel it. To edit, you will have to cancel, and it will move the email to drafts. I feel it's annoying to move a scheduled email to draft if I need to edit. If I had not made any note of the date and time of the schedule, then I will have hard to recall it.
2] Use Outlook to Schedule Email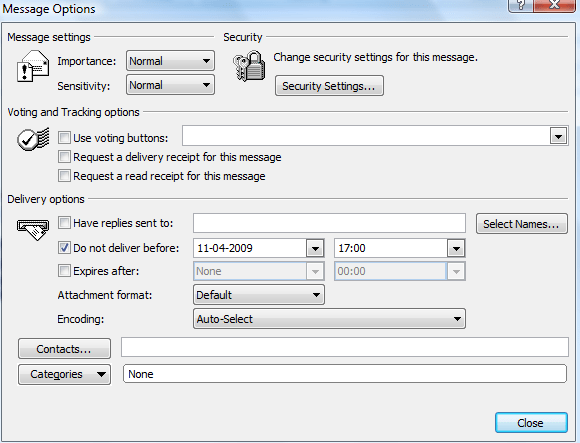 Outlook offers delay delivery. It will hold emails until it hits a particular date that is selected by the user. You can connect Gmail with Outlook, and then use it to send future emails. The best part is you can edit the email without noting down the scheduled time.
Read in full detail How to send future emails in Outlook
2] RightInbox
Right Inbox is the solution, which comes in the form of Firefox add-on and Google Chrome Extension; summarily, the solution comes in the form of a browser extension, which, once installed, will add a new feature to your Gmail, which allows scheduling emails to be sent in future.
Note: In the free version, you can send ten emails/month. However, it offers a lot of new features and flexibility that are worth,
How does this work?
Go to the Right Inbox official page, install the extension for your respective browser, and almost within no time, you will be all set to start scheduling emails from your Gmail. Once installed, Right Inbox will ask you to allow it to access your Gmail, later try composing a new email message using the 'Compose mail' button in your Gmail. Here, you will see a new button above the recipient's email address field, which reads 'Send Later,' as shown below.

You get option ready for schedules like 'in 1 hour', 'in 2 hours' etc. and this is not the end, you can schedule sending emails exactly at whatever time and date you want, to get this you need to click on the 'at a specific time' option, which will allow you to add any date and time, as shown below –

So, in this way, we can see that this nifty Firefox and Chrome extension allows you to schedule emails and that too in a straightforward way for Free.
Exploiting Right Inbox for better productivity
Now, lets us talk about how we can use this email scheduling mechanism for better productivity. One such scenario where you realize the need for such a feature is the one we discussed earlier. Send good wishes to your loved ones when you are much occupied.
Another use of this browser extension is for people who keep forgetting important days, birthdays, anniversary, etc. Take out the list of essential days across the year, schedule the wishes in the form of emails, and relax. So from now on, No more sorry messages for forgetting, the critical days.
Also, if you don't have a habit of using some organizer to remember your tasks, you can use it for that too. For example, you have to return a book to the library on Wednesday; you can schedule an email to be sent to yourself which will remind you of returning the book in the morning.
So, go ahead and use this extension the way you want, and enjoy this added feature in your Gmail now.
I hope the post was easy to understand, and you were able to schedule emails in Gmail to send at later date.