One thing which  have always loved about OneNote is ability to sync between Web and Office Client installed on different machines. Since I use OneNote to put down all my to-do task, keep all links in one place it is really useful. Now for Google Docs users if somebody wants the same kind of functionality, one can use Scratchpad extension for Chrome.
What does Scratchpad do ?
Scratch Pad sits on the lower left of your browser and is visible for every tab. Which means anytime you want to take note its there syncing automatically to your Google Docs Account.
What is even more interesting about this extension is that it can work offline too so once your internet connection is back it syncs it to your docs account automatically.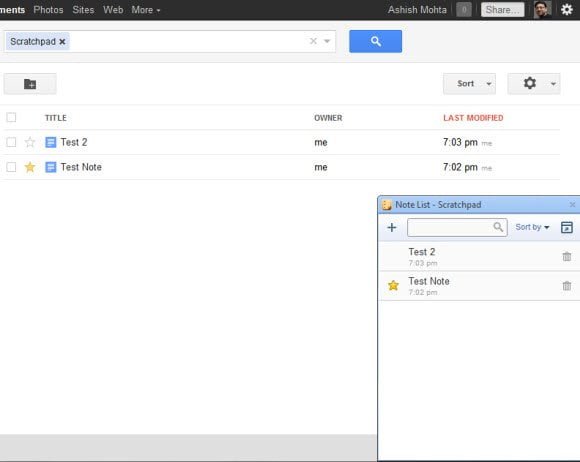 Scratchpad Offline Mode : 
Now if you do not want to sync it with your Google Account and rather use it as an offline note taker, you can very well do that by choosing Local Only Mode which comes as an option when you configure it.
How to start using it ?
For Offline Mode you don't have to do anything but for Cloud Sync or Google Docs integration you need to authorize the app to access your Google Account.
Features of Scratchpad :
Comes with a basic editor which supports formatting like Bold, Font Type, Font Size, Bullets, Highlighter etc.
Add  Title to Every Note
You can Open this in new tab or use it as a sidebar.
Search in all your notes.
Sort by Title, Starred or  Modified.
When you connect it with Google Docs, It creates a folder with name as Scratchpad and all the notes you take are stored in as Documents.
Any changes made through the web interface is also synced back.
In case you switch back to Local Only mode from Cloud Sync, The Notes are not removed from Google Docs.
It integrates with right click menu to create new note instantly or from selected text.