Do your monitor screens dim or become darker during gaming or watching a video? In this guide, I will tell you how to fix screen dims when playing games in Windows 11/10.
Games form a big reason why people invest substantial sums of money into buying a computer. There are dedicated gaming PCs & laptops and people building their desktop setups with specific configurations to enjoy their favorite games to the fullest. But if the screen looks dark, it becomes annoying.
What Causes the Screen to Dim While Playing Games?
When you play games or watching videos in Windows 11/10, you might notice your monitor's brightness dropping during gameplay such that the screen goes dark when playing games. You may be experiencing this problem due to your auto-dimming settings, your power-saving settings, or even your GPU. Makes sure that games are updated to avoid any chromatic aberration in games.
There are monitors with pre-enabled auto-dimming features that adjust the brightness of the monitors based on the light environment and the desktop location. Similar to this monitor feature is the Windows brightness setting in Laptops. These are similar to the brightness settings in monitors, as they adjust the display's brightness to offer a comfortable viewing experience. Today, we get to see features like these on almost all smartphones.
You might also be experiencing screen dimming issues if you've enabled the power-saving feature on your PC. For a long-lasting battery backup, most power-saving techniques deduct the brightness levels of monitors automatically.
You may need to check the dedicated graphics cards if you are using them. Some games can cause your graphics card to display the wrong color so that your screen appears dim and darker. Finally, make sure that Windows PC drivers are up-to-date.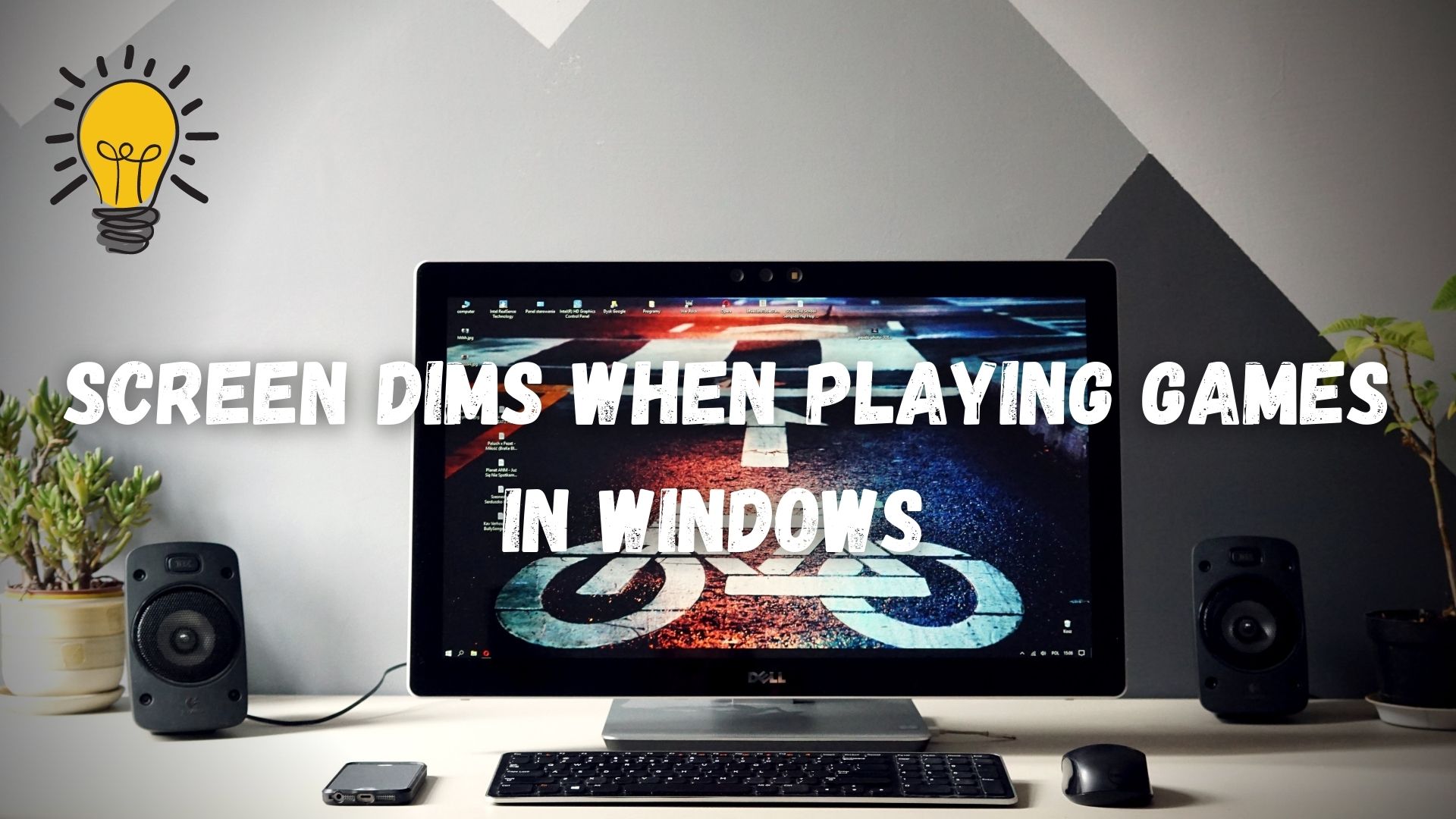 How to Fix Screen Dims When Playing Games on PC
Follow these methods to fix the low brightness issue:
Disable Adaptive Brightness
Check Windows Driver updates
Disable Night light mode and Game Bar
You will need admin permission to resolve this.
1] Disable Adaptive Brightness
You can disable the adaptive brightness feature from the control panel if your power-saving settings are involved. Here's how you do it:
Click on the Start menu, and type Control.
Open the Control Panel when it appears in the list.
Click on Power Options
Click on Change plan settings next to the current power plan
Select Change advanced power settings
Under Display > Select Enable adaptive brightness and toggle it off.
This will disable the adaptive brightness in Windows 11/10 for Laptops and Desktops with the dimming feature in monitors.
2] Check Windows Driver Updates
The outdated driver may be why the laptop screen dims randomly when you launch an application or play a game. You can install the latest driver on Windows in several different ways.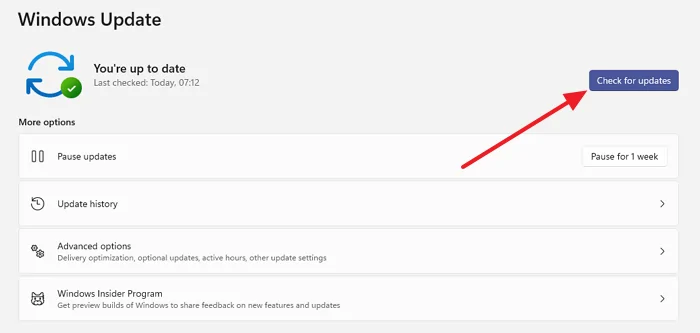 Follow these steps to access this feature:
Press Windows + I to open Settings
Select Update and Security > Windows Update
Click the Check for update button or Check for Additional Update
In Windows 11, go to Windows Update > Advanced Options > Optional Updates. This section delivers features, quality, and driver updates as they become available.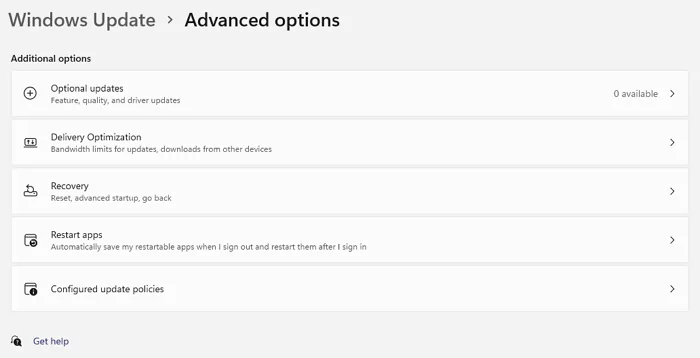 The Device Manager is another place where you can update Drives in Windows 10. Follow these steps to access it:
Click on Start > Open Device Manager
Double-click on Display Adapters
Right-click on your relevant display adapter > Click on Update Driver
Follow the instructions to either automatically find and update the driver. Also, check on the additional updates to manually select if a driver update is available in your system. Restart your PC, and see if the screen still dims when playing games.
You can also visit the manufacturer's website if you cannot find the appropriate drivers and download specific drivers according to your system hardware.
3] Disable Night Light Mode and Game Bar
If Windows Night Light Mode or the Game Bar interferes with games, your computer screen may go dark while playing games. Disabling them may resolve the issue. Follow these steps to do so: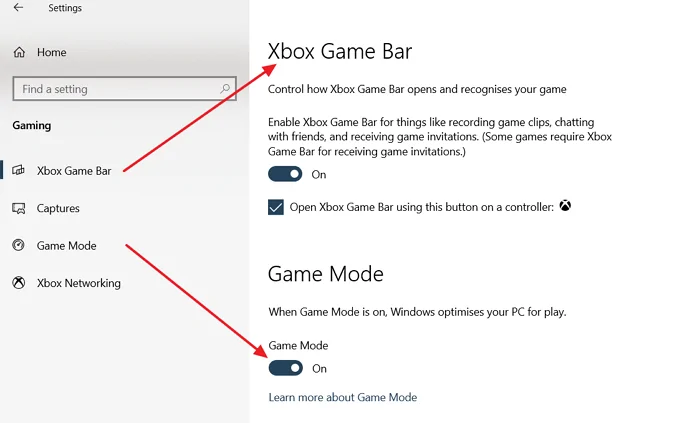 Open your Windows settings > System
Disable the Night Light option
Next, go to Gaming > Xbox Game Bar > Disable Game Bar
Select the Game Mode  > Disable Game Mode.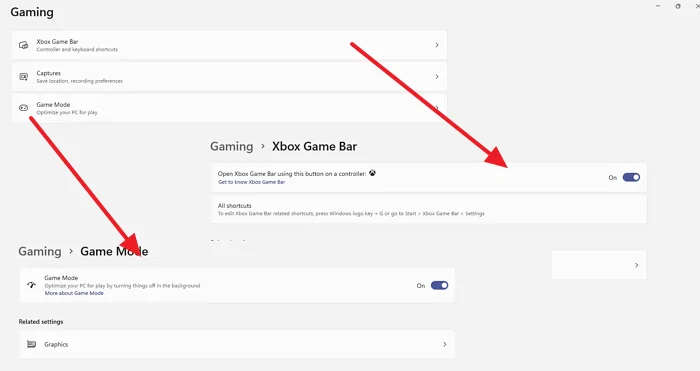 Check if you fixed the issue where the screen gets darker when in fullscreen.
Why Does My Desktop Screen Dim When There's a Black Background?
The desktop screen will dim automatically on a dark background, while on a bright background, it will increase the brightness. This issue has nothing to do with Adaptive Brightness but is caused by the Ambient Display Sensor. It detects the available light in the workspace and automatically changes the brightness based on the room lighting.
Windows Changes Screen Brightness after Exiting the Game
This issue is also majorly caused by Adaptiveness Brightness settings in Windows. You can turn off adaptive brightness restart the PC to solve this brightness issue in most cases.
How Do I Turn the Windows Laptop Display Off without Stopping My Download?
You can turn off your display without interrupting your downloads by following the steps given below:
Open Control Panel > Click on Power Options.
Click on Choose what closing the lid does option on the left-hand side.
Now you will find three options. Come to When I close the lid
Set the On Battery option to
Set the Plugged In option to nothing.
Now, close your lid to see if you fixed the issue.
I hope this post will help you fix the screen dims when playing games in Windows 10.