Taking Screenshot of web pages is always useful whether you want to save it as proof of what was there or need it to explain somebody. It can be to suggest what can be fixed there or to get help from somebody when you are filling up something because what you might be seeing is not what others may see. So below is a list of Screenshot extensions for Chrome.
Best Screenshot Extensions for Chrome Browser
The common thing between all of them is how they let you take a screenshot, which is either by selecting an area or a complete webpage. Then comes the individual features where they make it different. Make sure to choose based on your usage.
1] LightShot from Prntscr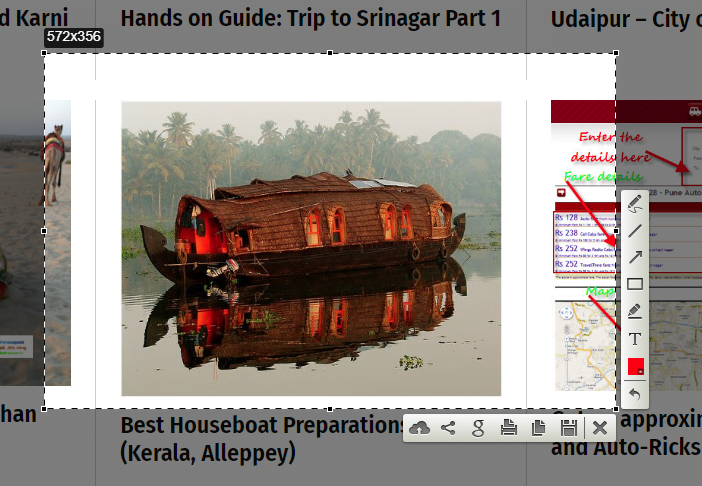 It allows you to take Screenshot of Videos on YouTube, Flash, and java Apps, which many other tools turn into black.
As soon as you take a screenshot, you get quick options for Print, Upload, Edit, Share, and Copy.
You can also do a quick search for similar images on Google and TinEye
Open it a Rich Image Editor, which mimics Photoshop, which allows all the possible annotations with layer support, filters, etc.
The only drawback is there is no support for Capture by Section or Full Page Capture. You will have to always draw on the area using the mouse, and as soon as you release it, you will have the editing and sharing options.
2]  Awesome Screenshot: Screen Video Recorder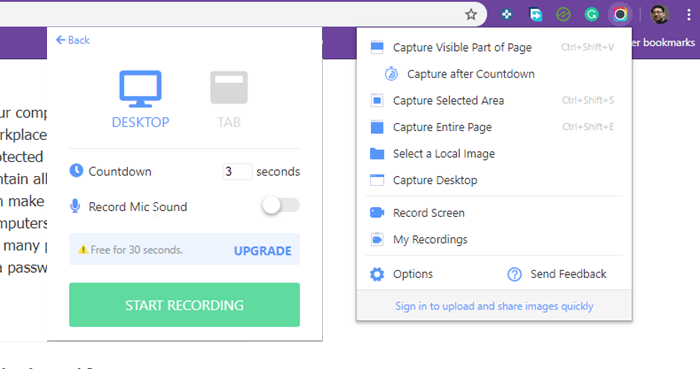 It is the ultimate screenshot extension you can have on Chrome. Not only can it take a Screenshot, but it can also record videos. The extension also goes well beyond capturing Screenshot of webpages, but it can take a desktop screenshot as well. It works well on multiple monitors or desktop scenarios.
Capture or clip selected area, or all visible portion, or the entire page. with or without a countdown timer
You can capture horizontal scrolling when capturing the Screenshot. A rare feature.
A full-fledged editor that allows one to annotate with arrows, lines, and rectangles.
Blur individual sections to hide sensitive information
The editor allows you to load a local image and annotate it.
Supports keyboard shortcuts
When recording the screen, you can choose between desktop and tab; however, it's limited to 30 seconds.
Download from Chrome Store
3] Full Page Screen Capture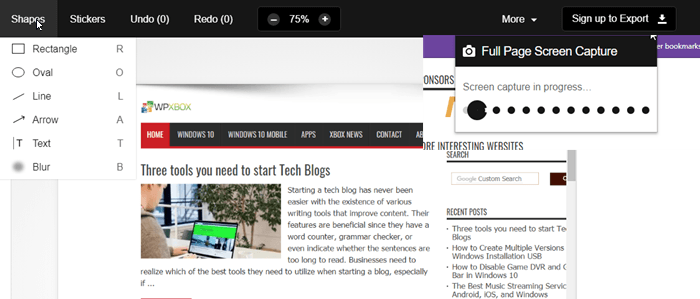 Another popular extension which does a brilliant job when it comes to handling scrollable and embedded iframes. This tool is specifically fit for those pages which are extremely long, and you need to capture every element. Later on, you can export your result to PNG, JPEG, or various PDF paper sizes. You can also crop, annotate, and add your favorite emojis to any screenshot with the editor.
I am sure there are many Screenshot taking extensions available for Chrome, but these are the best you can have till now. If you have something worthy of inclusion in the list, leave a comment at the bottom of the page.
I hope these Best Screenshot Extensions for Chrome Browser were useful for you.