The best way to prevent any confidential information from falling into the wrong hands is by destroying it. You could burn or shred physical documents, but how do you shred digital files which can still be recovered using advanced methods? The answer to this is what this article is going to provide. We will discuss the five best ways to Secure Delete or Permanently Delete Files From Windows PC. These applications are also known as file shredders.
Why Delete Files Permanently?
Your personal information has been a precious asset for a long time. Since ancient times, humans have stored confidential or private information in documents. In the digital world, these documents are stored and preserved on our devices on computers. They need the same protection as in the old days.
It's a known fact that deleting files even from recycle bin or using shift delete in Windows does not remove them entirely from your hard drive or SSD, they just become out of your reach, and you can use softwares like NTFS Undelete and Restoration. The data is retained for an extended period or until you write new data in the place of the files you deleted.
If still on your drive, anyone can quickly recover files using data recovery software, which can be put to the wrong use. To prevent such things from happening, there exist files shredder softwares or secure delete applications that ensure that the files deleted are entirely erased from the system and that there is simply no way of recovering them. Let's have a look at the best file shredder softwares.
How To Secure Delete or Permanently Delete Files From Windows PC
Here are our picks for the top 5 best file shredder softwares. This list includes free and trusted software used by thousands of users regularly.
Eraser
Privazer
File Shredder
Secure Eraser
WinUtilities
Let's have a closer look at the features of each of these softwares.
Note: We talked about Secure Delete from TweakNow earlier, but the software is outdated and doesn't work on a modern version of Windows.
1] Eraser
Eraser is an entirely free file shredder software that permanently uses advanced file shredding techniques to permanently delete or shred files from your computer. Eraser also allows you to schedule this file shredding process. You can keep deleting files from your computer, and Eraser will delete those files at a scheduled time each day, provided that your computer is powered on.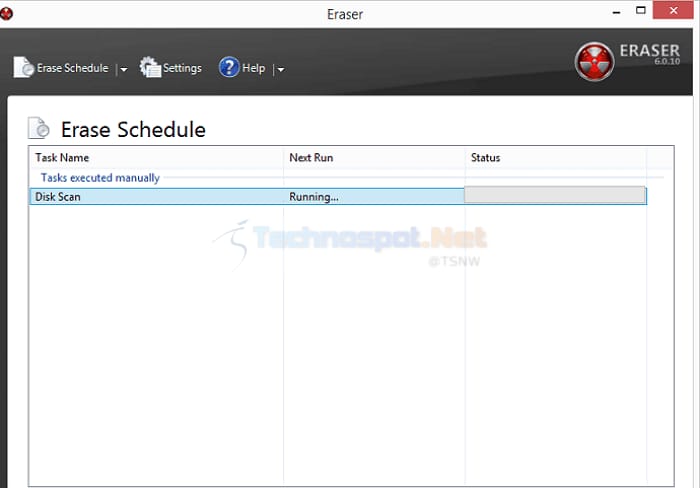 Erases software deletes files by securely overwriting those files again and again until no trace is left. The mechanism is quite simple but effective.
2] Privazer
Privazer is yet another advanced file shredding tool that first recognizes drive type and performs the most appropriate cleanup. Privazer helps you visualize any traces of data remaining in the free space on your drive. It goes even deeper into file shredding deleting any thumbnails and file previews. You get the option to overwrite deleted files lying in the drive. Privazer also helps you clean the plugged-in USB history, which can be viewed easily from the Windows registry.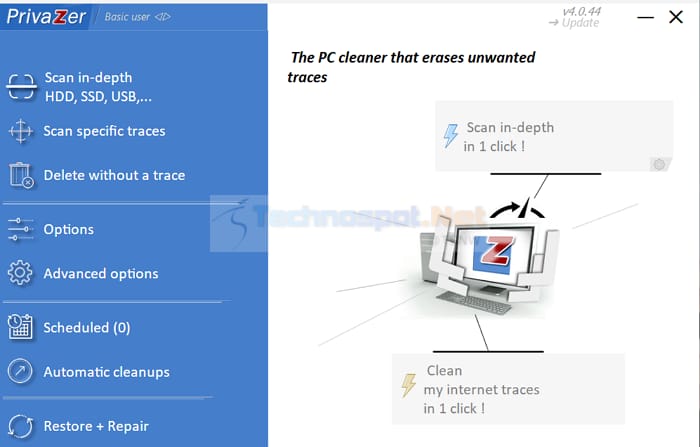 You can integrate Privazer in the Windows right-click menu, so you can choose to shred it whenever you delete a file. The best part in all of this is that Privazer is regularly updated. It also supports the latest versions of Windows.
Privazer also lets you clean web browser-related residual data, Windows registry, app usage history, etc. Like Eraser, you can also schedule cleanups. In Short, Privazer is a complete privacy package letting you clean any traces of PC usage.
3] File Shredder
File Shredder is a straightforward file shredding utility that believes in offering only the essential functionality of file shredding and free disk space to its users. Like the other software on the list, File shredder is also completely free to use and is extremely small and compact. You can install it and forget it's even there.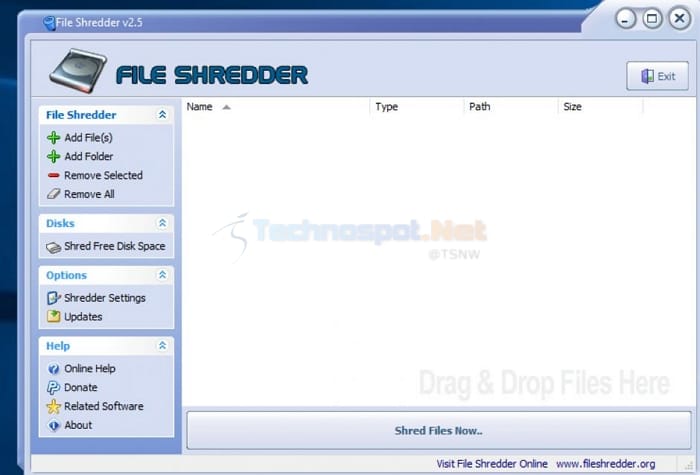 The file shredder also rewrites the free space after deleting the file with temporary binary data, which erases any traces of the files ever existing on the system. You get to choose from 5 different file shredding algorithms, each more intense and precise than the other. You can also integrate File Shredder into the context menu, which allows you to directly shred files from the context menu (the right-click menu).
4] Secure Eraser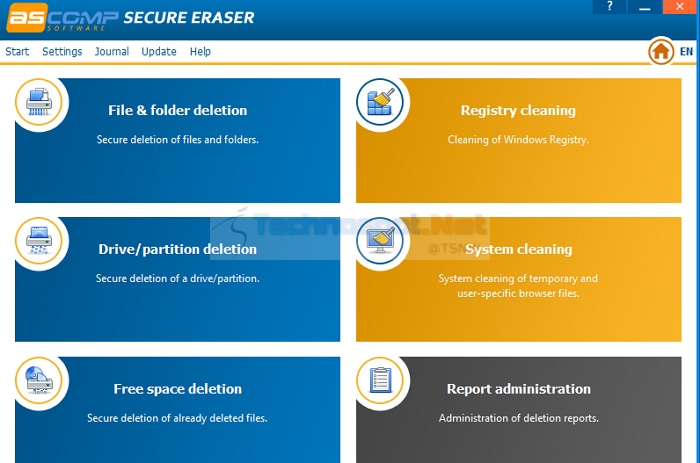 Secure Eraser by ASComp is a freemium file shredding software (free for personal use) that provides you with multiple file shredding and PC cleaning options. You can choose to shred files, even an entire partition of your drive, or the whole drive itself. You can also delete temporary files generated by PC use and browser-specific files like history, cookies, and personal data. The software has a straightforward interface and is regularly updated.
5] WinUtilities
WinUtilities is one of the most versatile software on our list as it offers not only a best-in-class file shredding utility but also helps you recover deleted files. On top of this, you can delete browser history, encrypt files, clean registry, clean and defrag drives, split files, clean startup, and more.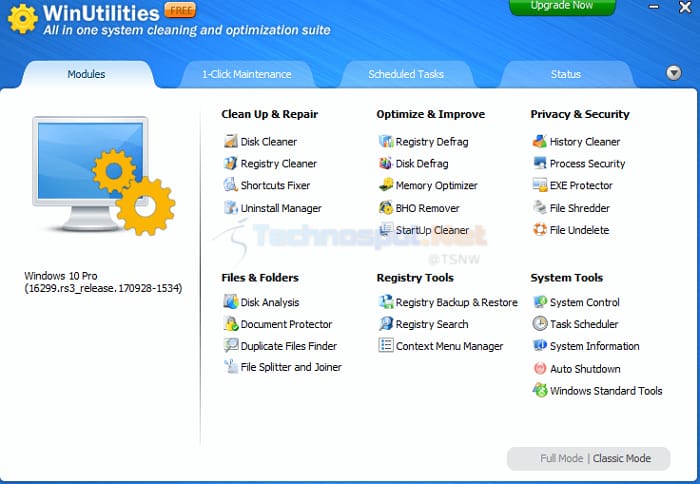 The software is free, compact, and packs in a very clean, minimalistic, but not modern interface. You can also get the premium version of the software, which offers even more functionality and free upgrades. However, the free version works just fine. Using WinUtilities, you can save a lot of space on your computer, as this software performs the task of multiple softwares in one.
Your data protection is an essential aspect as your digital identity is as equally important in today's world. If your computer is easily accessible by others at your workplace, home, or anywhere, then using a file shredder and privacy software becomes a must. We hope you found the article to be helpful. Please make sure you share it with everyone.
How To Delete a File Without Sending It to the Recycle Bin in Windows?
To delete a file without sending it to the recycle bin in Windows, select the file by clicking on it, then press the Shift+Delete key on your keyboard. You'll receive a prompt asking, "Are you sure that you want to permanently delete this file?" Click Yes, to delete the file permanently.
Can Permanently Deleted Files Be Recovered From Windows?
Yes, anyone can recover it. When Windows deletes a file, it is out of reach but still on the storage device until overwritten by other data. It is done to prolong the storage device's life.