I will call this Registry Backup Tool for Geeks and for users who know what is registry and how to handle it when it crashes, so unless you know what you are doing, ignore this and use the inbuilt registry tool ( regedit ) to backup all your registry settings or system restore if you mess up things.
What this tool does ?
So now coming back to the tool, this tool lets you do a selective backup or parts of registry which you select and want to save it and restore it later when you need it. So basically it works the same way regedit works but does it on key basis or the one you choose.
This tool allows you to set location where you want to save your backups which makes things lot easier for you.
When you need this tool ?
Registry Keys are like settings where set of Key and value is stored which many programs in Windows like Games or Software use to store their settings. Now when you format your computer or had to uninstall \ re install things all these values are gone.
Using this tool, you can put back all the settings in place and you do not have to configure again. But like I said, this is only when you can figure out what needs to be saved and what not.
How to use this tool ?
Making a Backup :
When you launch the tool it displays your windows registry on left which you can expand and select.  Any Key you want to backup can be added to the list on the right using the "Add Key to List" button. Now in case you want to see whats inside the key, which is very important, you can use the button labeled as "view Key Contents"
Once done, you will see all the keys listed on the right which you can backup using the Save List. All the keys are saved as TXT file. Now make sure you dont change anything in this file else you will have issues. Also name them properly so you know when you took it and why you took it.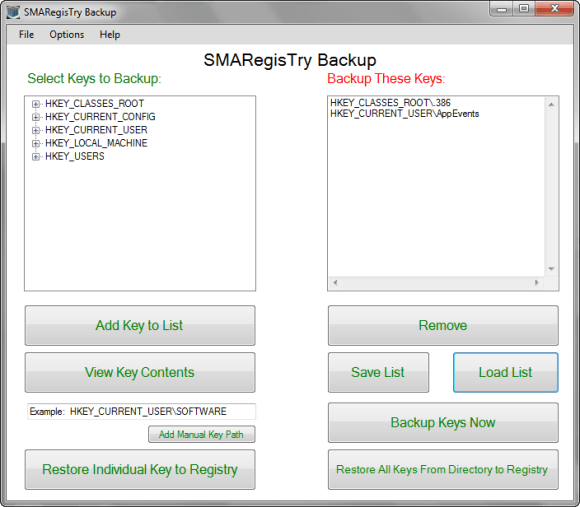 Restoring from Backup :
To backup, use the Load Button and point to the file which you backed up. Next either you can backup one by one using the "Restore Individual Key to Registry" or use the option "Restore All Keys….." to restore all in one go.
Download
This tool is from the same person who gave us ZPanel Dynamic Client. You can download the SMARegistry tool from here. Via Nirmal