With increased globalization, the world has become a small place, and it has become easier to communicate worldwide. Awaiting its advantage, you would trade beyond the nation, simultaneously availing the benefit of digital marketing. The US is an excellent country for such opportunities, and trading in it would be profitable. But, if you cannot invest funds, you would be looking for how to Send Text Messages to the US, and we have covered you all with it.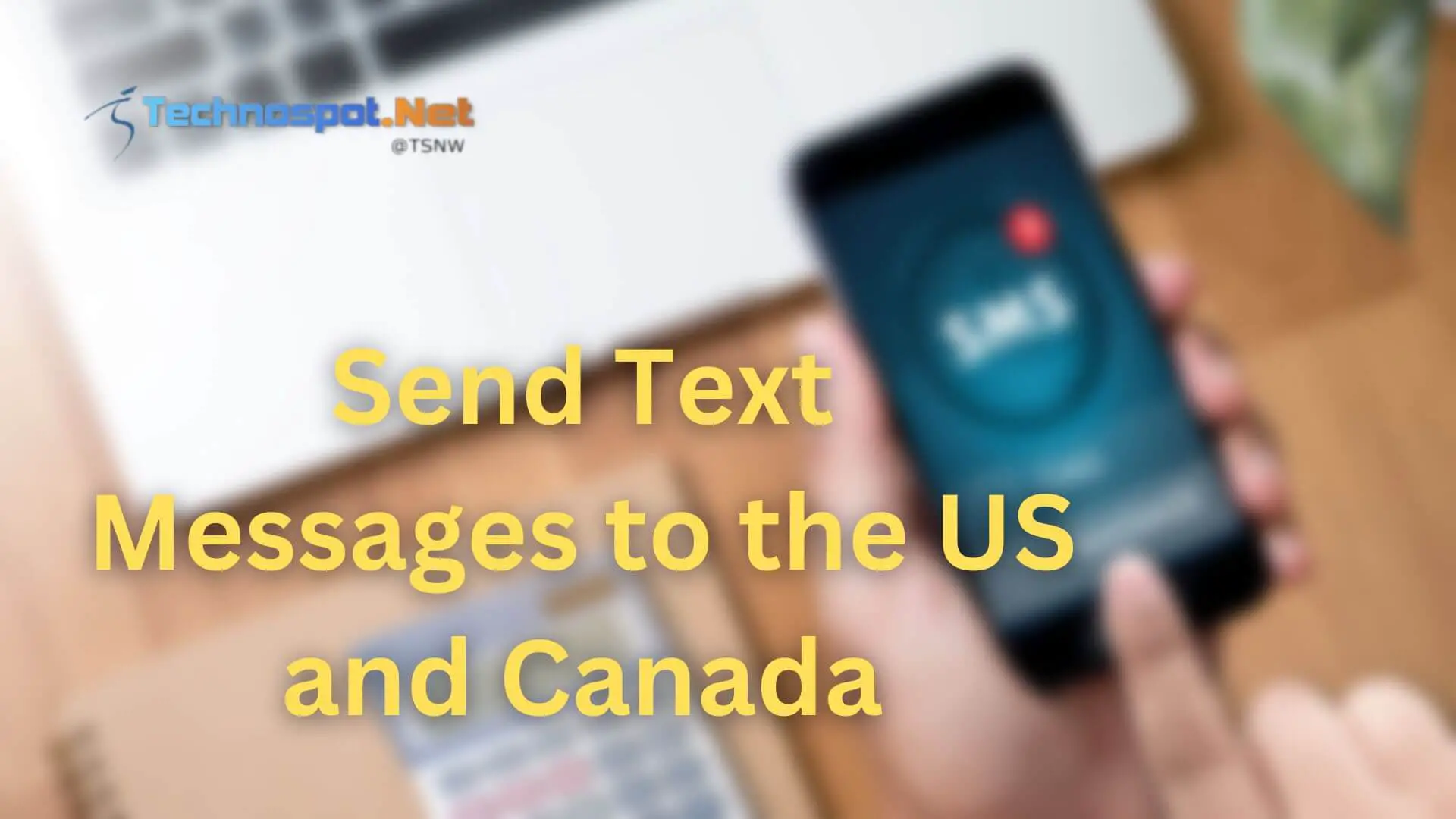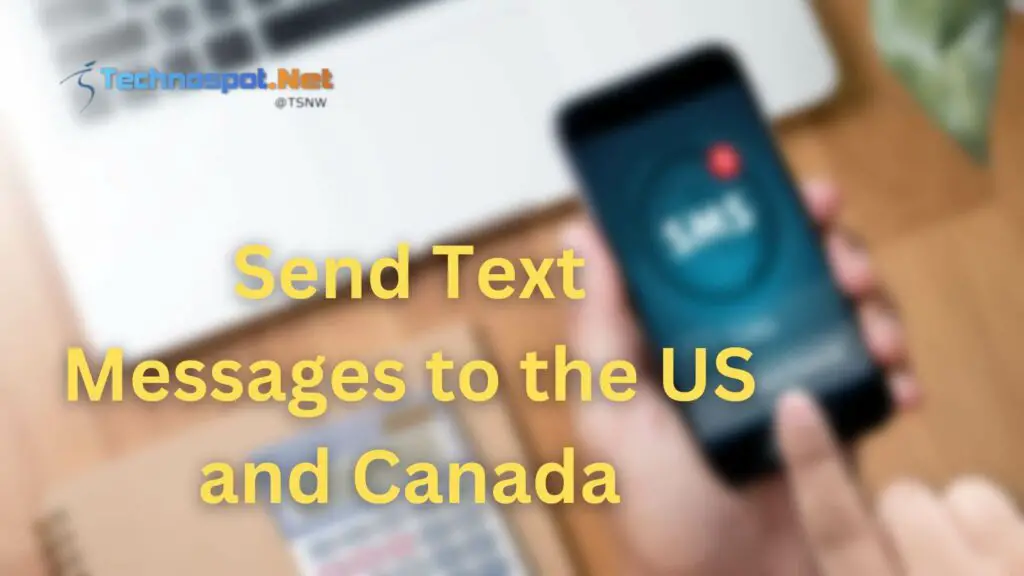 How to Send Text Messages to US and Canada
There are plenty of tools that enable you to do so. These are reliable, legal, and effective; you don't need to bother.
Birdeye
EZTexting
SimpleTexting
WiFi Text
Podium Campaigns
Let's check out each of them one by one!
1] Birdeye
Are you looking for a platform that lets you send bulk messages abroad with just a few clicks? Well, Birdeye enables you to do so whether you want to do so from 10 to 10k people. Besides, once configured, the people will receive text messages in their preferred manner.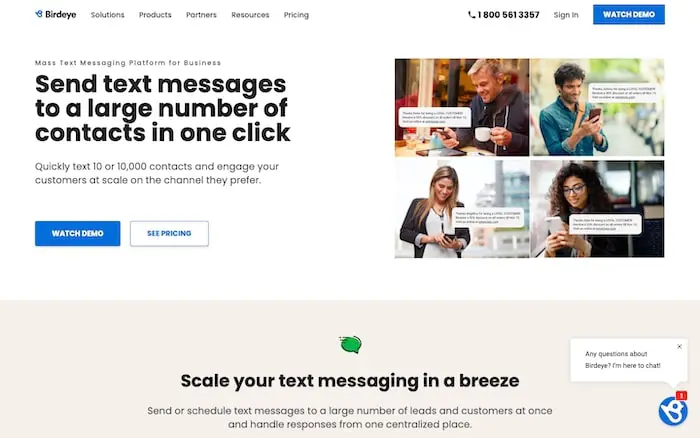 Features
Manage sent message responses at a single location
It lets you send text messages abroad, even as chats
23 text templates for easy message customization
Allows you to add multimedia as attachments along
Schedule messages for the set time or as you desire
You can create a business profile very easily
Export contacts from different CRMs in a few clicks through seamless integration
It will soon let you track message analytics to plan your marketing and management strategies accordingly.
Pros
Easy to create a business profile
Resources about abroad text-messaging help with a better understanding of markets
Tutorial available as Demo Video for easy understanding
Cons
Team members of a business profile cannot chat on the platform as there's no group chat feature
Limited applications in the free plan
2] EZTexting
EZTexting has served over 2004 clients successfully for different types of businesses. Thus, it's one of the most outstanding services for sending text messages to the US and Canada. If you are a novice who stepped into the world of SMS Marketing, its features will help to plan conversion with these services.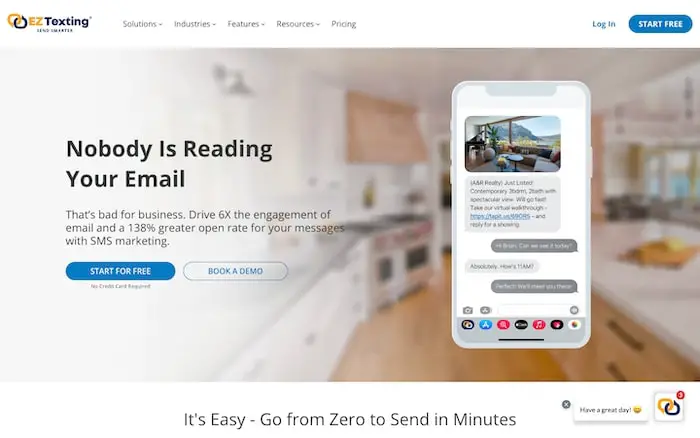 Features
Let you add contacts quickly for international bulk texting
Segment and customize contacts to promote better automation
Enhance your messages with photos
Create a reminder campaign and even text polls
Automated replies to bulk messages for better engagements
Schedule bulk messages effectively
You can also share QR codes with your prospects, like that of an offered launch or similar
Pros
Records and displays prospect response instantly
Tracks the number of clicks on the links you attach
Its inbuilt dashboard helps to monitor analytics and accordingly work on it
Easy to use
Cons
Works efficiently for small groups only
Poor technical support
Has minor bugs which can be difficult to trace before creating a text
3] SimpleTexting
When sending plenty of text messages to goring countries in the fastest possible manner, then SimpleTexting comes into the picture. It has plenty of tools to support you with the SMS service. Further, due to its valuable features, firms have used SMS marketing campaigns for a long time to increase revenue.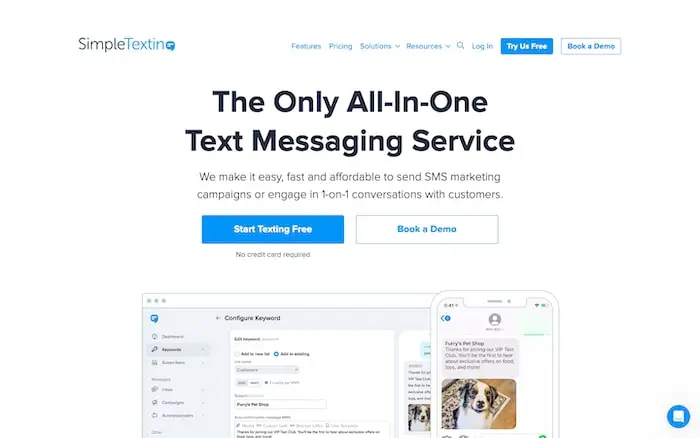 Features
Let's simultaneously send 1:1 messages to your prospects and even indulge in a 2-way conversation with them.
It has plenty of options to customize messages
Tracking analytics is entirely accurate
It also allows you to personalize and integrate a text list sign-up form on your website
Robust for sales announcements and even supports MMS
Doesn't require A/B Testing
Mail chimp and Zapier Integration also, apart from SMS
Pros
Minimal user interface
Ideal for computer and marketing novices
You can create voting and hosting text campaigns abroad
Excellent customer support
Cons
Cannot send QR across messaging  campaigns
The free plan has limited features
Related: How to Schedule Send an SMS for free
4] WiFi Text
It does take a lot of effort to fetch the mobile number of your customers and prospects. WiFi Text, as the name implies, sends bulk messages to the US and other countries online. You don't require a mobile number for the purpose. The platform has choices for customization and functions for managing contacts and automating campaigns.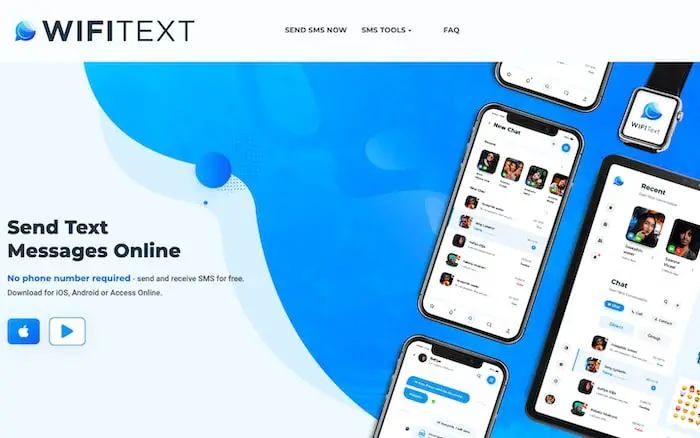 Features
It doesn't require a phone number; instead, only a stable WiFi connection
Has advanced security standards to prevent malware
Supports engagement with people using the two-way-messaging feature
Schedule automated campaigns and set triggers over the platform
Tracks and analyzes your campaigns with high accuracy and effectiveness
It has an inbuilt feature to use templates and even add multimedia to messages
Pros
Free to use
Compatible with support cellular networks
Easy to use
You can even customize messages
Cons
No alternative way to use it in the absence of a stable internet connection
Some services regard its messages as spam since it uses the internet/WiFi to send them
Lack of complex features
5] Podium Campaigns
Are you looking for one of the most profitable messaging campaigns for the US and Canada? If yes, Podium Campaigns are no less than stealing the deal offer. This is because it's one such platform whose SMS campaigns have a 98% open rate, thus boosting conversions.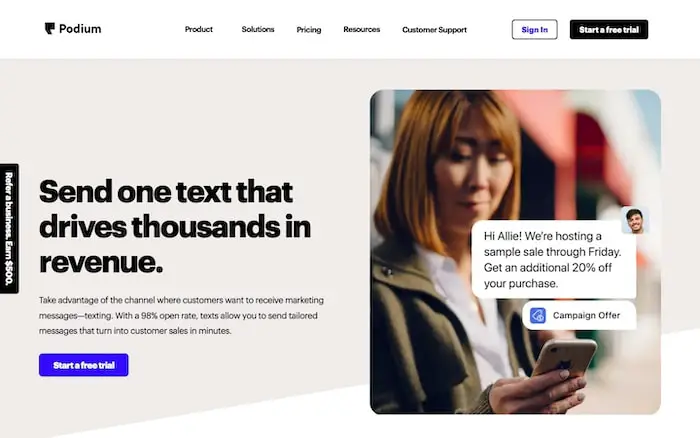 Features
Goggle integration displays your business reviews on your firm's Google page.
You can even create message templates for easy access and use them later
With it, you can quickly receive customer feedback with the help of surveys
It lets you get instant payments from your prospects via texts, all integrated into a single place
Pros
You can avail of its demo to understand the features of this service easily.
It comes with a 14-day free trial
It takes only a few minutes to create a campaign for US and Canada
Let you choose a template also if you don't want to add text
Live chat with bit resolves your queries instantly
Can set up different groups of customers. Yet, you can tailor the content as per your chives.
Cons
The site is not mobile responsive
Lacks comprehensive features in the free plan
Conclusion
If you were looking for how to Send Free Text Messages to the US, you would have got your answer! WiFi Texting is suitable as you don't need a mobile number. Further, for increased open rates and, thus, conversions, Podium Campaigns should be your go-to choice. Birdeye would let you send such messages in bulk. Before choosing any, you should consider your prerequisites aptly.