Microsoft Office 2010 helps you in lot of ways to improve on creating to delivery of slideshow. Setup up Show is one such inbuilt utility which brings a lot of things together. Lets have a look :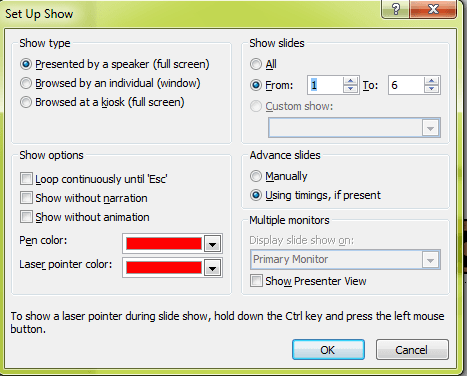 Like you can see here there are various options on handling the Slide Show :
Make sure you know who is the end user viewing the slideshow. Like you can see below, depending on who is going to view the slide show, the right click menus are changed and for Kisok there is no menu option at all.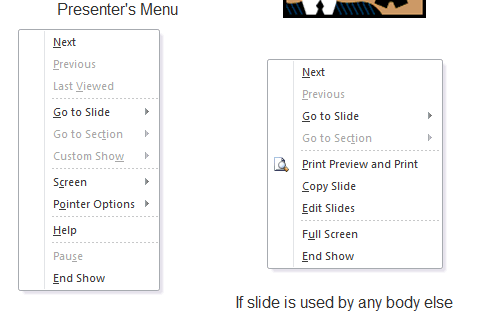 Decide which slides to show, you can choose a number range or best way would be to create custom view of the slide show.
Depending on the theme, decide which colour your laser pointer should be. In Office 2010 there is an option use your mouse as laser pointer. Check out the demo here.
In case you have rehearsed timings for slide show and used it to create in the Powerpoint, you can use it here.
It also supports multi monitor so you can decide where to show the presenter's view if you are broadcasting your slide show.
Thats it, using this power feature of Microsoft Office 2010, you can set your slide shows efficiently to deliver it max.