If you are one of those users who keep everything into Dropbox Folders then sharing them through the shared link feature of Dropbox is something you must be doing already. The advantage of sharing files like this saves a lot of time wasted on attaching files.
Coming back to the topic, if you using Microsoft Outlook,  it is not possible to integrate your Dropbox Account so you can access the folders like you do on your computer and generate a shared link right from there. This integration is possible through Xobni, an advanced analytic tool for email which makes your inbox much smarter.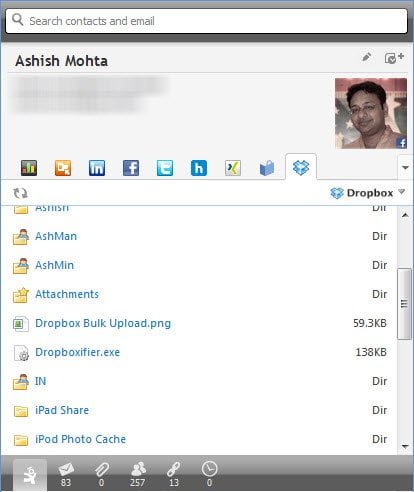 How to use this feature of Xobni ?
Download Xobni Dropbox Gadget from here
Once installed you will need to sign in with an existing account or create a new one.
Next switch to Dropbox Tab and allow Xobni To access your data.  You will need to be signed in your account. ( Xobni Dropbox Addon also gives you option to logout from your Dropbox account which is useful if somebody else is using your Outlook for a while.)
Once you allow, all your folders and files can be seen.
To share a file, first select it and you will get option either to Get Shared Link or Email Link.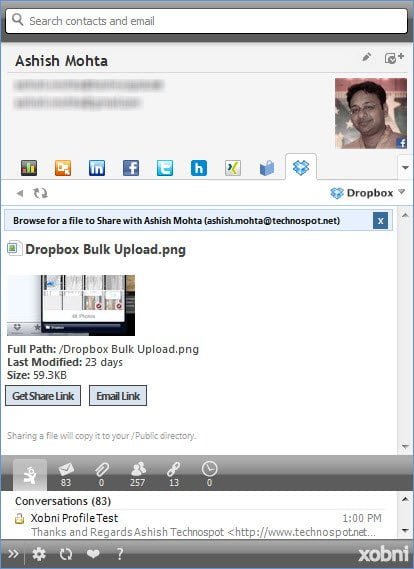 Get Shared link will copy the shared url in your clipboard, so all you will need is copy paste any where you want
Email Link will launch the default email program with Subject as File Name, Shared Link in Body and if there is person selected in Xobni, it will have that id in To Section.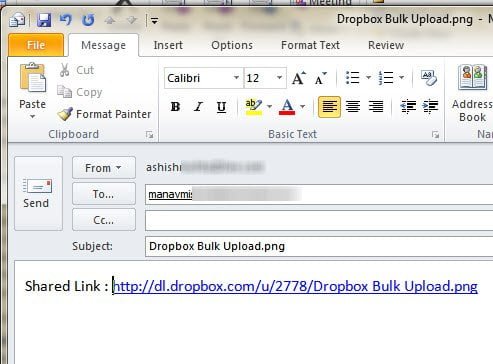 When Xobni gets a shared link, the files are moved into your public folder and then a link is generated. Now this can be an advantage as any update to files cannot be seen and you will not have to worry about shared links but disadvantage if you have ever shared your public folder with anybody he can see all the files. So make sure you keep cleaning it.
Preview is only available for images and not for PDF or Word Documents as this is only a file picker. I am hoping in future we may get previews for other documents also so I can see what I am sending to anybody.
Default EMail Client
Also make sure the default email client set is Outlook because Xobni will not open email editor in the outlook unless the default is set to it. Since I am suing Xobni Dropbox Gadget with Outlook, I expected it to use Outlook Only.
If you using Windows, here is how you change the default association for Emails to Outlook :
Type Default Program in Windows Start Menu
Select Set your default program and then Outlook.
Now click on the option which says Choose Default for this program
In the next window, select the check box which says MAIL TO URL:MailTo Protocol and save.