Sharing files on Internet is one of the most common activities we do these days. However there is little control on who is reading your files and when it comes to sharing files between many users, each user need to go and grab it. Well no more. Welcome to DropBox , an online collaborative service which allows you to share files with whom you want and also supports versions in case somebody changes the file whom you shared with. Sounds Complicated Let me simplify it.
We might have some DropBox invitation ( Drop Box invites ) left to give it away for free. Just comment and ask
You create a folder online.
You decide whom to share with and invite him.
He gets the invite accepts and get access to shared folder.
Drop Box Software creates a replica of folder which you created online and all the files get downloaded on your system. ( In Short After this installation you need to link your account with your computer.)
The person whom you invited also uses the same software and Drop box creates only those folder he got shared.
Now you drop a file into the folder and that person gets the folder directly downloaded on his computer.
Now imagine you need to share a file with 100 users. If all use this method all 100 people just need to drop a file and everybody gets it without even going any where.
Now let's have a walk through of the Features of Dropbox
You can decide who is going to share the data, in particular folder, once you allow someone to share, still rights to discontinue this sharing are with you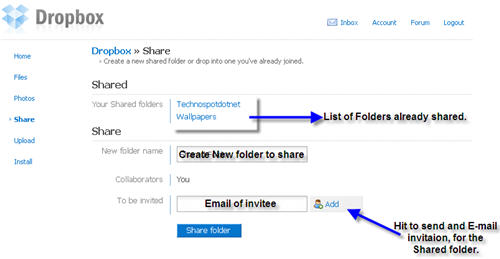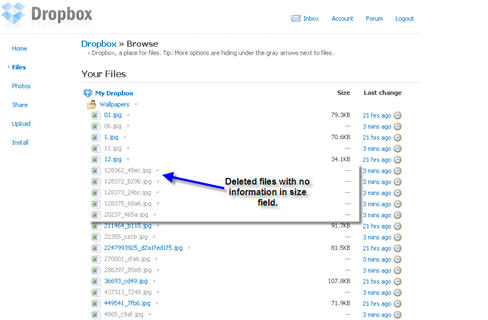 Adding files to shared folder is simple, you just need to copy paste it in the shared folder, after this you can continue with your work, and it Dropbox will silently upload it so as to make available to other collaborators, and will notify once the upload is finished.
You can delete or modify files and get it back anytime as it maintains the versions of each change made.
If you want to recover any deleted file , just go to the site and click Show file button of that shared folder.You will be able to see hidden files link. Once you click that it will show the deleted files too in the list and deleted files can be recognized by the characteristic that these will not have any data in the size field of these files.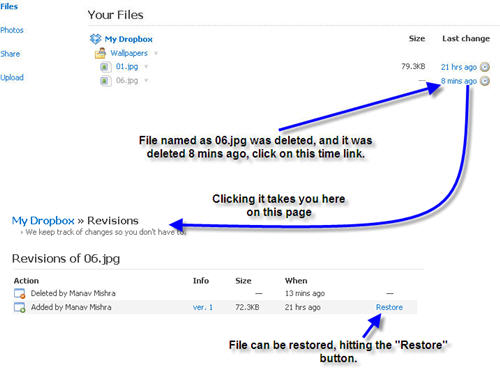 You have a public folder too which can be used if you just want to share with every body.
Over all Advantages :
Faster way to share files with any number of people.
5Gb is allotted which is good amount. Just keep on deleting older files in case you fall short.
More control who is sharing.
The installed component on the computer for Dropbox keeps updating itself silently, nothing is to be done by the user.
While the files are being transported they follow an encryption algorithm to keep your data safe
In case of the edited files, Dropbox saves the extra work by comparing it with the older version and only sends the minimum (i.e the difference).
Now here is little bad news, You just cant go directly and start using it. Its in Public Beta and hence you will need an invite. Once invited you can use it the way we told here
Don't get upset we just forgot to tell you that we have got invites ( Follow this link ).