If you have a group of computers running on a network and you are planning to reboot or shutdown or may be logoff all the users in one shutdown then you need to try this inbuilt utility of Windows.
Type in Shutdown -i in run dialog box and you would see the GUI which allows you to add set of computers to network and then reboot them.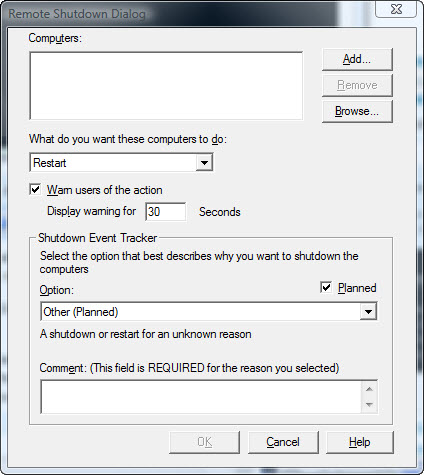 After you send them for reboot the users will see the message that their computer is going down. Just give them enough time to save their work. You can specify the time there .  You need to have permissions for doing this. It is possible that remote computer might not have given you the permission to boot it off.
This might not work if you try it on your local network without active directory. You need to have computers connected to a server for doing this.
If you are looking for a command line approach try out this tutorial by Daniel Petri to shutdown computers by IP ranges and all.
e.g  Windows XP will let you log-off all users in one line: FOR /L %i in (1,1,254) DO shutdown \192.168.0.%i /l . Just change the network ID with yours.