I hardly remember I had shutdown my computer except when I am in Office and there are couple of reasons for which I never shutdown. But honestly its more being lazy or just feel of keeping it on most of the time rather than anything else.
If this is thesame situation you are also in, Shutter can help you out like it did helped me. Shutter is basically an application which can control many aspects of your windows like shutdown, turning monitor off and it also interacts with your behaviour.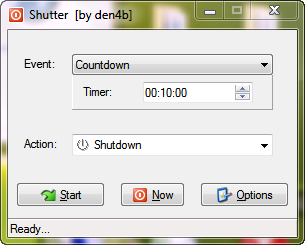 Like I love to listen to songs before I go to sleep and thats one reason I don't want to shutdown my computer. Shutter can respond to events like this. Just add some of the songs in Winamp, turn the shuffle off and point shutter towards winamp. It stops your computer will be shutdown.
Not listening to song but the download will take a maximum of 30 minutes ? Use the countdown timer that comes along with the shutter.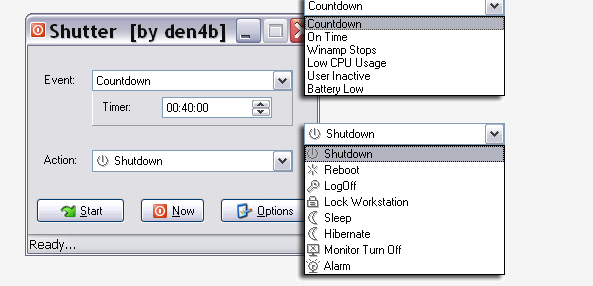 So if you realize it based more towards our regular way of using computer. Here is the list of activities and evenys it handles. :
Events :
Countdown
On Time
Winamp Stops
Low CPU Usage
User Inactive
Battery Low
Window Closes
Process Stops
Ping Stops
File Size Limit
Action :
Shutdown / Reboot
Log Off / Lock Workstation
Sleep / Hibernate / Hang Up
Monitor Turn Off
Mute Master Volume / UnMute Master Volume
Alarm
No Action
Shutter has pretty nifty Web interface also if you would never like to hide the software from other people. It looks so cool that you can show off people saying that I got a web control of my computer lol.
Type in 127.0.0.1 in your browser and you would see the shutter web interface. Perfect for people who love to do everything with their browsers.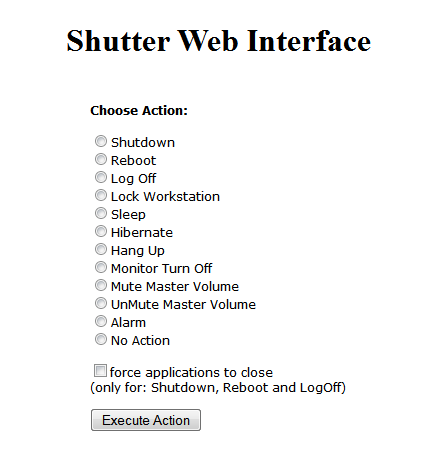 I would have loved if this software had functionality of shutting down computers over network. This way if you had 2-3 computers networked at home , you could have just set the timer to shutdown then one by one.
And Just in case you want to abort the system shutdown already initiated, try out the idea I had explained on How to abort system shutdown.