While setting up Windows on a new or old computer, one of the first things you're asked to do is set up a Microsoft account on the device. At the same time, many people might argue that logging into a Microsoft account on your Windows will bring in additional apps, notifications, and privacy concerns. There are countless benefits to it. Suppose you skipped Signing in to a Microsoft account during the initial setup process or don't have a Microsoft account signed in on your device. In that case, you can Sign in to Microsoft Account on Windows quickly by following the steps and methods mentioned in this article.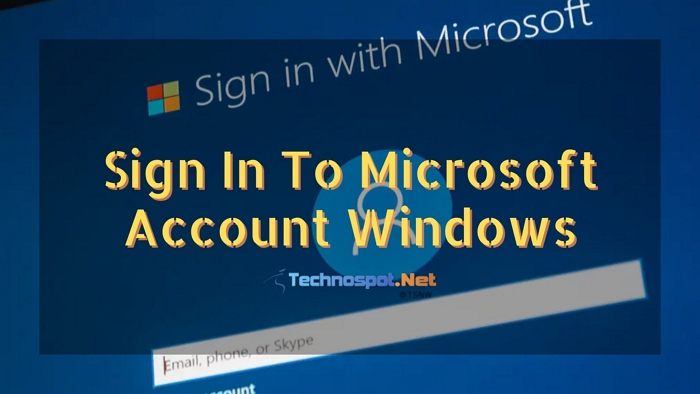 Why Should I Sign In With A Microsoft Account On Windows?
There are countless benefits of using a Microsoft account on your Windows computer, here are some of them:
Sync Settings Seamlessly: You know how much of a hassle it is to set up the settings of a new computer according to your preference. You can save all of that hassle when you sign in with a Microsoft account on your computer, as it will sync all the settings from your laptop or desktop to your new computer.
Activate Windows Without The Product Key: When you buy a license key to Windows, it is in an Alphanumeric format, and you cannot possibly remember it. The activation key is linked to that account when you activate Windows on a computer with a Microsoft account logged in. You can sign in with the Microsoft account on your new computer to activate Windows without a product key.
OneDrive: OneDrive is one of the most widely used applications and features on Windows. It lets you store your files on the cloud and sync them across devices. You can log in to your Microsoft account on the new Windows PC so sync the files on your device.
Other Data Syncing: You also sync other data when you sign in with a Microsoft account on Windows. It includes Windows Settings, Apps, Browser, and many other things that ensure that you get the same experience when you switch devices.
It should be enough reason for you to sign in with a Microsoft account on Windows. Let's proceed with our steps to sign in with a Microsoft account on Windows 11/10.
How To Sign In To Microsoft Account on Windows 11/10
Signing into a Microsoft account is one of the easiest things to do on a Windows PC. Microsoft wants you to use a Microsoft experience to provide you with a better experience across devices. Here's how you can do it:
Go to Windows Settings by clicking on the gear icon in the start menu or pressing Windows+I keys on your keyboard.
Now, click on the Accounts option in the left pane.
In the accounts menu, open Family and other users.
In the Family and other users section, click on the add account button opposite the Add other user option.
That's it! Just fill in the email address and password, and you've successfully logged in to a Microsoft account on Windows.
Unlink Microsoft Account From Windows PC
Windows Settings offer a direct way to unlink an account and convert a Microsoft account into a local account.
Open Settings (Win + I)
Go to Accounts > Your Info > Account Settings
Click on Sign in with a local account instead link
A window will warn about the disadvantages of using a local account
Click on the Next button and follow the process until it completes.
How to Remove A PC from Microsoft Account?
Go to Windows settings by pressing Windows+I keys on your keyboard.
In the left pane of the settings page, click on Accounts.
In the Accounts menu, click on Email and other accounts. Here you can see the Microsoft Account linked to your device.
Click on the small drop-down arrow beside your Microsoft account and select the manage option.
It will direct you to accounts.microsoft.com. Scroll down to see the list of devices for that account, and click on View Details for the device you want to remove the account from.
Now, you'll see an option to remove this device in the top right. Click on it.
A prompt will open tick I'm ready to remove this account and click on remove to unlink Microsoft account from your Windows PC.
Can Logging Into A Microsoft Account On Windows Harm My Privacy?
No. When you log in to a Microsoft account on Windows, your activity, be it searches or app usage, data is sent to Microsoft for them to understand your preferences better and serve you accordingly. But, this data is entirely safe, and they are only data points or telemetry that help Microsoft improve the PC experience. However, if you are unsure, you can always configure Windows Privacy.
Is It Safe To Log In Microsoft Account On My Windows PC?
Yes, it is entirely safe for you to log in to your Microsoft account. Microsoft has implemented fantastic security methods to prevent your info from getting into the wrong hands. However, if many people can access your PC, setting up a password or PIN lock is still recommended.
Well, this was all for this article. For a better and seamless experience, make sure you use the same Microsoft account across all the devices and use the Edge on your Android or iOS smartphone to sync your browsing data. We hope this article proved to be helpful for you. Please make sure you share this article with everyone.