India has become on of the fastest growing market when it comes to Tablet Adoption. I have used an iPad and Nexus 7 myself and know the real advantage of having a device. Portability is one such factor which helps anybody get rid of his heavy laptop and still get basic work like Email, Photo Viewing, Casual Browsing done.
In my recent experience when working with different vendors, most of them now carry tablets than laptops. Be it a Flower Decorator or Food Arrangement guy, everyone has a tablet to showcase what they have to offer.
When we received the XPad x801 tablet from Simmtronics, I wanted to know if this could actually work keeping the price factor in mind along with the features it had to offer.  Below is a detailed review of how the tablet is and will help you to understand if you want to buy it.
Video Review:
Quick Specification:
The tablet comes with a 8 inch TFT LCD touchscreen running a 1.2 GHz Cortex A8 Processor with 512 MB DDR3 RAM. It has an inbuilt 8GB Storage which can be expanded to 40Gb by using a 32 GB SD card. The battery is 4000 mAh Lithium – Polymer.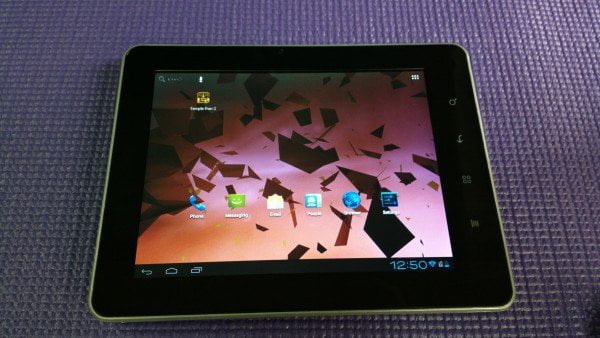 The tablet comes with a USB port which can be used to connect a physical keyboard or even a USB dongle for data usage. If you fancy to keep your phone running along with it, there is a SIM card slot which means whatsapp like services can be used. It also has WIFI to let you connect to hotspot or your office network.
The back camera is only 2MB camera while front camera is 0.3MP. This makes the device suitable neither for taking picture or video calling.
The tablet costs  8K to 9K in retail market. It has 1 Year Manufacturer Warranty for the Tablet, 6 Months Manufacturer Warranty for Other Inbox Accessories covered by Simmtronics India Warranty and Free Transit Insurance.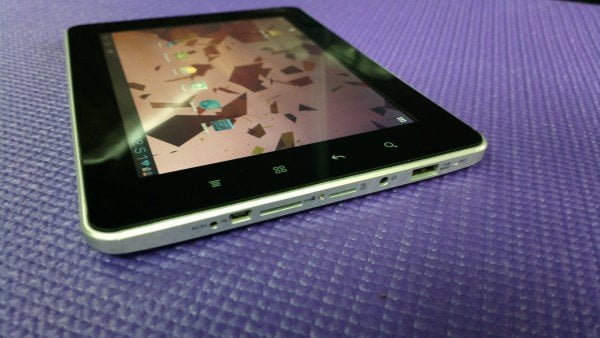 Editors Note: If you have used tablets of higher quality like Nexus 7 & iPad then comparing this with them has no meaning. The complete review is based on keeping in mind the price but is not biased if there is a problem in quality somewhere. There is a rating chart also included at the end of the review.
Design & Build:
The back side of the tablet, which houses speaker and the camera, is made up of strong plastic with coating. This makes it shiny and makes sure that the scratches don't hit the plastic directly. Overall feel is somewhere between the matt and glossy finish.
The same material covers the edges and holds the screen touch panel and houses the ports around it.  What I really liked it that even though its not metal, I did not feel that its cheap plastic because it isn't.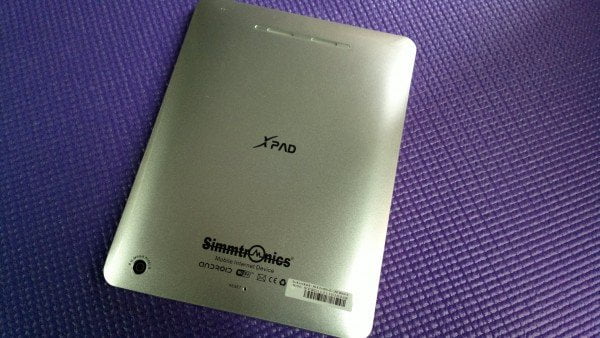 Rest of the part is the touch panel which has four touch buttons but without a backlit. Most of the times you wont even use it because ICS has its own soft buttons and panels that would be used most. IMO, this part could have been scrapped off and screen size could have been increased.
Rating : 8/10
Screen Quality:
The screen is TFT LCD touchscreen which fails to impress me. The problem is with the response which takes a bit of second. The second problem is with the brightness which even when set high, feels dim. Even though using it for long hours did not strain my eyes but it always felt that more brightness would have been better.
Rating: 5/10
Performance:
The tablet houses 512 MB DDR3 Ram which will make sure to fulfill your urge of using tablet from point of portability and casual usage. You cannot expect the device to run high end games but games like Temple Run can be installed and played but there is a visible lag in graphics and response.
When browsing the web and when using apps like Facebook & Twitter, the overall experience was little bit slow when compared to other devices I have used.
IMO, the device needs the next update from ICS to Jellybean etc which will boost the performance of the device.
Rating 5/10
Battery Life:
On an average use the battery lasted for 2 days keeping in mind this was completely on WiFi and I had not used my sim card along with it. Because of the lower score in performance, this tablet is not meant for heavy usage anyways.
The battery power available in the tablet is 4000 mAH Lithium – Polymer. Note that this is not Lithium-ion which is more popular in tablets and phones. The major difference between them is that later has high density but ages even when not used. While Lithium Polymer has less density it lasts longer and can be built in various shape making it fit in any type of device.
Rating: 5/10
Sound :
Overall sound quality is good. When watching a movie or listening to songs there wasn't any hiccups and if you music quality is nice, you will have a great experience here. That said, don't take the bass literally in hand as the speakers aren't powerful enough to handle it. However when used with earphones it was ok.
Rating 7/10
Camera:
Having a 2MP rear camera and 0.3MP front camera will suffice your need of video calling but don't expect a very high quality factors.
Rating : 4/10
Conclusion: (Overall Rating 6.5/10)
Price is a big factor here. Simmtronics has built this to add everything a regular user wanted but with portability. Nobody wants to carry a heavy laptop these days and they are switching to tablets. That said, the tablet is targeted towards a particular segment of user who aren't looking for great performance or gaming but portability with option to connect to internet with their dongles, access USB drive and casual internet usage.
So, if you are looking for budget tablet and primary work is browsing, using Facebook, Twitter and bit of gaming. I have seen many vendors using similar kind of low-priced device who would love all kind of features like USB Dongle Support, Showing pictures of their items to sellers or for casual checking emails and replying back. As it supports Keyboard, for many it will act as portable laptop.