If you ever wanted to automate the Mouse cursor, or certain key strokes,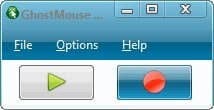 here is an awesome freeware for you. Named as GhostMouse Win7, this simple utility can be used to record and repeat mouse movements and clicks and can also do the same for key strokes as well.
Here is a quick video, which will show you the working of Ghost Mouse Win7. ( Direct Link if you cannot see )
Other features of the programs are as follows –
You can choose to record only the mouse movements and clicks or even only the keystrokes.
You can save a set of recorded actions as a script, to use it later at any point of time.
You can choose what to do after the playback of prerecorded actions is over.
You can choose the number of repetitions for a set of action.
Also, you can speed up or down the action process.
GhostMouse Win7 is a great utility, which allows you to record and playback mouse or keyboard actions without any programming knowledge. Also the interface is damn simple, and the utility works pretty fine, so go ahead and give it a try.