SiteShoter is small standalone application for taking snapshots (custom) of any URL. You just need to download a zip file around 80Kbs, unzip it and run the executable file to start working with SiteShoter.
Once launched, here is the snapshot of SiteShoter interface –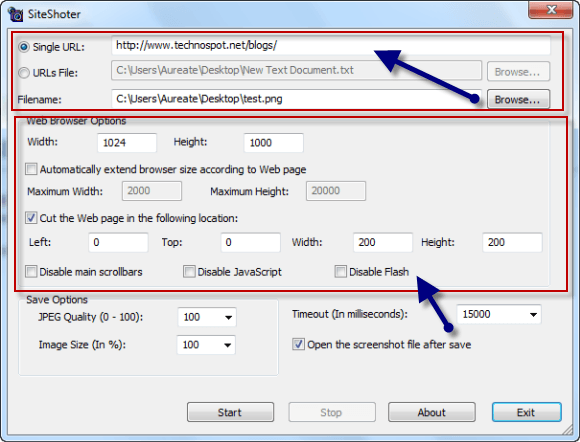 Simply enter a URL and select other settings, if you want you can crop the snapshot before being saved, you can also disable the webpage components like JavaScript, flash etc.
You can also decide the image quality and file type (png, jpg, gif etc.), for slow loading webpage URLs you can increase the timeout up to 15 seconds.
SiteShoter uses Internet Explorer for generating these snapshots, though it is hidden.
Also you can get snapshots of multiple URLs in  one go, using a text file which has all the URLs, but in such case the specified output file is overwritten every time the new snapshot is generated, so at the end of processing you are left with the snapshot of just the last URL in the list, however, if you have a image viewer which supports multiple instances, and if you have chose the 'Open the screenshot file after save' then this URL file list can be helpful for you.
Go ahead, give it a try and do share your views about it with us.
Download SiteShoter
If taking snapshots of Webpages is your requirement, you might like Screengrab, or to generate PDF files from webpages try htm2pdf.