PCHell
The name explains itself. If you have a problem with your PC this can be the best place you can get help. The site has an exhaustive resource on computer problems and how to solve them ( Windows XP, Windows 2000, Windows Vista ).
You even get detailed information on various software, how to use them with screen shots. Some of the software reviews also has been included like spybot and Ad aware SE. They accept contributions from the readers which are up loaded after careful validation.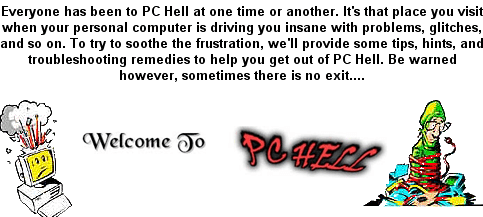 All About Symbian
Got queries on Symbian ? All About Symbian is perfect site to know all about Symbian as an OS. It can give you all the details and understanding of a Symbian based mobile phones. They claim to be the world's biggest community in this are and certainly look so. Learn all about in and out of Symbian to customize your phone better
You can get the latest news, software and developers point of view here.
Help on different phones running Symbian phones
Download and Install free software compatible with Symbian phones.
Build Your own PC
Want to make your own PC ? This is the perfect site for you. It starts right from basic like what is a PC to How you can assemble your own PC by buying spare parts. They even cover common problem faced while making your own PC. Incredible and best for novice starters

PDAdb.Net
Get to know all about different PDA, PDA Phones and smart phones. The quick list on home page serves best allowing you to surf devices with specific features such as GSM and CDMA.
Get suggestion for specific PDA according to your requirement.
History on How the PDA has changed right from the first PDA Series 3 release.
The best PDA database available.

Ideone.com
If you are looking for an online compiler, Ideone.com is one stop solution for this which not o nly supports hudreds of programming language but also allows you to compile the code to find any error, without you installing anything on your computer.
You can save your code on server and retrieve it later if you register with them.
Execute code to find if there is any error messages.
Find recently compiled codes or one which is shared with you.
If you register with ideone, you get option to execute code which can take 15 second long, edit others submission, Use Apps which use the IDEone API.