Emails have been a major part of our online presence, professionally and personally. And with time, the number of spam emails and advertisements has increased, so important work-related and personal conversations tend to get lost in the extensive advertisement and spam emails. To solve this problem, temporary email address provider services allow you to create temporary email id and sign up for websites and other things without giving your personal email, thus preventing you from spam. This article discusses the top 6 temporary email services; please make sure you stay tuned till the end.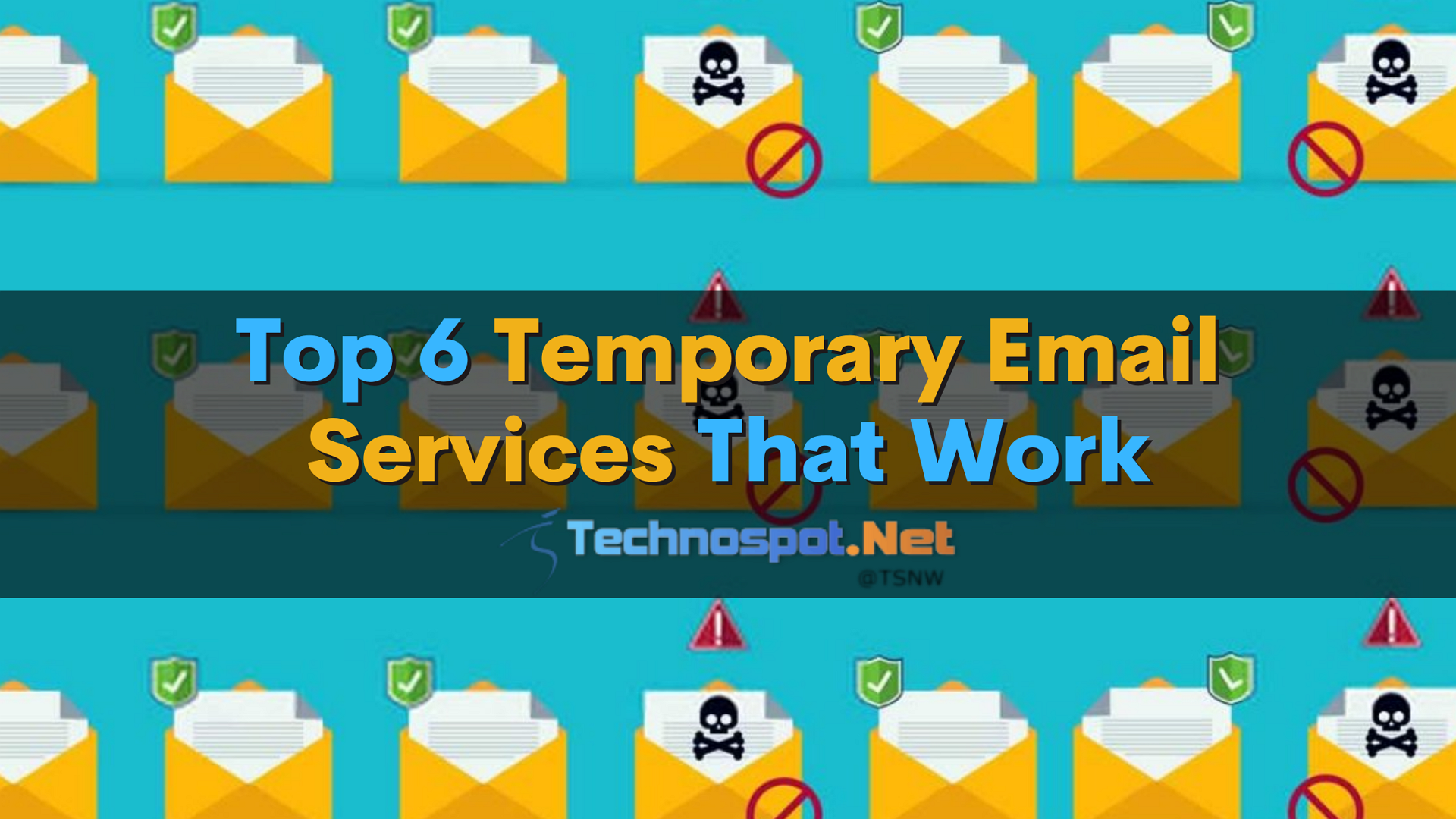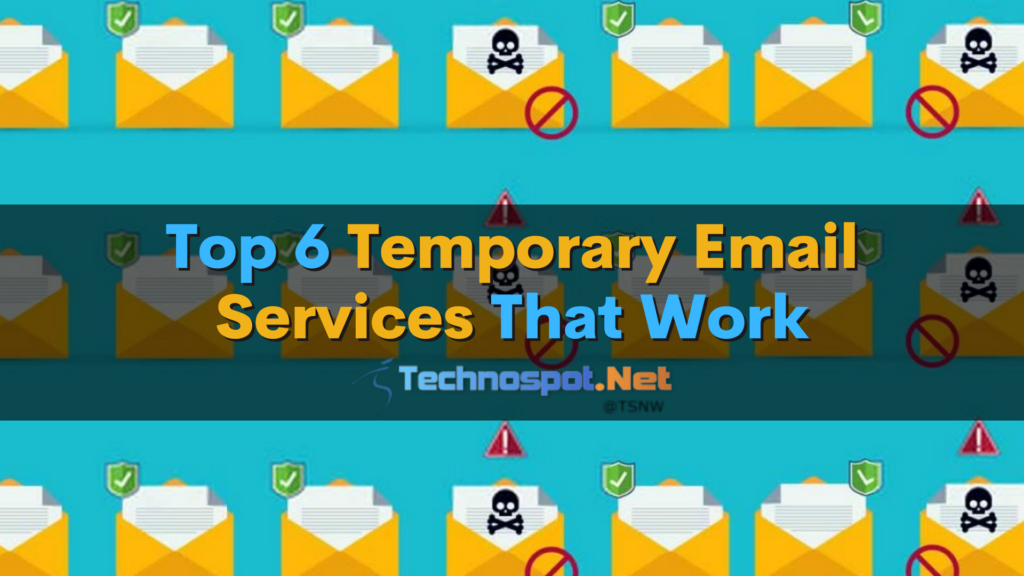 What Are Temporary Email Services, And Why Do You Need Them?
Temporary email services are primarily designed to prevent your primary email inbox from spam and advertisers. With Temporary email services, you can sign up on websites you wish to use only a few times. If you don't trust a website entirely, these emails come in handy to prevent identity disclosure. Many temporary email services have a self-destruct timer for the email addresses created through them, ensuring the complete safety of your data.
Create Temporary Email ID With These Six Temporary Email Services
Here is a curated list of the top 6 working temporary email services. Each of these services has some features distinguishing them from the other, so check all of them before using one. Here are the services we've covered:
Temp-mail.org
Guerrillamail
10minutemail
Yopmail
Mailpoof
EmailOnDeck
Let's have a closer look at the features of these services.
1] Temp-mail.org
Temp-mail is the most widely used and popular temporary email service. And there are many reasons for it. Temp-mail has a simple interface and syncs and updates the received emails on time. Temp-mail has even launched a smartphone application for the same. Another thing that gives Temp-mail a slight upper hand over other websites is that the temporary email domains are constantly updated on the website. Many temporary email services block domains on major websites because they are flagged. With Temp-mail, this is not the case.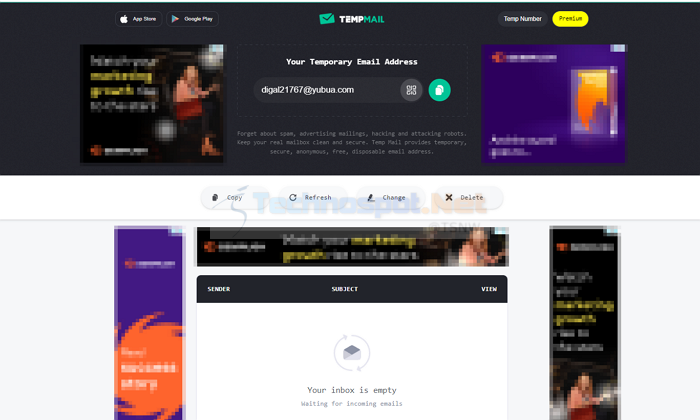 You get the option to delete the temporary email address from the Temp-mail servers manually. You can also recover deleted email addresses. However, you should be a Temp-mail premium subscriber for that. The plans for which start at $10/mo.
2] Guerrillamail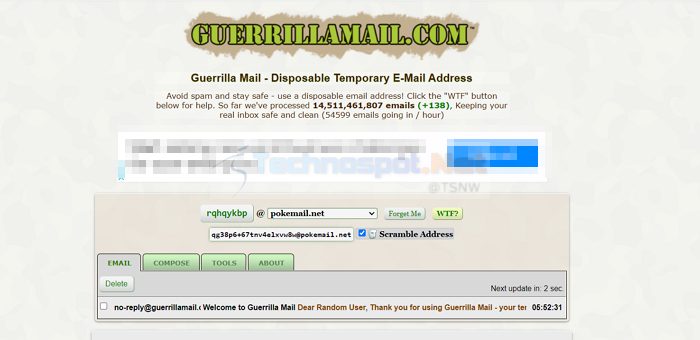 Guerrillamail is an open-source temporary email service that was one of the earliest to launch and has been around for almost two decades. In Guerrillamail, you get to choose from 11 temporary email domains. The website goes even further in providing functionality and allows you even to send emails from the temporary email address. You can also add your own custom domain to the website.
The email addresses and emails are deleted after 60 minutes. However, you can completely recover the email addresses for free.  The only downside to Guerrillamail is that the domains are not regularly updated, so you may not be able to sign up on major websites as the domain may have already been flagged. Also, the interface of the site is rather primitive.
3] 10minutemail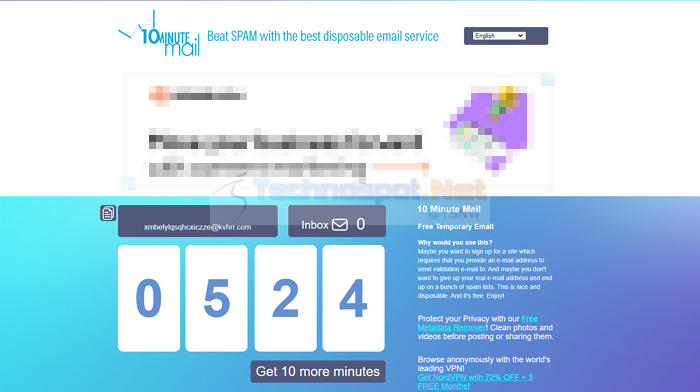 10minutemail is widely popular for the 10-minute feature. This feature is important because it ensures the complete safety of your data as the email addresses and emails in their inbox are completely wiped from the system if the 10 minutes are over. The site updates the temporary email domains frequently, so you don't have to worry about your kids getting flagged.
If you are not done with the temporary email address and need extra minutes, you can always do so by extending the duration by 10 minutes more. The site has an easy-to-navigate interface and does not serve many intrusive ads.
4] Yopmail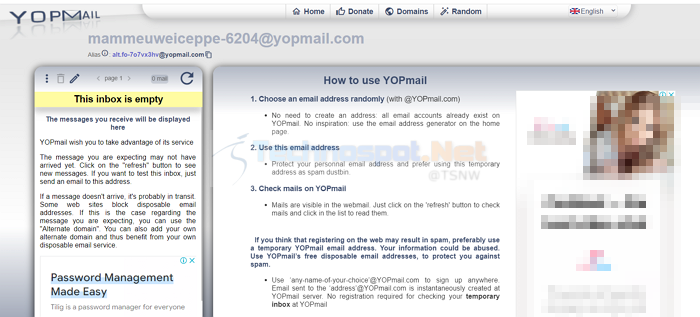 Yopmail is a very functional temporary email service provider. With Yppmail, you can create temporary email addresses and retain them for an extended time. The email addresses are always recoverable with this service. The inbox emails are cleared regularly, but you can recover the email addresses just in case. You can add custom domains to the website and a few alternate temporary domain names. However, their alternate email domains are not regularly updated and are flagged.
5] Mailpoof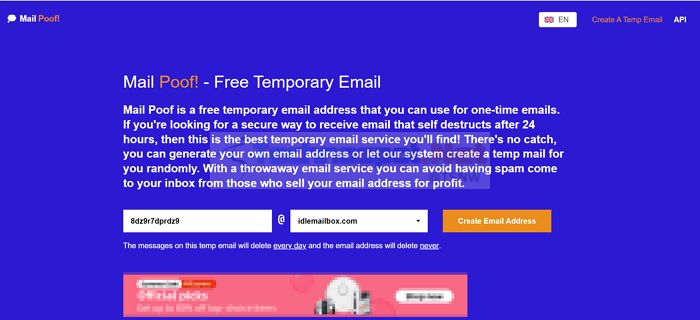 If you are looking for a temporary email site where you can retain the temporary email address for an infinite time, then Mailpoof is the perfect fit for you. The first page of the website itself states that the email addresses are retained forever and can be recovered. However, the inbox emails are on self-destruct and erase after every 24 hours. The site has a minimal interface with fewer ads. There isn't quite a large availability of alternate temporary email domains, so you can face trouble signing up on certain websites with this.
6] Emailondeck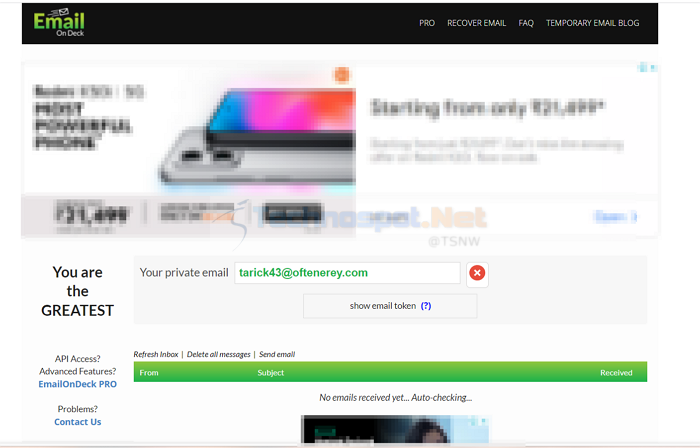 Emailondeck is very efficient regarding the availability of alternate temporary email address domain names. With Emailondeck, you can recover any temporary email address within a few days.  The site has a simple interface, but the ads can sometimes get too much. The site requires you to fill out a captcha before generating each email address.
Conclusion:
Data Privacy is one of the most important things in today's digital age. Temporary email services work greatly in keeping advertisements and spam at bay. Some smart decisions can get rid of you the clutter in your inbox. We hope you found the article to be useful. Please make sure you share this article with everyone.
Is It Safe To Use Temporary Email Services To Receive Confidential Information?
No. Temporary email services are not meant for receiving any confidential and sensitive information. These sites are only good for accessing websites where you need to provide your email address, and the information shared is not confidential. The temporary email addresses on most websites are recoverable to some extent, and anyone on the web can recover and read your confidential emails with them. Using personal or professional email addresses is the only viable and correct option for receiving confidential information.
Can I Send Emails From Temporary Email Services?
Yes, you can send emails from temporary email services. However, these emails may end up in the spam folder. Some popular temporary email sites like Guerillamail allow you to do so.