Getting a Windows 7 Theme up and running is as easy as installing a software but if you had wished for even more and that with your own icon sets, custom images and wish to have a setup ready to distribute, Skin Pack Installer System from [email protected] is powerful and easy to use software.  It lets you create a complete package which is much more than a theme and then us that setup on any computer you want.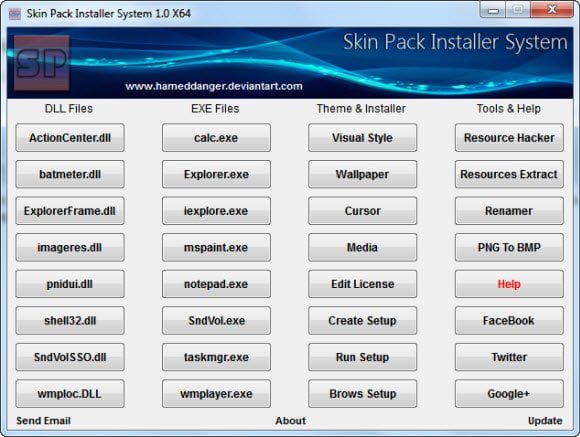 Features :
Allows you to add custom icons for  Notepad, Explorer, MS Paint, Sound Control, Task Manager and Windows Media Player.
You can include a Theme, wallpaper, Cursors, Sound.
You can also change icons for some of the system DLL like Battery Meter, Action Center, Sound Volume etc. Remember these have more than one image where each one is dedicated for one status.
This theme also comes with couple of tools which will help you make the resources ready.
Resource Hacker and Resources extract. Both of these tools help you find what kind of images are used for any exe or DLL. Then you can extract them and use them in your theme.
Renamer : This tool just renames and you need these here to convert images to name like icon1 icon2 etc which this theme has used at mane placed.
PNG to BMP : Some resources need to be in BMP file to be used as resource. So if you have PNG file which you would like to use, this is your best tool.
This installer is supported both for 32 bit and 64 bit system for Windows 7 , Windows 7 SP1 , Windows Server 2008 R2 , Windows Server 2008 R2 SP1.
Video Demo of Skin Pack Installer System
Download 32 Bit | 64 Bit   Via Ghacks