If you are bored of the look of Windows 7 interface, or maybe you just want to spruce up your Windows 7 with a new look and feel, here is a collection of some skin packs for you. They will definitely allow you to have almost an all new look to your same operating system i.e. Windows 7. The Skin Packs mentioned here are very easy to install, you don't need to play around with the system files manually, I have personally tried installing them all, moreover if you don't like the Skin Pack, and want to uninstall it, that too can be done easily from the control panel, summarily, the uninstaller too works pretty fine. Here goes the list –
iOS Skin Pack –
As the name says, this Skin Pack once installed on your Windows 7 system, converts the look and feel of Windows 7 to Apple's iOS, both 32-bit and 64-bit versions are available to be downloaded, you can choose either an online installer or an offline installer to download and install it on your system, it is suggested that you download the online installer in order to get the latest version, however I tried the offline installer and it worked great for me.
Once installed the iOS Skin Pack you get to see several changes in your system, like you get a launcher to launch your favourite apps right from the desktop, startup screen too is modified with a proper Apple logo on it and so on.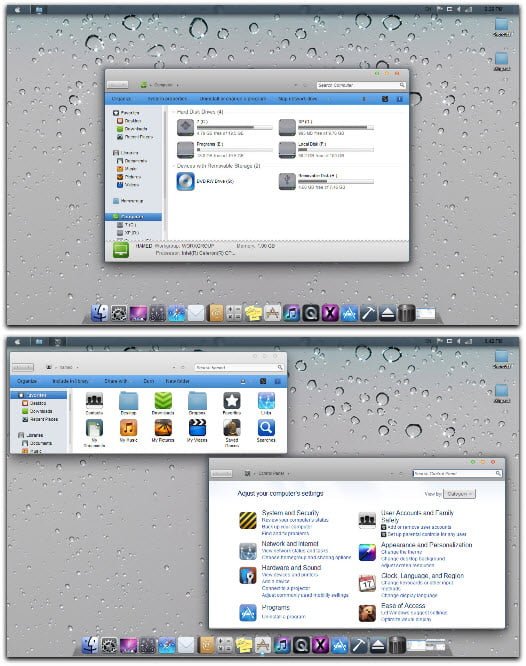 Download the iOS Skin Pack for Windows 7
Mango Skin Pack –
This skin Pack is for the Windows Phone 7 fans, called as Mango Skin Pack, allows you a very close experience to that of the user interface of Windows Phone 7. I too tried installing this Skin Pack on my system, and I loved it, this too brings along several changes on the Windows 7 look and feel, right from the startup screen to other icons and all. This too has both 32-bit and 64-bit versions available, however the online installer is not available for the Mango Skin Pack.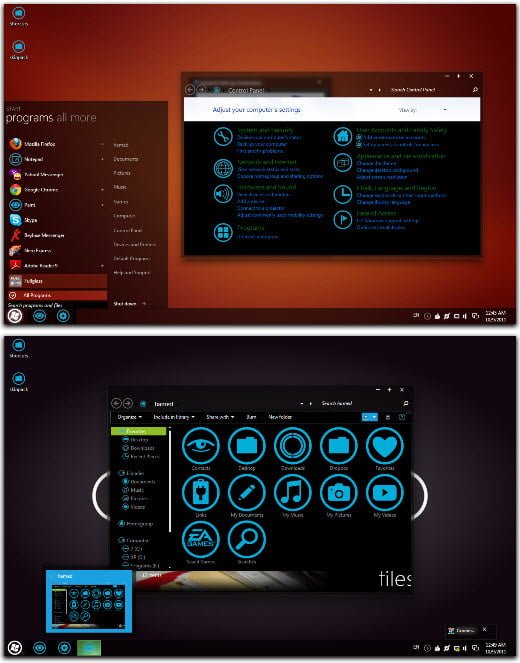 Download Mango Skin Pack for Windows 7 ( 32 Bit | 64 Bit )
8 Skin Pack –
Want to have a look at the expected user interface of the upcoming Windows 8, here are your chances, install the 8 Skin Pack on your Windows 7 and enjoy the look and feel of Windows 8 on your system. Though I personally didn't like it much, iOS and Mango Skin Pack are awesome, this 8 Skin Pack doesn't work so great if you ask me. However I think you should try it out for yourself and tell us if you like this one.
Apart from both online and offline versions along with 32-bit and 64-bit Windows system, this one is available for Windows XP as well.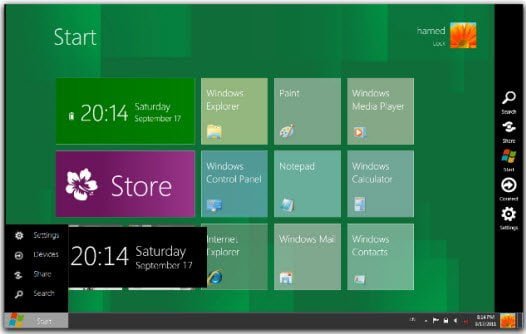 Download 8 Skin Pack for Windows 7 and Windows XP | Checkout More Windows 8 Themes here
Definitely this isnt the end of the list, you can find several other Skin Packs for your Windows 7 system, but the ones listed here don't need any huge list of instructions to install them on your system, just one single installer does it all, and backs up the system files which are modified or patched in this process, so that as soon as you uninstall the pack you can easily roll back all the changes automatically without any manual intervention.