Clipboard Managers always help us when heavy copy paste work is required. Today we found another such application, Shapeshifter,  which is a very rich application when it comes to usage and visual interface. This interface is built using .net framework 4.0 and has minimal configuration, compared to others.
To compare we took two best clipboard manager, Archived Clipboard and Clipboard Help + Spell and found Shape Shifter to be better for every one.
While Archived Clipboard works best with Files, texts and images, Clipboard Help + spell is for users with heavy document work. Shape Sifter takes best of both the clipboard managers except the spell check part.
How to use :

Use the usual shortcuts for copy or cut.
As soon as you press ctr + v, you get a beautiful interface which gives a list of things which you had copied. Select one which you want to paste using the arrow keys.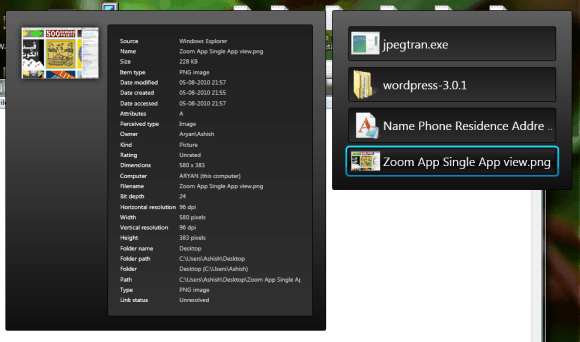 What makes it stand out ?
Not only it gives a preview of files, but also great details  about it, which is amazing. For example for a video I can see the length, location, file properties etc.  Each copied item has a unique icon which hints you what type it is.  For example, IE icon is used for URL's while for folders, the windows folder icon is used.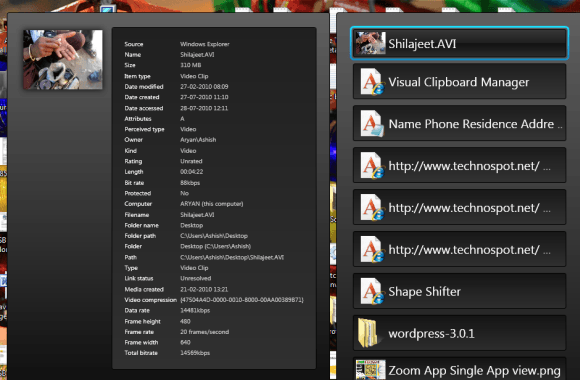 Another good feature of thus clipboard manager is that it compresses the information stored so even if you copy hundreds of items, it takes less space.
Shapeshifter also supports complex data which are application specific which gives it an edge over other software which only support few items like text only or images etc.
The copied items can be deleted with the Delete key when holding down CTRL + V. Holding down delete for more than 500 milliseconds will clear all items.
Drawbacks :
Shapeshifter doesn't have any configuration which brings few drawbacks though it's the most soothing part because you don't have to worry about anything. Here is the list :
You cannot see what is copied unless you press CTL + V. So if you copied it using the right click menu and copy, it does not work.
The URLs don't get a preview. This is a feature request though.
Shapeshifter can be downloaded from here and it is available for both 32 bit and 64 bit Windows.