Copy Tools are lot over the internet but if you are looking for some simple free tool with powerful features, Smart Copy has couple of them.  Though we still support Robocopy for being one of the power tool when it comes to massive copying but the options just dont work for regular guys.
What is Smart Copy ?
Its essentially a portable backup tool which is built for copying and taking backup of  folders of massive size which have lot of sub-directories ( Imagine something like Windows System Folder ). When it comes to windows copying its just not that smart and possibly not optimal also.  Taking a backup could be over your local drive or network drive, as the author says it can handle such situations.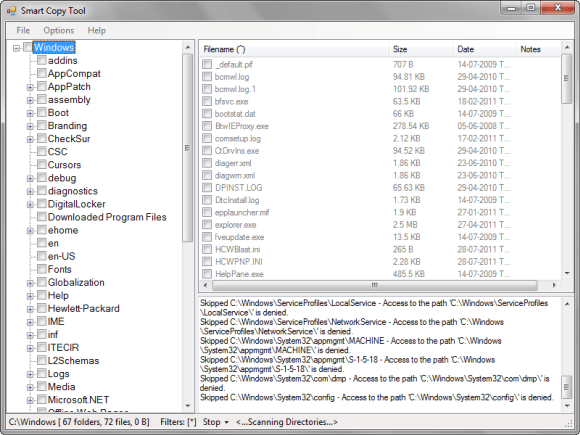 Important Features of Smart Copy :
Copy Pause :
Something we might we might see something better in next version of Windows but this useful software can do it for you. This is useful specially if you are leaving for a while unattended or your network booted up and you just don't want to start over copying to your network drive. (Your awesome music collection which has albums, songs, album cover and so on. )
With this you can resume and pause anytime and it will take care of keeping the files getting moved like it never had a problem.
Preview Conflicts :
Now if you decided to leave it un attended only to comeback and see that the copy process is stuck at a point where it needs your permission to say yes or now, all you feel is like cursing the damn process but you wont have this problem here.
This application gives you a preview of all conflicts and lets you decide what has to be done, so when you go out to grab a  coffee and come back your mind is in piece.
Filters :
Something without which any Copy Software is just lame. This application lets you apply filter in real time and shows you what will get copied and what not. So now if you a loads of document of type PDF,  DOC EXCEL and so on, this will let you quickly get a clean result and managed directories.
How to use Smart Copy ?
Remember the basic idea is to take backup and keep your data in sync. So you start with selecting a source, then target, use filters to specify types of file you want to skip and then hit Synchronize. 
Now just before you do that, its a good idea to save this whole thing i.e. the settings part using the Save Selection to a text file so next time you want to run the same thing, you can use the restore selection from text file.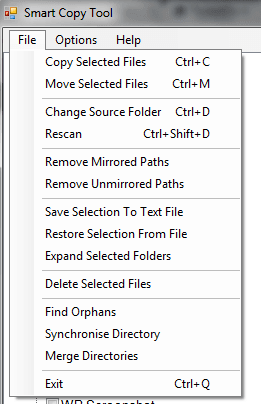 Apart from this there are two more options in this tool which will help you a lot. First is the Find Orphans which is to find any file which is available in your backup location and missing in source and second is Merge Directories which lets you  mix two folders.
Download
This tool is free to use and can be downloaded from here. You can also read more about it on the official page. Thanks Nirmal for sharing this.