You must have noticed that every time your computer gets back from sleep i.e. when you are away from computer for a long time it just gets into power safe mode, it asks for password. Though it's a good thing and is there for security reasons but every time asking for password at home is what bugs many of us.
Type Power Options in Start menu.
Click on Power Options
Click on Menu which says " Require a password  on wakeup "
It might ask you to again click on " Change settings which are currently available"
and then select radio button which says Dont require password.

That's it. You wont be asked to enter password again next time your computer gets back on after sleep mode. However if somebody else gets on your computer he or she will have complete access to your computer under your account.
Right now Windows doesn't have feature which says if you are at home you will not be asked for password but when you are office you will be. However, you should notice here is requiring a password entry can be changed according to Power Plan of your laptop.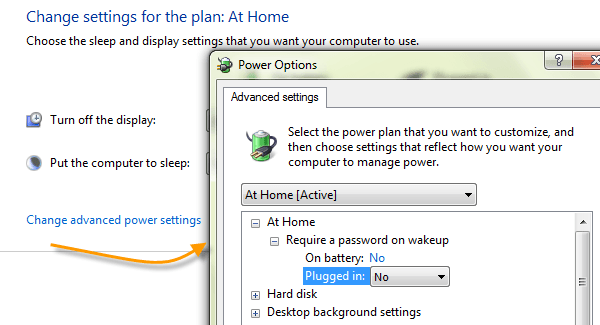 So what you can do is create two power plan, one for home and another for office. Set asking password on wake up in Office Plan.
Now when you get home you can switch power plan and set your computer to not to ask for password everytime you go out to answer a door bell!!