Many a times you have several files which needs to be printed for offline records or had to be sent to someone else. You can print the file names in any directory outputting the list using Dir Command and store it in notepad but how about printing it with more customization like according to size or MD5 hash or even file version. They are difficult to achieve through command line.
This is where Directory printer comes into play. This software lets you select any drive or folder and then sort file names with these kind of options i.e. Compressed Size, Short name, Folder name, extension etc including the ones I stated before.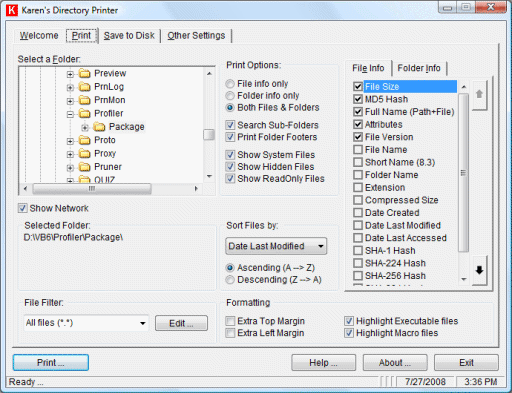 It also provides you with options to exclude system, hidden and read only files. This makes sense as they are not required most of the time. It also gives a minimal option for print settings with formatting options of Extra Top margin and Left margin. If you require you can highlight executable file and macro files.
This all makes sense and gives an edge to the usability. Its not just print its smart print and definitely can come handy if you deal with files and offline works a lot. Try Directory print